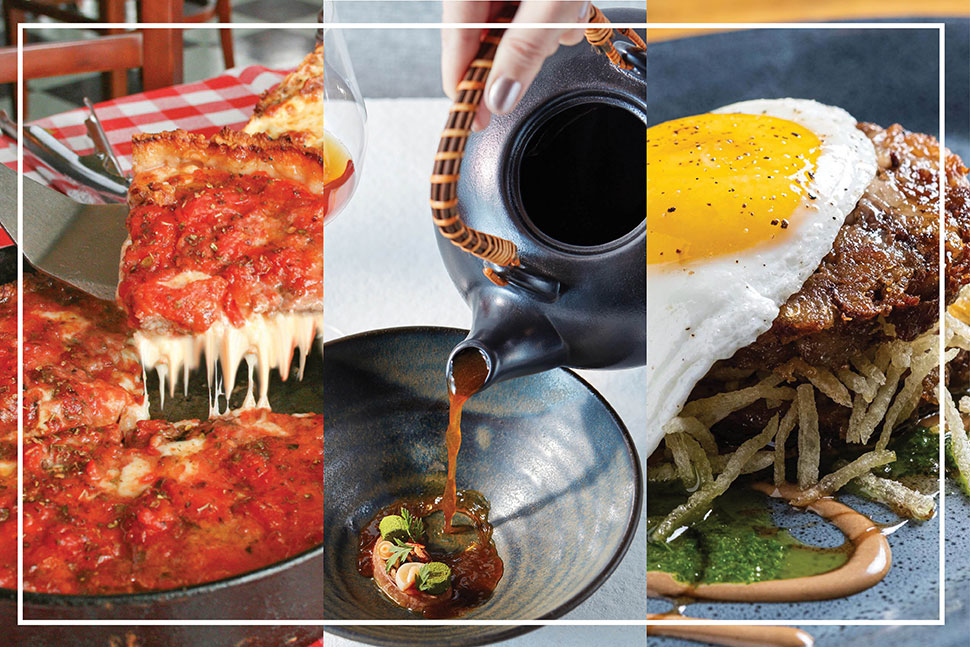 Welcome to Chicago! We have no doubt the American Library Association's 2023 Annual Conference will provide plenty of food for thought—these conferences always do. We go home with our brains bursting with new ideas, but while you're here, don't forget about thought for food, as well. Chicago is an incredible dining town—home not just to local specialties like Italian beef sandwiches and pizza (both deep-dish and tavern-style thin crust) but also to critically acclaimed high-end restaurants and ethnically diverse eateries in any neighborhood you choose to explore.
Below you'll find some favorite spots within a walk, train ride, cab, or water taxi from McCormick Place and downtown hotels. Many were also featured in my guidebook, Frommer's Chicago Day by Day (2019). Others have opened more recently, during the pandemic.
Let the eating begin!
South Loop, Hyde Park, and Near South Side
Medici on 57th
1327 E. 57th St.
773-667-7394
This Hyde Park mainstay began as a coffeehouse in 1962, and the menu has grown over the years, offering an inventive and diverse collection of bakery items, snacks, and substantial meals. You'll find inspired breakfast and brunch creations, deli sandwiches, burgers, pizzas, soups, entrées, and some of the best apple pie ever. Brunch (Sat, Sun), B, L, D daily $
Moody Tongue
2515 S. Wabash Ave.
312-600-5111
Welcome to the world's first two-Michelin-starred brewery, where the beers include a Caramelized Chocolate Churro Baltic Porter, a Juiced Lychee IPA, and other inspired combinations. They're brewed to pair with an extravagant tasting menu in The Dining Room ($285, plus $75 for beer pairing, as of publication; reservation required). A more casual but still special experience of elevated American fare is available at The Bar. D (W–Sat) $$$–$$$$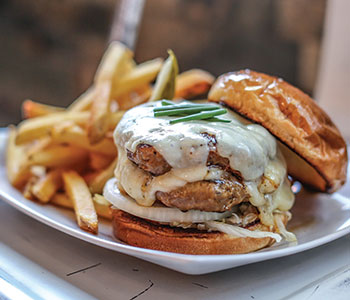 Mustard Seed Kitchen
49 E. Cermak Rd.
312-326-0062
For a grab-and-go option near the convention center, you won't do much better than Mustard Seed Kitchen. Acclaimed chef Erick Williams, who also owns Virtue (below) and Daisy's Po-Boy and Tavern in Hyde Park, opened this takeout-and-delivery-only spot during the height of the pandemic. Available are classic American salads, pastas, burgers, and sandwiches, along with Southern fare like honey butter fried chicken and gumbo. L, D (M–Sat) $–$$
Pizano's Pizza and Pasta
2106 S. Indiana Ave.
312-842-0777
If you're looking to splurge, calorically speaking, Pizano's deep-dish pizza is a fine choice. With a golden crust that's brushed with cornmeal and topped with scads of gooey cheese and thick sauce, pizza here will leave your mouth wanting more—though your stretched stomach may say no. For a lighter meal, the thin crust here is excellent, too. Fun fact: If you opt for carb-free, the crust is a giant sausage patty. L (F–Sun), D daily $–$$
Valois Restaurant
1518 E. 53rd St.
773-667-0647
Another Hyde Park classic—and President Barack Obama's top breakfast spot in the city—Valois is as low-frills as it gets. (Its motto: "See your food.") The neighborhood landmark is an old-school cafeteria, serving up inexpensive steak, ribs, barbecue chicken, pork chops, an array of breakfast classics, and a hearty sense of community. B, L daily $
Virtue Restaurant and Bar
1462 E. 53rd St.
773-947-8831
Since opening in 2018, Virtue has been blowing the minds of diners and critics for its upscale Southern fare, including gizzards, gumbo, shrimp, crawfish, blackened catfish, biscuits and pimento cheese, and sweet potato pie. Last year, Chef Erick Williams received the James Beard Award for Best Chef: Great Lakes, and Esquire named the Hyde Park hot spot one of 2019's Best New Restaurants in America. Prime-time reservations are hard to come by; schedule your visit well in advance, if possible. D (W–Sun) $$–$$$
Woven + Bound
2121 S. Prairie Ave.
312-824-0500
This sit-down restaurant, located in the Marriott Marquis, serves upscale American food—burgers, steak, seafood, salads, wine, cocktails—along with a ­breakfast menu and buffet. B, L, D daily $–$$$
Yolk
Multiple locations, including 1120 S. Michigan Ave.
312-789-9655
For breakfast seekers, Yolk does a little of everything and does it well, from the traditional (corned beef hash and eggs) to the trendy (avocado toast with smoked salmon) to the decadent (red velvet french toast). Not up for breakfast? Choose from soups, salads, sandwiches, wraps, and burgers, with plenty of vegetarian-friendly options. B, L daily $–$$
The Loop/River North
Bistronomic
840 N. Wabash Ave.
312-944-8400
This bistro serves French dishes prepared with ingredients from local-ish farms when possible, like steak frites made with Midwestern beef. In true French fashion, there's also house-made pâté and delectable cheese flights. Brunch (Sat, Sun), L (W–F), D (Tue–Sun) $$–$$$
The Florentine
151 W. Adams St.
312-660-8866
The Florentine is a magnet for nearby financial district suits as well as guests at the JW Marriott, where it's housed. The Italian fare—from the pasta to the gelato—is all made in-house. An extensive wine list and excellent cocktails complete the meal. Brunch (Sat, Sun), B, L, D daily $–$$$
Frontera Grill, Topolobampo, Xoco
445–449 N. Clark St.
312-661-1434
At this trinity of Rick Bayless eateries, Frontera Grill offers a casual atmosphere and well-prepared Mexican classics, while the fancier (and pricier) Topolobampo delivers more refined fare via a tasting menu. Xoco's counter service is great for lunch—or for churros anytime. ­Reservations needed
for Topolobampo. ­Frontera Grill: Brunch (Sat, Sun), L (Tue–F), D (Tue–Sun) $$–$$$; Topolobampo: D (W–Sat) $$$$; Xoco: L, D (Tue–Sat) $
The Gage
24 S. Michigan Ave.
312-372-4243
Go higher-brow (ribeye or lamb shank) or lower-brow (the burger is amazing) at this effervescent gastro­pub across from Millennium Park. The Gage is also a great late-night stop for a local beer or a hefty wine pour in its lovely, historic setting inside an old millinery, with floor-to-ceiling windows and an ornate tin ceiling. Brunch (Sat, Sun), L, D daily $$–$$$$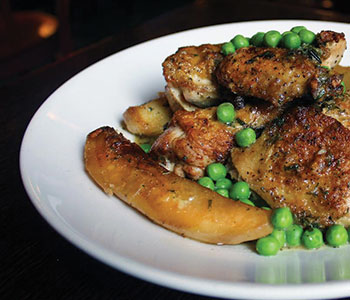 Harry Caray's Italian Steakhouse
33 W. Kinzie St.
312-828-0966
Named for the legendary White Sox and Cubs (among other teams) announcer, this brick-lined restaurant in the River North neighborhood showcases all kinds of baseball memorabilia. Wet- and dry-aged steaks, chops, and Italian dishes—including the Chicago-born chicken ­Vesuvio, baked with garlic, peas, white wine, and potatoes—are served in enormous portions, and the bartenders spin a good yarn. L, D daily $$–$$$$
India House
59 W. Grand Ave.
312-645-9500
Downtown professionals love this old-school Indian spot, and the lunch buffet is a destination in itself. Be sure to order the Kashmiri naan, which is stuffed with cherries, cashews, and pistachios and cooked in a tandoori oven. L, D daily $$–$$$
Portillo's
Multiple locations, including 100 W. Ontario St.
312-587-8910
This popular chain started in the 'burbs and has been fueling Midwesterners' love of food on a bun since the 1960s. At this River North spot, as at the other locations, find hot dogs, sausages, charbroiled burgers, Italian beef, and an Italian beef and sausage combo. They also have good salads and chicken sandwiches. For a fast-casual lunch or dinner, the Chicago-style dog is a must. Save room for a slice of the famous chocolate cake. L, D daily $
Potbelly
Multiple locations, including 200 S. Michigan Ave.
312-428-2971
For an easy and tasty lunch on the go, this popular quick-serve chain, which got its start in Chicago in the 1970s, serves a mean grilled sub. Favorite sandwiches include the Avo Turkey, Italian, and Veggie Melt, with toppings of your choice. Some patrons stop in just to buy the giardiniera (pickled hot peppers famously used in Chicago as an Italian beef add-on). L, D daily $
Shaw's Crab House
21 E. Hubbard St.
312-527-2722
A 1940s-style local institution, Shaw's has a cushy dining room and an extensive ­seasonal seafood menu. Expect oysters, crab, lobster, fish, and quality steaks. Choices at the more casual Oyster Bar will please even the most sophisticated seafood lover, to a soundtrack of live jazz or blues. L, D daily $$–$$$$
Sushi-San
63 W. Grand Ave.
312-828-0575
Turns out, loud hip-hop and quality sushi go quite well together. Serving creative maki, nigiri, handrolls, and even a few grilled meat options, this Japanese eatery caters to a later-night crowd but also bustles throughout the day. In addition to the River North location, there's also one with counter ­service in Willis Tower. L, D daily $$–$$$
West Loop/Near West Side
Avec
615 W. Randolph St.
312-377-2002
Dine at communal tables at this hip, polished spot, which features Mediterranean shared plates made with seasonal Midwestern ingredients. The wine list showcases unexpected European finds. (There's a bigger location in River North that serves daily dinner and weekend brunch but no lunch.) Brunch (Sat, Sun), L (M–F), D daily $$–$$$
Girl & the Goat
809 W. Randolph St.
312-492-6262
Wood-roasted pig face (it is exactly what it sounds like) is a popular request at this always-packed, shared-plate restaurant—as is anything made of goat. Not to be overshadowed, the vegetable preparations, including blistered shishito peppers, are divine. D daily $$$
Lou Mitchell's
565 W. Jackson Blvd.
312-939-3111
A Chicago tradition since 1923, this no-frills diner draws local celebs and politicians for home-baked bread, excellent coffee, and airy omelets served in sizzling skillets. Bonus: Free donut holes for all who enter! B, L (W–Sun) $–$$
Tanoshii
720 W. Randolph St.
312-207-8894
This sushi restaurant serves an intriguing omakase menu, which entrusts dish selections to the chef. Blow torches, truffle oil, and fresh herbs make for a memorable sushi experience. Be forewarned: If you ask the chef what's in the roll you're eating, he's likely to respond with a cheeky answer: "Fish!" You can also order from the menu. L (W, Th), D (Tue–Sun) $$–$$$
---
Forays into Food Halls
Whether you're solo or in a group, food halls are an ideal stop: They're convenient, speedy, and have something for everyone. Here are four standouts.
Eataly 43 E. Ohio St., 312-521-8700. Okay, so Eataly doesn't call itself a food hall, but the spirit is there. At this shrine to Italian cuisine in the River North area, you can eat and drink your way around two floors of restaurants, bars, and counters, offering fresh pasta, pizza, seafood, cheese, gelato, coffee, beer, and wine galore. Plus, find bread, pastries, and booze to take back to your hotel for later. (Individual hours vary; the market and Caffè Lavazza open at 8 a.m. daily). B, L, D daily $–$$$
Revival Food Hall 125 S. Clark St., 312-970-1180. More than a dozen local restaurants have set up outposts here in the heart of the Loop, offering fast-casual bites such as ramen, tacos, empanadas, poke, barbecue, Indian dosas, sandwiches, pizza, and pastries. B, L, D (M–F) $–$$
Showroom Food Hall 2121 S. Prairie Ave., 312-824-0500. The area around McCormick Place isn't exactly known as a restaurant haven, but Showroom Food Hall, located in the Marriott Marquis, is worth a look. It mixes things up with five different counters, including coffee, pastries, pizza, soup, sandwiches, salads, wings, spuds, beer, wine, and more—all just a few steps from the convention center. L, D daily (individual stall hours vary) $–$$
Time Out Market 916 W. Fulton Market, 312-637-3888. This enormous West Loop food hall includes multiple bars and around 20 food and beverage vendors, serving up Japanese, American South, Lebanese, Greek, Indian, Korean, and Ethiopian food. You can order at the individual counters or grab a drink and a seat and order via the food hall's mobile app. B, L, D daily (bakery opens early; kitchens open at 11 a.m.) $–$$
---
Adventures in Chinatown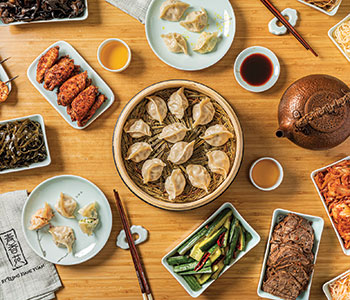 Eat your way through Chicago's Chinatown, feasting on dim sum, bubble tea, hot pot, egg custard tarts, dumplings, you name it—all just a mile or so from McCormick Place. Here are a few places to get you started.
Hing Kee 2140 S. Archer Ave., 312-808-9538. As you page through the novel-length menu, know that you can't go wrong with anything involving noodles (they're made onsite). The xiao long bao and Singapore noodles are particularly excellent. L, D daily $–$$
Joy Yee Multiple locations, including 2139 S. China Pl.; 312-328-0001. You'll know you're at the right place when you see the intriguing and colorful fake food displayed in the windows. The enormous menu treks across Asia, including tastes of China, Japan, Korea, Thailand, Vietnam, and beyond. An outdoor walk-up window serves boba tea and smoothies if you just want to grab one and explore the area. L, D daily $–$$
Lao Sze Chuan Multiple locations, including 2172 S. Archer Ave.; 312-326-5040. Take advantage of the wide-ranging menu and sample everything from sole fish fillet with sour pickle chili to the revered—and spicy—Tony's chicken with three chili. L, D daily $$–$$$
Nine Bar 216 W. Cermak Rd.; 312- 225-4081. Chicago magazine recently named Chinatown's new cocktail bar among the best in town. The drinks stand out for their Asian-inspired flavors, with ingredients such as Sichuan peppercorns, Thai basil, and Chinese five spice. Wings, dumplings, and other snacks are also available. D (W–Sun) $–$$
Phoenix 2131 S. Archer Ave., 312-328-0848. This casual but elegant Cantonese spot gets busy for the daily dim sum, as families and couples gather to choose noodles, buns, dumplings, and more off the carts that are wheeled around. Menu service is also available for entrées, ranging from chicken with broccoli and cashew shrimp to crispy garlic porkchops and Hong Kong steak. L, D daily $–$$
Qing Xiang Yuan 2002 S. Wentworth Ave. #103, 312-799-1118. The dumplings here are delectable, and you can find just about any kind, including pork and cabbage, lamb and coriander, lobster, sea urchin, chicken and mushroom, and tomato and egg. Choose them steamed, boiled, or pan-fried. L, D daily $–$$
Source of Article