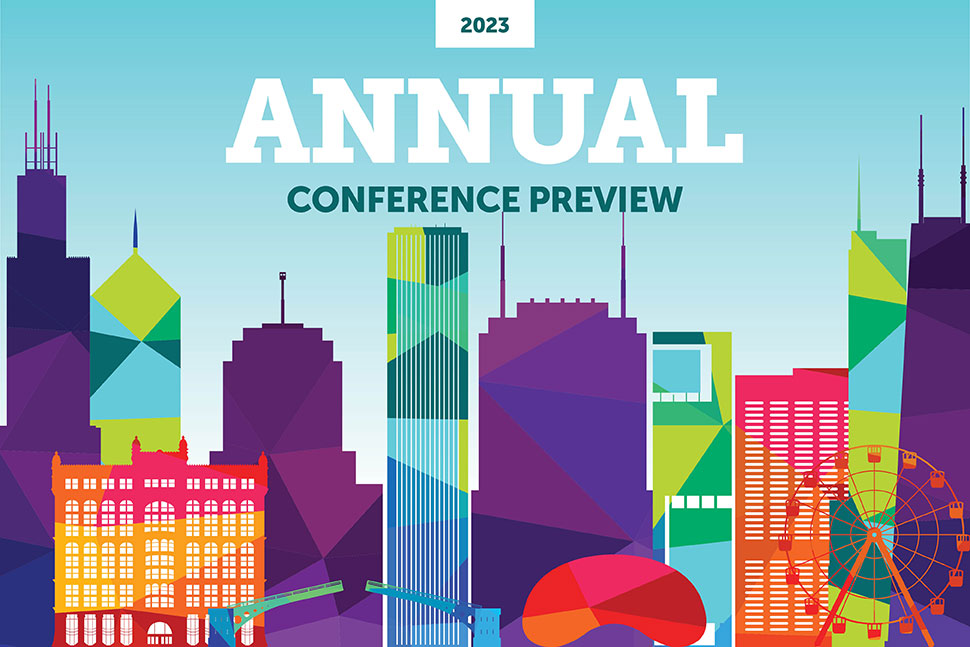 It's been five years since librarianship's largest event has taken place in Chicago, the hometown of the American Library Association (ALA). So much, both in the profession and the world around us, has changed since then. But so much of the 2023 Annual Conference and Exhibition will feel familiar—including top-tier authors, educational sessions, awards and celebrations, state-of-the-art exhibits, networking opportunities, and compelling speakers.
The conference, which will be held June 22–27 at McCormick Place, promises to showcase conversations and innovations that will help to shape the future of libraries for years to come. This preview offers a small sample of what to expect.
For registration information and a complete list of events, visit alaannual.org.
Featured speakers
Check the Annual Conference Scheduler for the latest information on dates, times, and locations. All times listed are Central.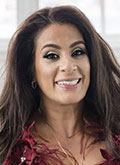 Comedian, actress, writer, and advocate for people with disabilities Maysoon Zayid will discuss her debut graphic novel Shiny Misfits 9–10 a.m. Saturday, June 24. Zayid, one of America's most prominent Muslim woman comedians, is cofounder and coexecutive producer of the New York Arab-American Comedy Festival and Muslim Funny Fest. She's also author of the 2020 memoir Find Another Dream.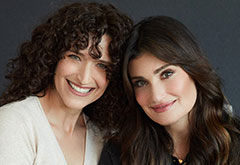 Sisters Idina Menzel and Cara Mentzel will share the inspiration behind their lyrical picture book, Proud Mouse, 11 a.m.–noon Saturday, June 24. Menzel is an actor and singer-songwriter known for her performances in the musicals Rent and Wicked, and as Elsa in the movie Frozen. Mentzel is author of Voice Lessons: A Sisters Story (about the pair's relationship) and a former elementary school teacher who has focused on children's literacy.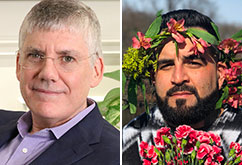 Authors Rick Riordan and Mark Oshiro will talk about their new coauthored book The Sun and the Star: A Nico di Angelo Adventure, based on a popular character in Riordan's middle-grade Percy Jackson and the Olympians series, 1–2 p.m. Sunday, June 25. Riordan's other bestselling fantasy series include the Kane Chronicles and Magnus Chase and the Gods of Asgard. Oshiro is author of the young adult titles Anger Is a Gift and Each of Us a Desert and the middle-grade books The Insiders and You Only Live Once, David Bravo.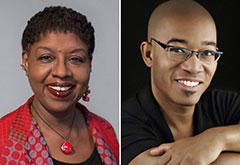 Author Nikki Grimes and illustrator Brian Pinkney will discuss their new book, A Walk in the Woods—a title that Brian's father, renowned illustrator Jerry Pinkney, began illustrating before his death in 2021, and Brian was called on to finish—3–4 p.m. Sunday, June 25. Grimes has received many accolades for her writing, including the Coretta Scott King Author Award for Bronx Masquerade and a Coretta Scott King Author Honor for Jazmin's Notebook. Pinkney is the artist behind books such as Duke Ellington: The Piano Prince and His Orchestra, written by his wife, Andrea Pinkney; The Faithful Friend by Robert D. San Souci; and In the Time of the Drums by Kim L. Siegelson, which earned him the Coretta Scott King Illustrator Award in 2000.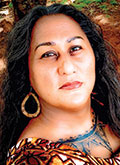 Join ALA President Lessa Kanani'opua Pelayo-Lozada for her President's Program 3:30–5:30 p.m. Sunday, June 25. The session will feature a conversation with Native Hawaiian filmmaker and activist Hinaleimoana Wong-Kalu about her children's book Kapaemahu, cowritten with Dean Hamer and Joe Wilson and illustrated by Daniel Sousa.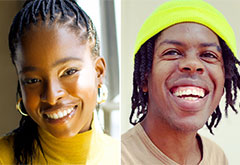 Poet Amanda Gorman and illustrator Christian Robinson will close the conference 11 a.m.–noon Tuesday, June 27, with a discussion of their forthcoming book, Something, Someday. Gorman is the youngest presidential inaugural poet in US history, having recited her poem "The Hill We Climb" at the inauguration of President Joe Biden in January 2021. Robinson has won many awards for his work, including a Coretta Scott King Illustrator Honor for Nina: A Story of Nina Simone in 2022.
Education programs
Changing the Narrative: ALA Policy Corps Takes on Book Banners
9–10 a.m. Saturday, June 24
At this session led by ALA Policy Corps members, attendees will learn successful strategies for engaging legislators across the political spectrum, securing positive media placements, mobilizing allies, and strengthening relationships with key stakeholders to support libraries, library workers, and library values.
Equip Communities to "Be MediaWise" with a Misinformation Resilience Toolkit
9–10 a.m. Saturday, June 24
Older adults, communities of color, and rural populations in the US are disproportionately affected by misinformation. In collaboration with ALA's Public Programs Office and Stanford University's Social Media Lab, Poynter Institute's MediaWise has created a digital toolkit that librarians across the country can use to teach digital media literacy to their patrons. This session will teach librarians how to describe strategies that professional fact-checkers use to avoid sharing misinformation, introduce research-based approaches to counteract misinformation, and integrate the toolkit at their own library.
Biophilic Design: Impacting the Emotional Well-Being of Library Goers
11 a.m.–noon Saturday, June 24
Libraries should be places that elevate users' feelings and emotions in a safe and welcoming environment. Biophilic design concepts can do this by increasing one's connection to the natural environment. Architects will discuss strategies for implementing biophilic design principles to better support communities.
Wish There Was an App for That Library Service? Come Learn to Build One
1–2 p.m. Saturday, June 24
Tulsa (Okla.) City–County Library successfully launched two custom apps for its customers: one for developing early literacy skills and another for its summer reading program. Staffers will share tips on how to plan and design an app, from meeting specific user needs and coordinating development to generating content and testing functionality.
Collecting Stories from Underrepresented Communities: How to Cocreate a Community Archive at Your Public Library
2:30–3:30 p.m. Saturday, June 24
Panelists from Tacoma (Wash.) Public Library and University of Washington in Seattle will discuss how they broadened an existing local history collection by cocreating an archive with local organizations and partners and including stories from underrepresented community members. This program is recommended for those who have an existing local history collection or are looking to build one.
The Freedom of Information Act: Requests to Redactions
2:30–3:30 p.m. Saturday, June 24
What is the process for making Freedom of Information Act (FOIA) requests? And what role do librarians have in facilitating them? This program will examine how public libraries, academic libraries, and archives engage with FOIA and demystify the request process, from the perspectives of both the facilitator and receiver.
Narrowing the Divide: Using Intersectionality to Reexamine Pandemic Learning Loss and Online Library Usage
2:30–3:30 p.m. Saturday, June 24
This program, hosted by Project Literade CEO Cantrell Johnson, will explore the intersection of pandemic learning loss and online library usage. Participants will hear case studies and uncover core concepts that can help them strengthen efforts to address longstanding disparities in education that impede learning, access, and equity.
Supporting Invisibly Disabled Students in the Library Classroom
4–5 p.m. Saturday, June 24
Student populations in higher education are becoming increasingly diverse. Colleges are serving more nontraditional students and students from underrepresented backgrounds, and approximately 20% of undergraduates now report having a disability. This session will provide a brief overview of invisible disabilities, neurodivergence, and ableism, with a discussion of ways that librarians can proactively support invisibly disabled students in programs and services.
Protecting the Freedom to Access Reproductive Health Information
9–10 a.m. Sunday, June 25
In 2022, ALA affirmed its commitment to ensuring freedom of access to information about reproductive health, including abortion. Attendees will learn what legal protections are available for libraries and library workers who share this type of information, along with proactive steps libraries can take to protect patrons' privacy and intellectual freedom.
Sharing Knowledge: Projects and Outreach for Indigenous Patrons, Languages, and Documents
11 a.m.–noon Sunday, June 25
Panelists will discuss public, research, and academic libraries' efforts to reach Indigenous patrons through projects dedicated to sharing Indigenous art, Andean and Mesoamerican languages, and cartography.
StoryTeen: Encouraging Teen Interns and Volunteers to Offer Storytime, Support Early Literacy, and Explore Careers in Early Education and Librarianship
11 a.m.–noon Sunday, June 25
Brooklyn (N.Y.) Public Library's internship program StoryTeen trains high school students in early literacy practices and creating their own storytimes, encouraging them to pursue careers in early childhood education and librarianship. Attendees, particularly children's librarians, will learn how to create similar teen volunteer and internship programs.
BookTube, Bookstagram, and BookTok, Oh My: Understanding the Online "Bookaverse" as a Tool for Professional Development
1–2 p.m. Sunday, June 25
Participants will learn how to use different social media platforms for professional development, whether as an observer or a creator. Topics covered will include collection development, programming ideas, lesson planning, and advocacy, with a focus on addressing needs in the school library.
It's Not Either/Or: How to Include Open Access Materials to Transform Curriculum and Collections
1–2 p.m. Sunday, June 25
Academic librarians are uniquely positioned to be trusted facilitators in the changing information landscape brought on by the pandemic. Expanding curricula with open access (OA) materials provides students with innovative, high-quality resources they can access long after graduation. In this workshop, presenters will showcase successful OA training, support, discovery, and community building, as well as strategies for securing campus buy-in and resources for getting started right away.
Autism Is Welcome Here: Increase Access and Inclusion for Neurodivergent Youth
2:30–3:30 p.m. Sunday, June 25
At this session, presenters will address the latest research, statistics, and feedback gathered from the autism community about their library experiences. Attendees will leave with ideas for creating an autism-friendly library climate, developing a collection with authentic and affirming representation, and designing programs for neurodivergent children and teens.
Creative Aging: Cultivating Healthier Older Adulthood for Library Patrons through Social and Creative Engagement
9–10 a.m. Monday, June 26
Creativity and social engagement can contribute to a healthy and happy older adulthood. This session will dive into the how and why of establishing creative aging programs and cover ways that public libraries can bring more opportunities for artistic expression, learning, and celebration to the older adults they serve.
Diversity, Equity, and Inclusion Capacity-Building
1–2 p.m. Monday, June 26
Diversity, equity, and inclusion (DEI) capacity-building is a practice used to measure how an organization fulfills its DEI goals through management, governance, and dedication to assessing and achieving results. In this session designed for library leaders, DEI will be discussed in the context of dialogue, collections, holding space, and avoiding burnout.
Division, round table, and affiliate presidents' programs
CALA President's Program:A Panel Discussion with National Associations of Librarians of Color Leaders and Presidents
9–10 a.m. Saturday, June 24
This year, the Chinese American Librarians Association (CALA) marks its 50th anniversary. To celebrate, CALA President Raymond Pun will convene a panel discussion featuring presidents from the National Associations of Librarians of Color, including the American Indian Library Association, Black Caucus of American Library Association, Asian Pacific American Librarians Association, and Reforma: the National Association to Promote Library and Information Services to Latinos and the Spanish-Speaking.
GNCRT President's Program: Comics in Libraries, Past, Present, and Future
10–11:30 a.m. Saturday, June 24
While comics have gained ground in libraries over the last two decades, there are still barriers to comics advocacy, including budget restrictions, skeptical colleagues, and organized challenges to titles. Graphic Novel and Comics Round Table (GNCRT) President Robin Brenner will moderate a panel of special guests who will share stories and outline goals for a brighter future.
Reforma President's Program: Advancing Digital Inclusion in Latinx Communities
10:30–11:30 a.m. Saturday, June 24
In this session from Reforma, presenters will introduce a conceptual model to help understand the digital divide in the Latinx community and other marginalized communities. Librarians will speak about innovative services that strengthen digital inclusion for this group, including services for special populations such as day laborers, Spanish speakers, and people with limited computer skills.
Small and Rural Libraries: The Heart of Innovation
11 a.m.–noon Saturday, June 24
As this session presented by Association for Rural and Small Libraries (ARSL) Executive Director Kate Laughlin and President Jennie Garner, ARSL members from across the country will share how they are innovating to meet community needs.
Leading for Justice: Surveying the Intersection of Social Justice and User Services
1–2 p.m. Saturday, June 24
Join the Reference and User Services Association (RUSA) for a panel discussion about the role social justice plays in user services. Speakers will include Erin Anderson, library and information science graduate student at University of Texas at Austin (UT Austin); Cynthia A. Johnson, head of reference and the Grunigen Medical Library at University of California, Irvine; Loriene Roy, professor at UT Austin's School of Information; Joe Sánchez, associate professor at Queens (N.Y.) College's Graduate School of Library and Information Studies; and Tatiana Swancy, restorative practices coordinator at Oak Park (Ill.) Public Library.
United for Libraries President's Program
11 a.m.–noon Sunday, June 25
Lawyer, activist, and social media influencer Emily Amick will speak about how book banning, censorship, and the current political climate has affected library staffers and supporters. Attendees will learn strategies for increasing awareness and engagement on these essential issues.
ACRL President's Program: Cultivating, Applying, and Assessing the DEIA Lens
1–2 p.m. Sunday, June 25
In this session hosted by the Association of College and Research Libraries, Steven Adams (life sciences librarian at Northwestern University in Evanston, Illinois) will facilitate a conversation with Kawanna Bright (assistant professor of library science at East Carolina University in Greenville, North Carolina) and DeLa Dos (senior director of learning and DEI at the Association of Research Libraries) about how to cultivate curiosity and institutional humility and move from abstraction to activation in libraries' diversity, equity, inclusion, and accessibility (DEIA) efforts.
RMRT President's Program
1–2 p.m. Sunday, June 25
The Retired Members Round Table will host a talk with Andrea Friederici Ross, school librarian and author of Edith: The Rogue Rockefeller McCormick and Let the Lions Roar! The Evolution of Brookfield Zoo. Edith was selected as the 2021 Book of the Year in Traditional Nonfiction by the Chicago Writers Association.
Leading with Your Hands and Your Heart: A Conversation about Leading from Wherever You Are
1–2:30 p.m. Monday, June 26
Join the Association for Library Service to Children for a conversation about leadership with Ling Hwey Jeng, professor and director of the School of Library and Information Studies at Texas Woman's University; Ellen Oh, CEO and cofounder of We Need Diverse Books; and Linda Sue Park, author of A Single Shard and When My Name Was Keoko. This program will explore ways to identify and activate one's leadership skills and areas of potential at all levels of librarianship.
Books, authors, and celebrations
Attendees will have the opportunity to hear from—and celebrate—dozens of bestselling authors and illustrators. Click here for more information on ticketed events.
Michael L. Printz Awards
8–10 p.m. Friday, June 23
Join the Young Adult Library Services Association (YALSA) and Booklist for the Michael L. Printz Award Ceremony, where Sabaa Tahir, author of this year's award winner All My Rage, and other honored authors will give speeches. A dessert and cocktail reception will follow the ceremony. Tickets are $45 in advance and $50 onsite for YALSA members, $50 in advance and $55 onsite for ALA members, and $55 in advance and $60 onsite for nonmembers.
GNCRT's Magical Comics Tea
2–4 p.m. Saturday, June 24
At this afternoon tea event, GNCRT will host comics creators and other comics-loving library staffers who will talk about upcoming titles and projects. Wear your best tea-time outfit or come as you are and share in the comics camaraderie. Tickets are $20 for GNCRT members, $10 for student ALA members, and $35 for non-GNCRT members.
The Laugh's on Us
5:30–7:30 p.m. Saturday, June 24
Humor writers and comedians will entertain the crowd at this wine and cheese event from United for Libraries (UFL). A book signing will follow, with free copies for attendees, subject to availability. Tickets are $60 in advance and $70 onsite for UFL members, $65 in advance and $70 onsite for ALA members and nonmembers.
Andrew Carnegie Medals for Excellence in Fiction and Nonfiction Award Ceremony and Reception
7–10 p.m. Saturday, June 24
Presented by Booklist and RUSA, this year's ceremony will honor 2023 Carnegie Medals winners Julie Otsuka (for her novel The Swimmers) and Ed Yong (for his nonfiction title An Immense World: How Animal Senses Reveal the Hidden Realms Around Us). Chicago poet and novelist Chris Abani, whose works include Smoking the Bible and The Secret History of Las Vegas, will keynote. Held at the American Writers Museum in Chicago, the event will kick off with a cocktail hour and close with a reception and book signing. Tickets are $25.
54th Annual Coretta Scott King Book Awards Breakfast
7–10 a.m. Sunday, June 25
The Coretta Scott King Book Awards Breakfast will feature leading authors and illustrators of quality children's books depicting African American experiences. Attendees will hear remarks from 2023 winners Amina Luqman-Dawson (for Freewater) and Frank Morrison (for Standing in the Need of Prayer: A Modern Retelling of the Classic Spiritual) and honorees. Tickets are $65 in advance, $75 onsite.
YA Author Coffee Klatch
9–10:30 a.m. Sunday, June 25
Enjoy a cup of coffee while meeting YALSA's award-winning and debut YA authors at this speed-dating style event. Authors will rotate from table to table to discuss their latest books. Tickets are $30 in advance and $35 onsite for YALSA members, $35 in advance and $40 onsite for ALA members, and $40 in advance and $45 onsite for nonmembers.
Newbery-Caldecott-Legacy Awards Banquet
6:30–11 p.m. Sunday, June 25
This event celebrates the authors and illustrators of the year's most distinguished books for children. Newbery Medal winner Amina Luqman-Dawson, Caldecott Medal winner Doug Salati, and Children's Literature Legacy Award winner James E. Ransome will be recognized, along with other honorees. Tickets are $99.
Rainbow Round Table 50th Anniversary Celebration
8–10:55 p.m. Sunday, June 25
In 2020, the Rainbow Round Table (RRT) marked its 50th anniversary, but a celebration was postponed because of the pandemic. This year, join RRT in recognition of the milestone with food, speeches, and dancing at the Museum of Contemporary Art. Free for RRT members registered for conference. RRT members can purchase guest tickets (for those also registered for conference) for $25 each.
Gala Author Tea
2–4 p.m. Monday, June 26
Enjoy tea and treats while hearing from bestselling authors about their forthcoming titles. Attendees will receive advance reading copies, which they can have signed by authors, subject to availability. Tickets are $60 in advance and $75 onsite for UFL members and $65 in advance and $70 onsite for ALA members and nonmembers.
International Librarians Reception
6–8 p.m. Monday, June 26
Join the International Relations Round Table in welcoming librarians from more than 70 countries. Open to all conference attendees, this reception offers a unique opportunity to network with hundreds of professionals from around the world. The recipients of the ALA Presidential Citation for Innovative International Projects will be announced, among other awards. Tickets are $40.
ALA President Inaugural Celebration
12:30–2:30 p.m. Tuesday, June 27
Outgoing ALA President Pelayo-Lozada will honor incoming ALA President Emily Drabinski and the new division presidents. The inaugural luncheon immediately follows the Closing General Session and includes food and a performance from the Chicago Gay Men's Chorus. Tickets are $50.
For an up-to-date list of dates and times, please see the Annual Conference Scheduler.
---
Library Marketplace
With more than 550 exhibitors and 300 presentations, the Library Marketplace is a space to learn, network, and have fun. In the exhibit hall, registrants can discover the latest library services and technologies, attend book talks, meet prominent authors, watch short films and trailers, and take home giveaways. Returning are the popular Diversity in Publishing, PopTop, and What's Cooking @ ALA live stages.
Exhibit Hall Hours
Friday, June 23
5:30–7 p.m.
Saturday, June 24
9 a.m–5 p.m.
Sunday, June 25
9 a.m.–5 p.m.
Monday, June 26
9 a.m.–2 p.m.
ALA Store
The ALA Store will be located near the entrance of the Library Marketplace and will be open noon–5:30 p.m. Friday, June 23; 8:30 a.m.–5 p.m. Saturday, June 24, and Sunday, June 25; and 8:30 a.m.–2 p.m. Monday, June 26.
JobLIST Placement Center
ALA's JobLIST Placement and Career Development Center is designed to help job seekers at any stage of their career retool their skills, prepare for job searches, and connect with employers. Click here for more information on the JobLIST Placement Center and its offerings.
Career Coaching
10:30 a.m.–4:50 p.m. Saturday, June 24, and 9 a.m.–4:50 p.m. Sunday, June 25.
Meet with a professional counselor who can help you strategize for the next phase of your career, solve a current job problem, and define your goals. Each one-on-one session is 20 minutes and confidential. Sign up for an appointment here.
Mentoring on the Fly
9 a.m.–noon Saturday, June 24, and 1–4 p.m. Sunday, June 25.
Looking for career advice? Attend short mentoring sessions with mentors from academic and public libraries. No appointments needed, walk-ins only.
Open House and Job Fair
10:30 a.m.–noon Sunday, June 25.
At this event, employers will be given the opportunity to talk with individuals about their institutions and available positions. Advanced signup is required for employers. Registration is not required for job seekers.
Photography Services
9 a.m.– 5 p.m. Saturday, June 24, and Sunday, June 25.
Get a professional headshot photo taken and receive a set of digital images to use for job applications, social media, and other opportunities. The service will be complimentary for the first 100 people. After that, a fee of $20 applies.
Governance meetings
Friday, June 23
ALA-APA Board of Directors Meeting, 8:30–9 a.m.
ALA Executive Board Meeting I, 9 a.m.–noon
ALA Joint Budget Analysis and Review/Finance and Audit Committees, 1–3 p.m.
Saturday, June 24
ALA Council Orientation, 9–10 a.m.
Joint ALA Information Session and Membership Meeting, 10 a.m.–noon
ALA Council I, 2:30–5:00 p.m.
Sunday, June 25
ALA Council II, 9–11:30 a.m.
Planning and Budget Assembly/Budget Analysis and Review Committee/Division Leadership Meeting, 1–3 p.m.
Monday, June 26
ALA Council III, 9 a.m.–noon
ALA Executive Board Meeting II, 1–5 p.m.
Tuesday, June 27
ALA Executive Board Meeting III, 8–10:30 a.m.
Stay connected
Source of Article