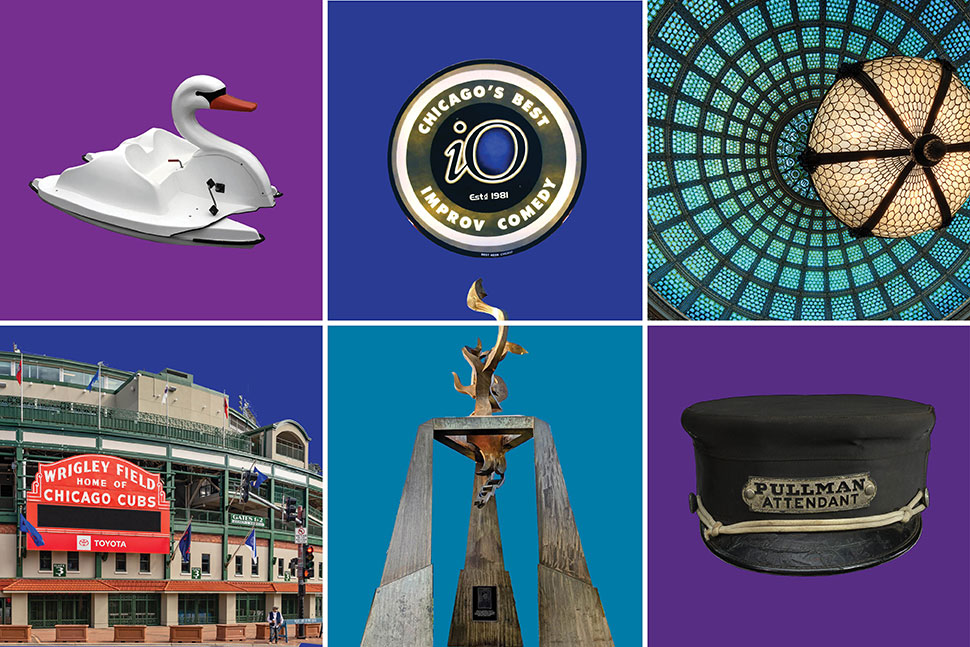 Want to get away from the hustle of conference and into the bustle of American Libraries' home city? Here you'll find staff members' favorite jaunts—from neighborhoods gems to tourist attractions—just a bus, train, or bike ride away. Chicago's grid system makes it an easy place to explore in between sessions, signings, and celebrations.
Walk or bike from the convention center
If you're looking for a quick way to get some fresh air, the Burnham Wildlife Corridor starts at McCormick Place and runs south to 47th Street. Throughout this stretch of revitalized prairie are five Gathering Spaces designed and installed by local artists and community groups. The nearest, just a mile away from the convention center, is the spiraling structure Caracol, a great spot to sit and read while taking in views of the lake and skyline.
Venture further down the Lakefront Trail, a path that spans 15 miles of the city's shoreline, using the city's Divvy bikeshare (see below). Not far off the path, on park-lined Langley Avenue in the Bronzeville neighborhood, sits the Light of Truth Ida B. Wells National Monument. Unveiled in 2021 and crowdfunded in part by Wells's descendants and neighborhood residents, including former residents of the historic Ida B. Wells Homes housing project, the monument honors the trailblazing journalist and civil rights activist just a few blocks from her former home.
Walk or bike from downtown
Across the street from Cloud Gate, the outdoor sculpture best known as The Bean, is the Chicago Cultural Center. The building, itself a former library, is an architectural feast for the eyes—particularly its two Tiffany glass domes. The free exhibits within, which rotate year-round, are always fascinating. On June 23, the center will host a conference in conjunction with the Chicago House Music Festival that celebrates the genre and its local roots. Those interested in the free festival can head to Humboldt Park on June 24. The park will also be hosting a Taste of Chicago pop-up event that day.
Looking for more world-renowned architecture? Take a tour with the acclaimed Chicago Architecture Center. The center's 90-minute, docent-guided Chicago River cruises are popular in summertime, so book in advance. While worth it, the ticket price of a river tour can be steep ($53.85–$58.57), so consider a walking or bus tour (about $30) instead. If a tour isn't doable, visit the center to see a scale model of Chicago that includes replicas of more than 4,000 buildings.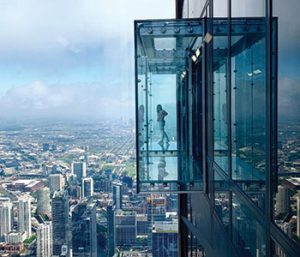 How about an elevated photo op? Visit Skydeck Chicago's Ledge inside Willis Tower. At 1,353 feet up, the glass ledge is the highest observation deck in the country, with fully enclosed boxes that extend more than four feet from the skyscraper's 103rd floor. While kid-friendly and accessible, keep time restrictions in mind: Parties of three or fewer can be in the Ledge for 60 seconds; for four or more people, the maximum is 90 seconds. Advance tickets strongly recommended.
No trip to the Second City is complete without traversing the Chicago Riverwalk, a 1.3-mile path with ample seating, restaurants, and entertainment. Don't be shy—take a seat on one of the beach chairs or pack a blanket for the grass, crack open an advance reading copy, and stay awhile. The riverwalk runs along Wacker Drive from Lake Michigan west to Lake Street, with street level access at each major intersection.
Destinations by bus

Catch the #21 bus west from the convention center to the National Museum of Mexican Art in the Pilsen neighborhood. The museum houses one of the country's preeminent Mexican art collections, spanning ancient artifacts to embroidered textiles, sculptures to surrealist contemporary paintings. Leave time for the wondrous gift shop. Afterward, wander east on 18th Street to grab a coffee or tacos, take in the colorful lotería-style painted doors, or stop by Pilsen Community Books.
At the heart of Chicago's Puerto Rican community, accessible by the #65 or #70 buses, is the always-hopping, 200-acre Humboldt Park that gives the neighborhood its name, featuring a formal garden, a grand boathouse, and walking paths. Explore the lagoon in a retro swan-shaped paddleboat. Too hot? Grab a frozen treat from pushcart vendors selling paletas and helado de coco.
Summer is revered as the city's farmers' market season. While Logan Square Farmers Market, Green City Market, and Maxwell Street Market are among the most popular outdoor markets, smaller-scale operations can also be reached by bus and train and feature much of the same Midwestern produce, artisan brands, and local entertainment. Don't pass up an opportunity to taste-test products from Phoenix Bean Tofu, Karl's Craft Soup, or River Valley Ranch mushroom farm.
Trips by train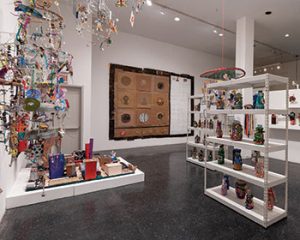 For a quick art break, hop on the Blue Line and head to Intuit: The Center for Intuitive and Outsider Art. This small museum's permanent collection of 1,300 pieces showcases the work of self-taught artists and others outside the mainstream art world. Highlights include rotating exhibits and the Henry Darger Room Collection, a re-creation of the late janitor and artist's studio apartment.
Take the Red Line to iO Theater, an improv theater company that refreshingly prioritizes representation and inclusion. Black, queer, and women performer–led shows like Satirical Race Theory and That Time of the Month round out long-running productions like Improvised Shakespeare and the Armando Diaz Experience. Pop into Off Color Brewing's Mousetrap tap room across the street before the show to sample outstanding beers from one of Chicago's 160 breweries.
Off the Red and Brown lines are the Lincoln Park Conservatory and Peggy Notebaert Nature Museum, located within Lincoln Park and each home to a wide variety of flora and fauna. Both are free and a great respite from big-city busyness. Just a few blocks east of the park is Fullerton Beach and a northern stretch of the Lakefront Trail. Pack a picnic and time your visit to watch the sun set over the downtown skyline.
What better way to spend a summer afternoon or evening than at a ballpark? Both of Chicago's storied parks have their own stations on the Red Line. During conference, catch one of the three games the Chicago White Sox play against the Boston Red Sox at Guaranteed Rate Field (June 23–25). Or if you're a Chicago Cubs fan, watch the North Side team take on the Philadelphia Phillies at historic Wrigley Field (June 27–29). Can't make it to a game? Consider a behind-the-scenes tour of Wrigley. On non-gamedays, you can walk the grounds and sit the in dugout.
The lower floor of downtown's Ogilvie Station is home to the indoor Chicago French Market, open year-round and reachable by the Green and Pink lines. Not only can you grab some groceries here, but there are also food stalls serving cuisine from all over the world, including a Filipino outpost with adobo made from scratch and a Cuban sandwich stand that bakes its own bread. Vendors set their own hours, so be sure to check that they're open for your stop.
Get a taste of Chicago's rich labor history at Pullman National Historical Park, a short ride south on the Metra Electric line, which has a station adjacent to McCormick Place. While the Pullman Company factory town was originally outside the city, it is now one of Chicago's 77 neighborhoods. See historic homes, the restored factory-complex administration building and clock tower, and the A. Philip Randolph Pullman Porter Museum. Free ranger-led daily tours are available at 11 a.m. and 2 p.m. And if you need a bite to eat, One Eleven Food Hall, a stepping-stone for South Side food entrepreneurs, is right next door.
Ready to explore? Our map will help you find nearby recommendations.
---
Getting around town
Public transit
The Chicago Transit Authority system is extensive, and its crown jewel is the L, or its elevated trains. If you're staying downtown, you have access to the Loop of tracks that give the city's central business district its name. Here you can access all major train lines and quickly reach North, South, and West side neighborhoods. Single rides are $2.25–$5 and an unlimited day pass is $5. Pay with cash on the bus or at a Ventra kiosk, use mobile or contactless payment methods, or pick up a Ventra card.
Microtransit
Divvy is Chicago's bike share service, with stations in all 50 of the city's wards. The service offers both standard pedal bikes and electric-assist bikes. Download the Divvy or Lyft app to access information on nearby docks and easily check out bikes. Single rides are $1 for checkout and $0.17 per minute ($0.42 per minute for e-bikes), while day passes are $16.50—though e-bike rentals are not included in the day pass.
Electric scooters are available at some Divvy stations, and you'll find Lime, Spin, and Superpedestrian scooters scattered across the city—all easily located using their respective apps. Unlocking a scooter is $1 across the board, with rides starting at $0.39 per minute. Note that it's illegal to ride them on the sidewalk, the Lakefront Trail, or the Chicago Riverwalk.
Water taxi
If you're staying downtown, take a trip to Chinatown by water taxi. These yellow boats drop passengers off near the pagoda in Ping Tom Memorial Park, and McCormick Place is just a short bus ride away. For dining suggestions, see our Chinatown sidebar.
Source of Article