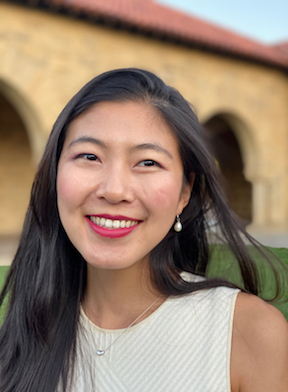 Anqi Xu, pictured above, is one of 240 students who deposited their work to the Stanford Digital Repository (SDR) as part of completing their programs of study at Stanford in 2020. Xu received her MA in
East Asian Studies
. Her thesis, available at
PURL
and
SearchWorks
, is a case study using a combination of business and design thinking analysis methods to explore the intersection of engineering, art making, and art viewing. She is one of five Stanford students
selected for a fellowship
to pursue a master's degree in global affairs at Schwarzman College at Tsinghua University in Beijing.
Stanford Libraries is proud to preserve and provide access to the scholarly works produced by students during their time "on the farm", captured in the SDR before they move on to the next big moments in their impactful lives. Congratulations to Anqi and all the other 2020 graduates!
Spring and summer are typically the busiest quarters for student deposits in the SDR. With the global pandemic turning everything upside down this year, it was anyone's guess how busy it would be in 2020. In the end, the 240 works deposited was super close to 2019 numbers (253 works deposited). The number of active collections dropped slightly from 33 to 30, and included two newly established program-based collections this year:
The Firestone Medal for Excellence in Undergraduate Research
Of Dinners and Diplomacy: What White House State Dinners Reveal About Relationship Building and Goodwill Signaling in U.S. Foreign Policy, by
Emily Bishko
(International Relations):
https://purl.stanford.edu/md222pt6655
Who 'Speaks' for Autism and Who is 'M[i]ss[i]ng'? Examining Autism Narratives and Advocacy in the Era of Genomics, by
Harika Kottakota (
Science, Technology, and Society):
https://purl.stanford.edu/yk773bf8517
The Cost-Capitulation Paradox: Compellent Signals, Sequences, and Selection Effects, by
Jonah Martin Glick-Unterman
(Center for International Security & Cooperation):
https://purl.stanford.edu/td244wz1500
The Robert M. Golden Medal for Excellence in the Humanities and Creative Arts
Performance, Materiality, Postmemory: Dancing Toward History in Theresa Hak Kyung Cha's DICTEE, by Maddie Kim (Comparative Studies in Race and Ethnicity): https://purl.stanford.edu/gd950xr2526
Many thanks to all the Stanford Libraries staff, and the many academic program staff with whom they coordinate, who encourage, promote, and facilitate student collections in the Stanford Digital Repository.
Source of Article