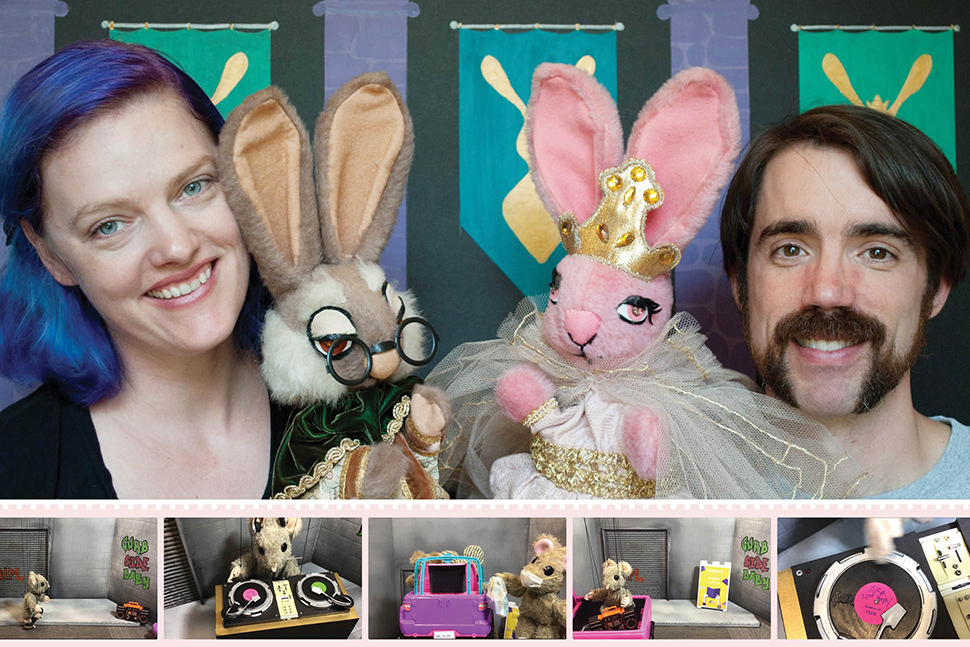 When Greg Hall and Morgan Matens met and fell in love as graduate students over a dozen years ago (he was studying library science; she was studying set design), they had no idea they'd wind up working together. Hall is now children's librarian at Nashville Public Library (NPL), where Matens is a puppeteer with Wishing Chair Productions, NPL's in-house puppetry troupe.
Wishing Chair Productions draws on the legacy of the prolific puppeteer Tom Tichenor, who worked in the library in the 1930s. After his death in 1992, NPL established a program in his honor that grew from small, single-performer storytimes to full-blown productions staffed by a team of 10 professional puppeteers. With marionettes, juggling, magic tricks, and a cast of recurring characters, "it's more of a show than a storytime," Hall says.
Sheltering in place together, the couple has collaborated on weekly Facebook videos that bring NPL's puppets to families across the country. The runaway hit so far is the music video "Curbside Baby," set to Vanilla Ice's "Ice Ice Baby" and featuring a DJ mouse who raps instructions for curbside library services. The video has garnered nearly 150,000 views on YouTube and a shout-out in The New York Times.
Recalling the high-fives and knee-hugs that used to happen in crowded gymnasiums, Matens says: "It's great we're getting all this positive attention, but I do miss the kids." Hall adds: "The Facebook 'like' is a poor substitute."
Source of Article