A little over a year ago, the FBI and law enforcement partners overseas seized WeLeakInfo[.]com, a wildly popular service that sold access to more than 12 billion usernames and passwords stolen from thousands of hacked websites. In an ironic turn of events, a lapsed domain registration tied to WeLeakInfo let someone plunder and publish account data on 24,000 customers who paid to access the service with a credit card.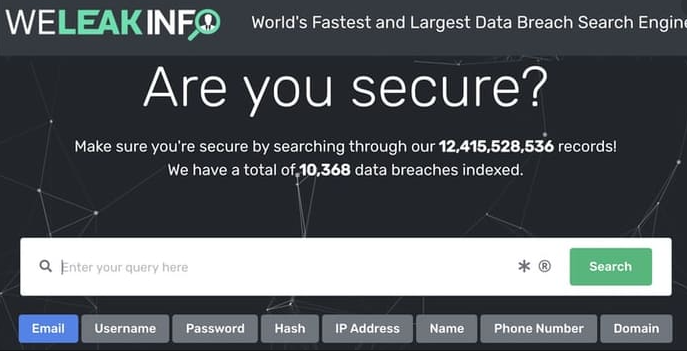 For several years, WeLeakInfo was the largest of several services selling access to hacked passwords. Prosecutors said it had indexed, searchable information from more than 10,000 data breaches containing over 12 billion indexed records — including names, email addresses, usernames, phone numbers, and passwords for online accounts.
For a small fee, you could enter an email address and see every password ever associated with that address in a previous breach. Or the reverse — show me all the email accounts that ever used a specific password (see screenshot above). It was a fantastic tool for launching targeted attacks against people, and that's exactly how the service was viewed by many of its customers.
Now, nearly 24,000 WeLeakInfo's customers are finding that the personal and payment data they shared with WeLeakInfo over its five-year-run has been leaked online.
In a post on the database leaking forum Raidforums, a regular contributor using the handle "pompompurin" said he stole the WeLeakInfo payment logs and other data after noticing the domain wli[.]design was no longer listed as registered.
"Long story short: FBI let one of weleakinfo's domains expire that they used for the emails/payments," pompompurin wrote. "I registered that domain, & was able to [password] reset the stripe.com account & get all the Data. [It's] only from people that used stripe.com to checkout. If you used paypal or [bitcoin] ur all good."
Cyber threat intelligence firm Flashpoint obtained a copy of the data leaked by pompompurin, and said it includes partial credit card data, email addresses, full names, IP addresses, browser user agent string data, physical addresses, phone numbers, and amount paid. One forum member commented that they found their own payment data in the logs.
According to DomainTools [an advertiser on this site] Wli[.]design was registered on Aug. 24, 2016 with Dynadot, the domain registrar which also was used to register WeLeakInfo.com. On March 12, wli[.]design was moved to another registrar — Namecheap.
Pompompurin released several screenshots of himself logged in to the WeLeakInfo account at stripe.com, an online payment processor. Under "management and ownership" was listed a Gerald Murphy from Fintona, U.K.
Shortly after WeLeakInfo's domain was seized by authorities in Jan. 2020, the U.K.'s National Crime Agency (NCA) arrested two individuals in connection with the service, including a 22-year-old from Fintona.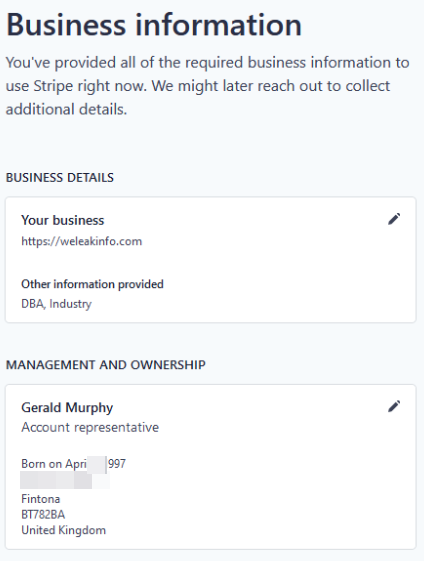 PLENTY OF TIME FOR OPSEC MISTAKES
It's been a tough few months for denizens of various hacking forums, which are finding themselves on the defensive end of a great many attacks testing the security of their aliases and operational security lately. Over the past few weeks three of the longest running and most venerated Russian-language online forums serving thousands of experienced cybercriminals have been hacked.
In two of the intrusions (against the Russian hacking forums "Mazafaka" and "Verified") — the attackers made off with the forums' user databases, including email and Internet addresses and hashed passwords.
"Members of all three forums are worried the incidents could serve as a virtual Rosetta Stone for connecting the real-life identities of the same users across multiple crime forums," a recent story here explained.
An exposure of 15 years worth of user data from a forum like Mazafaka is a big risk for registrants because investigators often can use common registration details to connect specific individuals who might have used multiple hacker handles over the years.
Many of the domains from the email addresses listed in the Maza dump date to the early 2000s, back when budding cybercriminals typically took fewer precautions to obfuscate or separate the myriad connections to their real-life identities online.
The biggest potential gold mine for de-anonymizing Maza members is the leak of user numbers for ICQ, an instant messaging service formerly owned by AOL that was widely used by cybercrime forum members up until around 2010. That's about when AOL sold the platform in 2010 to Russian investor DST for $187.5 million.
Back then, people often associated their ICQ numbers to different interests, pursuits and commerce tied to their real life identities. In many cases, these associations are on public, Russian language forums, such as discussion sites on topics like cars, music or programming.
In a common inadvertent exposure, a cybercriminal happens to make an innocuous post 15 years ago to a now-defunct Russian-language automobile forum.
That post, preserved in perpetuity by sites like archive.org, includes an ICQ number and says there's a guy named Sergey in Vladivostok who's selling his car. And the profile link on the auto forum leads to another now-defunct but still-archived personal site for Sergey.
Interestingly, services like WeLeakInfo can just as easily be used against cybercriminals as by them. For example, it's likely that the database for the automobile forum where Sergey posted got compromised at some point and is for sale on sites like WeLeakInfo (there are active competitors).
Ditto for any other forum where Sergey used the same email address or password. When researchers start finding password re-use across multiple email addresses that all follow a pattern, it becomes much easier to tie Sergey from Vladivostok to his cybercriminal and real-life identities.
Tags: fbi, Flashpoint, Gerald Murphy, Mazafaka, pompompurin, RaidForums, Verified, WeLeakInfo
Source of Article