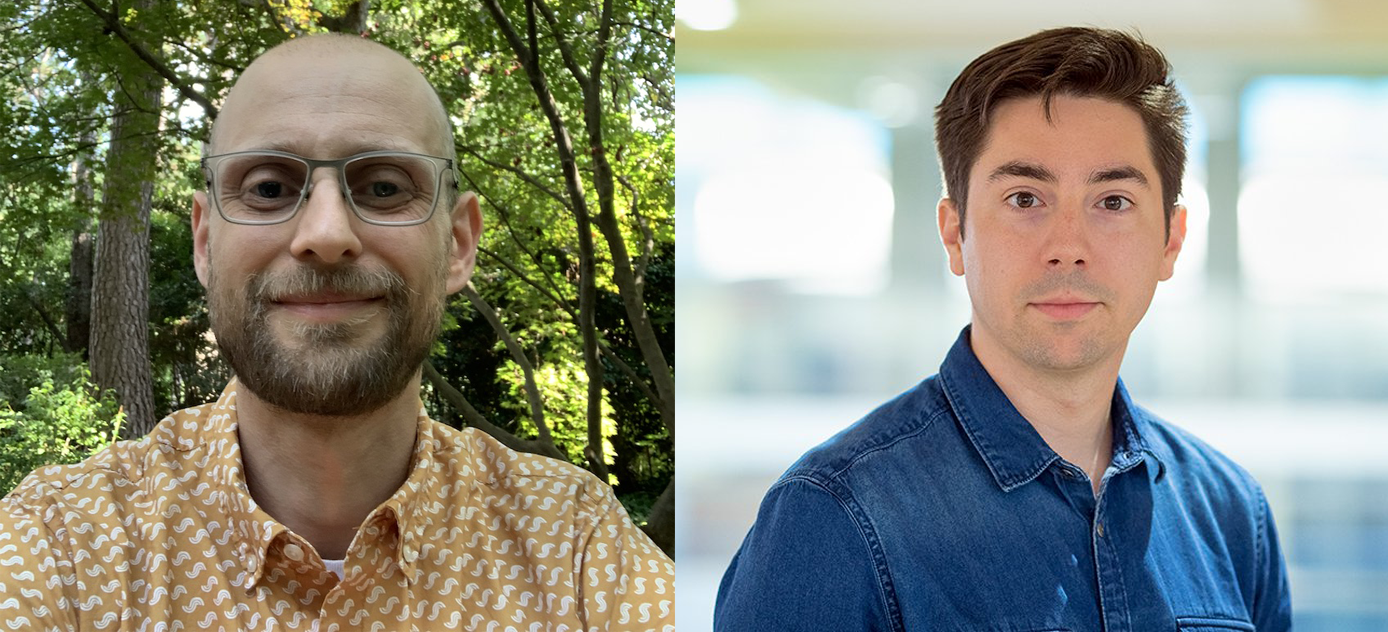 It's my pleasure to share the news that Cory Lown and Nick Budak are joining the staff of Digital Library Systems and Services as Digital Library Software Developers on the Access and Discovery Team. Cory and Nick's first day will be October 4, and they will be working alongside Chris Beer, Gary Geisler, and Camille Villa, as well as our other colleagues across DLSS and Stanford Libraries.
Cory has spent his career in libraries designing interfaces and developing software for discovery and access of library collections. Most recently, he worked at Duke University Libraries in the role of Application Development Project Lead where he contributed to projects such as TRLN Discovery and the Duke Digital Repository. Prior to Duke, Cory was Digital Technologies Development Librarian at NC State University Libraries where he worked on QuickSearch and NC Architects and Builders, among other projects. He holds an MS in Library Science from UNC Chapel Hill and a BA in English from Hamilton College. Cory lives in Durham, North Carolina with his partner, their two cats, and dog. He enjoys tennis, pickleball, and taking walks with his dog by the Eno River.
Nick enjoys imagining and implementing accessible, dynamic interfaces for digital cultural heritage projects. At Lewis & Clark, he published award-winning open-source customizations for the Ex Libris Primo catalog. At Princeton, he helped build major DH projects like the Shakespeare and Company Project and launched the experimental data journal Startwords. Nick earned his B.A. in East Asian Studies from Whitman College in 2014, and his personal research is on natural language processing for Old Chinese through the NEH-funded New Languages for NLP grant. Born and raised in Portland, OR, Nick enjoys getting outdoors in his aging but still capable 2003 Chevy Astro "Jean-Claude Van Vanne".
We are excited to have Cory and Nick join DLSS, and to work towards the next phase of our work providing world-class access to Stanford Libraries' collections and services.
Source of Article