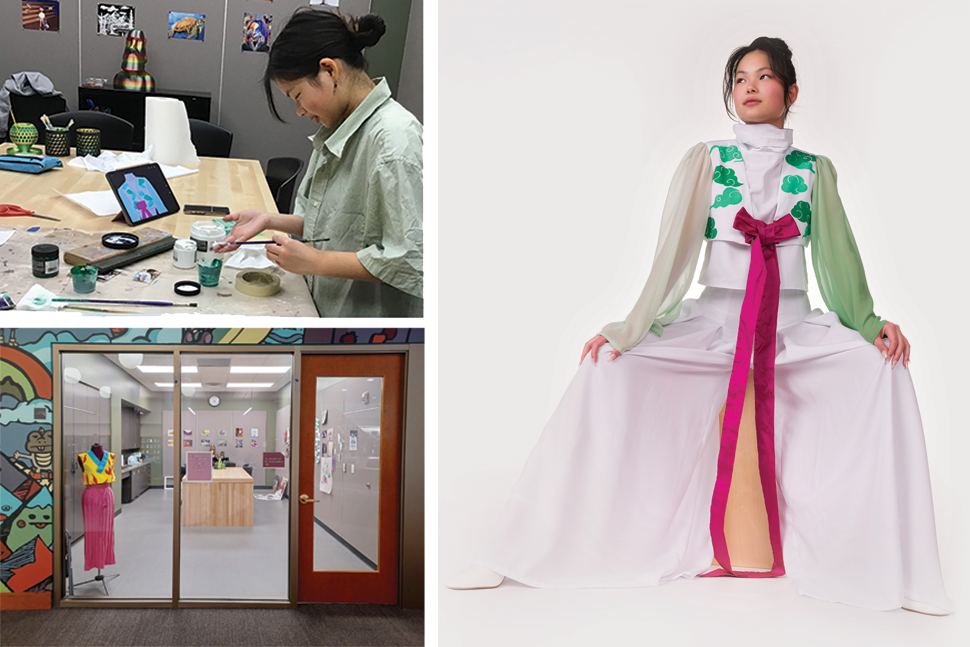 Celia Hamilton wanted to identify further with her Chinese heritage. Her adoptive parents are not Chinese, and she says this left her feeling like she missed out on some aspects of her cultural background.
To connect with that part of her identity, Hamilton crafted a traditional garment—inspired by the Chinese moon goddess Chang'e—as one of three teens selected for Carmel Clay (Ind.) Public Library (CCPL)'s teen artists-in-residence program. She used a silk-screen process to print emerald-colored clouds on the garment and accented the white outfit with sheer green sleeves and a crimson bow that ties together a vest at the center.
"I don't necessarily need to be part of one [culture] or the other," said Hamilton, then a senior in high school, in a video reflection of her time as a teen artist-in-residence on CCPL's YouTube channel. "I can just kind of live my life understanding both cultures or all cultures and applying that to my life."
CCPL is one of a handful of libraries across the US that have created teen artist-in-residence programs with a goal of bolstering youth interest in the arts. Depending on the program, these residencies can include stipends, exposure by displaying their art to the public, and opportunities to host workshops for patrons. In addition, libraries typically provide space and equipment.
Express yourself
Mike Cherry, teen services librarian and coordinator of CCPL's teen artist-in-residence program, says the program opens a multitude of opportunities for young artists. "You're connected now to creative people and [to] a sense of community support for your work and skill development," he says.
CCPL acts as a hub for many local teens, Cherry says. The library sits across the street from Carmel High School, which has more than 5,000 students. About 150 teens serve on CCPL's teen library council. When Cherry launched the teen artist-in-residence program in October 2022, he received 30 applications for three spots.
"They're a huge part of who we serve, and it's part of their culture to come here," Cherry says of the local teens. "They're pretty much everywhere."
Using CCPL's art studio and funding from the Carmel Clay Public Library Foundation, the teen artists have hosted community classes on how to turn still drawings into motion graphics and how to make alebrijes, colorful Mexican sculptures of mythical creatures featuring elaborate patterns of stripes, dots, and flowers. The teen artists are unpaid, but CCPL covers all of their project materials and pays for the combined art show held at the end of their residency.
Cherry says this program has allowed students to realize how much they are interested in art. "It's a very personal way of telling their story. That's something I try to stress to them: 'Just tell your story.'"
[Art is] a very personal way of telling their story. That's something I try to stress to them: 'Just tell your story.'Mike Cherry, teen services librarian at Carmel Clay (Ind.) Public Library
A vibrant community
Chester County (Pa.) Library System (CCLS) began its inaugural six-week teen artist-in-residence program in May, supported by the Friends of the Chester County Library. CCLS's first artist-in-residence was Alayna Rodner, then a rising high school senior, who focused on contemporary realism using watercolor and oil paints.
In addition to leading classes on figure drawing, Rodner held studio hours at the library three times per week where library patrons could drop in and learn about her work.
CCLS budgeted $500 for its residency, which included art supplies for Rodner and refreshments for a culminating showcase of her artwork in September. The show included one final piece specially made during the program that could be permanently displayed in the building.
"This seemed like a nice way to provide opportunity to teens over the summer—teens who are creative and maybe thinking about going to art school as that next step," says Mary Gazdik, director of CCLS.
Gazdik says she hopes to offer more residencies in the future. Library programs specifically geared toward teens are important, she adds, because they provide an outlet for their interests.
In an effort to liven up its teen spaces, Boston Public Library (BPL) selected LJ-Baptiste, a local professional comic book artist, as its artist-in-residence in March 2022. Baptiste organized 18 free programs for youth on how to draw cartoons throughout the year, including one on how to accurately draw Black characters for Juneteenth.
"We really wanted to have somebody that wasn't just coming in and talking to teens but was working with them, and [Baptiste] was just excellent with them," says Jess Snow, assistant manager of youth services at BPL.
BPL offered an $8,000 stipend, funded through the Boston Public Library Fund, to Baptiste, as well as a $7,000 budget for his art supplies. This budget also covered high-quality supplies for the teens, who could take them home once the workshops ended.
Snow says that the budget may seem steep for art supplies, but she wanted teens to leave their residencies with the tools necessary to pursue their art—either as a long-term passion or a budding interest—without having to spend their own money.
Thinking creatively
In organizing BPL's program, Snow was inspired by a similar initiative at Madison (Wis.) Public Library that began in 2013. She advises librarians to talk to other librarians to brainstorm potential art-related events.
Another big challenge is advising students on their work. "You really have to exercise your brain," Cherry says. "You just have to think creatively and be able to navigate different topics or different ideas that they're working on."
He recommends other librarians start an arts community within their own spaces. "Build a larger community and combine it with art and combine that with teens," Cherry says. "Work with the school districts and possibly home-school communities. Form partnerships."
Source of Article