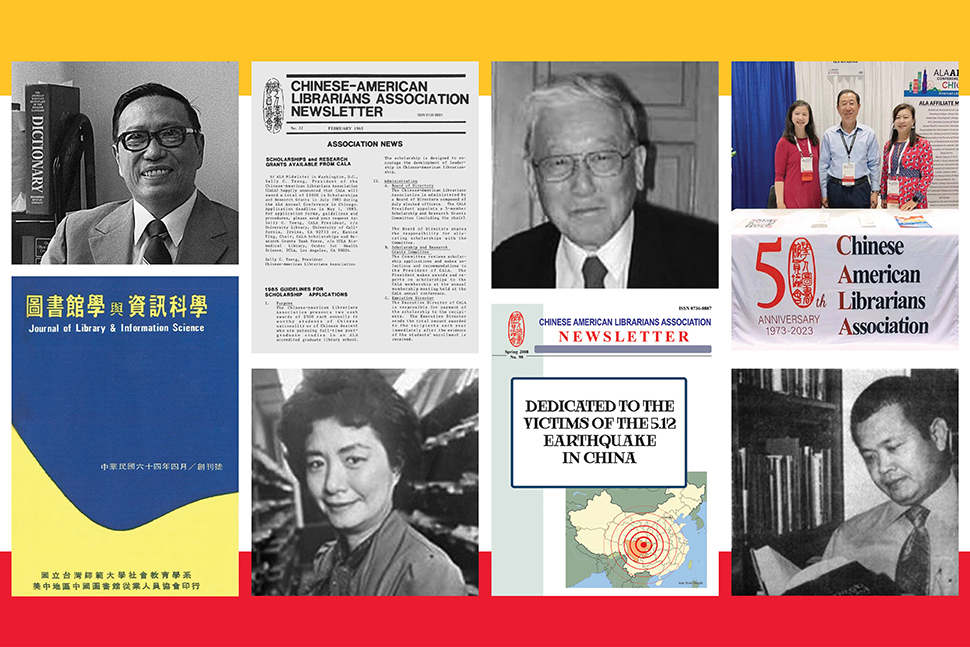 The Chinese American Librarians Association (CALA), an affiliate of the American Library Association (ALA), celebrated its 50th anniversary this year. In the five decades since its formation, the organization has become known for its scholarship, awards, and humanitarian efforts—and has grown to include nine chapters across North America and the Asia Pacific region.
CALA President Vincci Kwong attributes the group's longevity to the relationships members form with one another. "Sometimes you feel isolated at your library because you don't have a lot of people who are Asian American," she says. "[In CALA,] people serve on committees, and we form a bond and stay together and still network after years and years."
Kwong and Raymond Pun, CALA immediate past president, say the association's goals include creating more mentorship and leadership opportunities, advocating for the profession, and building stronger connections with colleagues in Asia.
"The Chinese diaspora is really huge and diverse," notes Pun. "We want to honor a space for all of us to come together and have that shared value and identity."
---

1973
On March 31, CALA is formed by 38 librarians from across the country as the regional Mid-West Chinese American Librarians Association (MWCALA). These librarians meet at Dominican University in River Forest, Illinois, to adopt MWCALA's constitution, install a board of directors, and hold its first conference. In May, Tze-chung Li is elected as the association's first president.

1974
The Chinese Librarians Association (CLA) forms in California, unaware a similar group was forming in Chicago at the time.

1975
MWCALA begins publishing the Journal of Library and Information Science (圖書館學与資訊科學) in partnership with the National Central Library in Taiwan.

1976
MWCALA expands into a national association, adopts the CALA name, and becomes an affiliate of ALA and the Council of National Library and Information Associations.

1980
CALA establishes its Distinguished Service Award to recognize a library professional who, through their contributions, has advanced librarianship and Chinese American librarianship. The first recipient is scholar and instructor Ernst Wolff.

1981
David Liu, 1981–1982 CALA president, appoints the Committee on Books to China to help supply reading material to the country for library and classroom use. More than 90,000 volumes are shipped.

1983
CALA merges with the Chinese Librarians Association in California. The combined organization uses CALA as its English name and 華人圖書館員協會 as its Chinese name.

1985
The association establishes its scholarships and research grant awards program under then–CALA President Sally C. Tseng.

1987
The National Library of China invites a CALA delegation, led by 1987–1988 CALA President Irene Yeh, to attend a symposium and ceremony honoring its new building in Beijing.

1990
CALA's Greater Mid-Atlantic chapter publishes a book list to promote better understanding of China and Chinese culture among students in grades K–8. In 1993, a revised edition is issued with support from the ALA President's Committee on Cultural Diversity.

1996
The first joint China-US library conference on global information access is held in Beijing. The US organizing committee is cochaired by 1978–1979 CALA President Hwa-wei Lee and includes representatives from CALA, ALA, the Library of Congress, and the US National Commission on Libraries and Information Science.

2005
The Books to China Fund is launched by librarian and professor John T. Ma, for which he wins the 2009 CALA Distinguished Service Award. In four years, the project ships more than 100,000 books overseas.

2006
CALA announces its Best New Book Awards, an initiative proposed by librarian and CALA member Cathy Lu, to promote outstanding works written by Chinese and Chinese American authors in North America that cover Chinese topics.

2008
CALA raises more than $20,000 for libraries and library workers affected by an earthquake in Sichuan province that causes more than 69,000 casualties. The funds, distributed by the Library Society of China, go to victims' families and rebuilding collections.

2012
Ahead of CALA's 40th anniversary, a group of ALA Emerging Leaders conducts interviews with 40 CALA members across different generations on the topic of leadership.

2017
With 704 active members, CALA membership reaches a historic high.

2021
Patricia "Patty" M. Wong becomes the first Chinese American and first Asian American president of ALA. Wong is a CALA life member, 1993 president of CALA's California chapter, and 2015 recipient of the association's Distinguished Service Award.

2023
CALA celebrates its 50th anniversary at ALA's 2023 Annual Conference and Exhibition in Chicago with a panel that brings together National Associations of Librarians of Color leaders and a celebration featuring award-winning middle grade author and National Library Week Chair Kelly Yang.
Source of Article