Considering their growing attack surface along with the increased sophistication of threat actors, organizations are now turning to different cyber security companies and vendors for help, with cybersecurity remaining the real "it" area of IT spending.
Security companies and vendors aid organizations and their security teams by providing them with solutions for network security, cloud security, endpoint security, threat intelligence, mobile security, prevention from identity theft and privileged access protection and management, email security, along with just about any other security operations that will help make their security procedures and processes faster, more efficient and cost-effective.
Each security sector has its own superstar IT security vendors, and keeping track of all the different solutions, services and tools to defend against network security threats can be difficult. Should you go with a long-established security company with decades of industry recognition, or choose the hot new startup that's making the news with its own cutting edge technology? We feel your pain—know that we, too, have searched for a comprehensive list of cybersecurity vendors and their product offerings, but have had no such luck.
That's why we've made our own list of top 10 best security vendors to watch for in 2020. We've even provided a detailed spreadsheet that boasts more than 400 security vendors, complete with the type of services they offer, founding dates and headquarters. You can download the spreadsheet, edit and customize it to suit your needs, and get your intel on the best security vendors out there.
Top 10 Best Cyber Security Companies in 2020
We've compiled this list of the best cybersecurity vendors in 2020 based on their annual revenue, industry recognition, range of products and services, fresh product updates and releases, as well as our personal preferences and thoughts on existing and emerging technologies and vendors.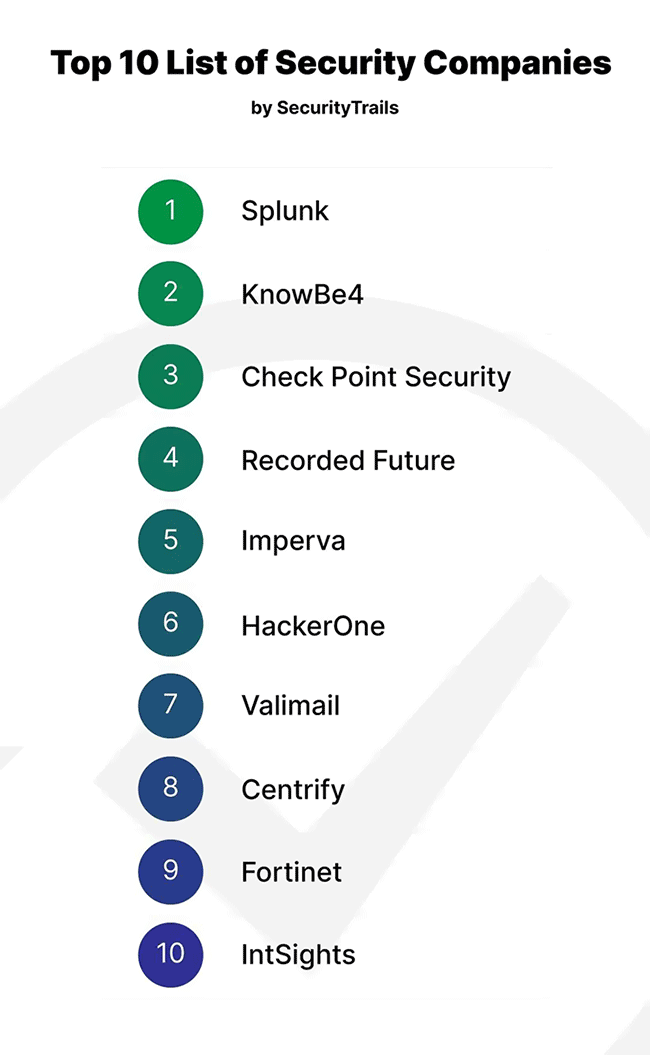 Keep in mind that the list presented is in no particular order, as each security vendor here has earned its spot based on specific strengths. We feel it would be ungrateful to compare them.
1. Splunk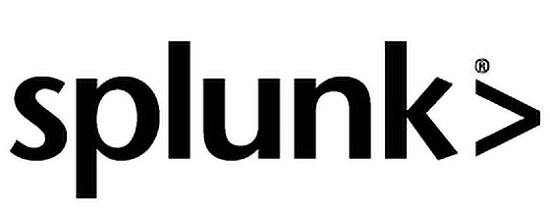 Since its founding in 2003, Splunk has been developing technology that helps its users in areas that include indexing, searching, monitoring, alerting, and examining machine-generated data. Splunk performs the indexing and searching of log files stored in the system, and correlates and analyzes real-time data.
With its headquarters in San Francisco, CA, and offices in 32 other locations, Splunk has over 5,000 employees around the world. Likewise, its customers come from many different industries, such as aerospace, defense, communications, financial services, energy, utilities, healthcare, manufacturing and higher education, and 92 of them are listed in the Fortune 100.
Some of the items in Splunk's product portfolio include Splunk Cloud, Splunk Enterprise and of course, their analytics-driven SIEM known as Splunk Enterprise Security, which Gartner ranked as first in market share for security information event management. Splunk also offers solutions for IT operations, security IoT, DevOps and business analytics.
Often used for security analytics, SIEM, and operations management, this Data-to-Everything™ Platform helps organizations predict and prevent issues, streamline the security stack with its capabilities that help expedite threat detection and incident & response, accelerate application development and minimize downtime. It also allows for discovery and interaction with data patterns behind business processes and customer experience. Splunk has continued to grow through the years and it remains at the top of the ITSM market. It's widely known as one of the top security companies in 2020.
Our security API has already been integrated into several apps and security tools, one of which is our Splunk add-on, written by Mickey Perre. This plugin works with Splunk Adaptive Response, and you will be able to launch automated DNS lookups, get data on domains, find subdomains, WHOIS, historical DNS, and much more. Make sure to check out an overview of SecurityTrails integrations to see what other integrations and tools are using our intelligence platform.
2. KnowBe4

Every SecurityTrails list has one entry that stands out from the rest, and in this look at the best available security vendors, startup company KnowBe4 takes on that role handily. Founded in 2010, Knowbe4 offers a security awareness training platform and enterprise security and customer awareness programs, as well as security and orchestration, email security, phishing and malware tools.
Another thing that sets KnowBe4 apart from many other entries on this list is specialization. Rather than offering a broad product portfolio that covers a wide range of security services, KnowBe4 is rising as a niche company. Over the past few years, it's been graced with exponential growth while helping organizations stay resilient against social engineering and encouraging their employees to make smarter security decisions by providing security training and a simulated phishing platform.
KnowBe4 offers free phishing tools, security training tools, password tools, tools for email security and ransomware simulator tests. Among their products and services you'll find something that's sure to catch your eye: Kevin Mitnick Security Awareness Training. After all, who's more synonymous with social engineering attacks than Kevin Mitnick? Additionally, you can take advantage of KnowBe4 Enterprise Security Awareness Training, eBanking Customer Awareness Training, and PhishER™, a SOAR platform that orchestrates threat response and manages potentially malicious reported emails.
We can only foresee KnowBe4 accelerating their growth and solidifying their position in the cybersecurity market making it a worthy entry on this list of best security vendors.
3. Check Point Security

One of the veterans on this list with their 27-year-long history, Check Point Software is a recognized industry leader in providing security solutions to corporations and governments around the world. Founded in 1993 by Gil Schwed, Marius Nacht and Shlomo Kramer, Check Point Software headquarters is located in Tel Aviv, Israel, with offices in over 70 locations.
When it was first introduced, their first product was FireWall-1, the first such tool to use static inspection technology at its core. From there it developed a wide range of valuable products and solutions, staying at the forefront of the industry for all these years.
Some of Check Point's product offerings include resources for cloud security, advanced network threat prevention, next-gen firewall, IoT security, event management, mobile security, advanced endpoint threat prevention and remote access VPN, along with their consolidated security architecture, Check Point Infinity.
As their proprietary cybersecurity architecture, Infinity is resilient to fifth-generation cyberattacks that are large scale, move across all networks, mobile, cloud and endpoints, and are able to easily bypass conventional defenses. They describe these as "mega cyber-attacks", and the Infinity architecture is said to be the only one that works by unifying all networks, cloud, endpoints, IoT and mobile, providing the highest level of threat prevention against both zero-day and known vulnerabilities.
With such a long and impressive history, and with work that continually delivers innovative security solutions to help organizations around the globe get threat protection across their entire IT infrastructure, Check Point's spot on this list of security vendors is well-deserved.
4. Recorded Future

Recorded Future is a global leader in threat intelligence. This cybersecurity company specializes in collecting and analyzing threat intelligence gathered from numerous sources, and providing context to every threat. Their work helps organizations improve threat intelligence workflow, visibility of threats, and the overall state of their security programs.
The company was founded in 2009 by Christopher Ahlberg with headquarters in Somerville, MA, and is trusted by the world's largest governments as well as many Fortune 1000 companies. Its roster of early investors includes Google and the C.I.A.; and Palo Alto Networks, Splunk, Vencore and GEOINT all chose Recorded Future as their threat intelligence partner.
Recorded Future delivers threat intelligence with the aim of helping organizations get relevant insights, uncover unknown threats, predict future events and drive better informed security decisions.
Analyzing data from the open web, dark web, proprietary and other sources, Recorded Future offers threat research, threat hunting, dark web monitoring, IoC enrichment, real time alerting, and much more. Their platform is of great use to SOCs, threat analysts, vulnerability management and incident and response teams, and presents solutions for brand protection, third-party risk, SecOps, response, threat intelligence and geopolitical risk.
Earning awards for innovation in tech and for being the best security company of the year, along with being trusted by large organizations and governments, all contribute to Recorded Future's spot on any list of the hottest cybersecurity vendors around.
5. Imperva

Imperva, or as it was originally named, WEBcohort, was founded in 2002, the same year as the release of its first product, the web application and database firewall SecureSphere. They changed their name to Imperva shortly thereafter. Eighteen years later, Imperva continues to be a leading data and application security provider that helps organizations protect their critical data both in the cloud and on-premises.
Imperva offers solutions designed to proactively identify, evaluate, and eliminate current and emerging threats while protecting the cloud, websites, apps, files, databases and big data repositories from data theft, DDoS and ransomware attacks. Imperva also offers different application, data and cloud security solutions which include web application firewall (WAF), attack analytics, DDoS protection, data risk analysis, data masking and vulnerability discovery.
Their headquarters is located in Redwood Shores, CA, but they also have offices and operations in the US, Asia, Europe and Australia, along with over 4,500 customers and 300 partners. Having won many awards throughout its history, Imperva remains recognized as a highly regarded WAF vendor and database security provider, and surely, one of the best overall cyber security companies to call on in 2020.
6. HackerOne

HackerOne is a well-known bug bounty platform created by hackers, for hackers— and any organization that would benefit from independent security researchers and penetration testers uncovering CVEs and unknown vulnerabilities in their system, or wants to develop or boost their bug bounty programs.
Founded in 2011 by Dutch hackers Jobert Abma, Michiel Prins, Merijn Terheggen and Alex Rice, they have become the biggest crowd-sourced cybersecurity company and bug-bounty-as-a-service firm, with more than 170,000 discovered vulnerabilities and over $100M earned in bug bounties. This is all thanks to over 700,000 hackers devoted to helping organizations discover and fix critical security issues, making the Internet safer, one vulnerability at a time.
HackerOne has partnered with numerous organizations and companies across different industries, with a few notable and impressive ones in the mix. In 2015, the Department of Defense partnered with HackerOne to launch the "Hack the Pentagon" pilot program designed to identify and resolve security vulnerabilities within DoD websites through crowdsourcing, making it the first bug bounty program in the history of the federal government.
HackerOne's product offerings include:
Response – Establishing a vulnerability disclosure program policy with best-practice process for capturing vulnerabilities discovered by third-parties
Bounty – Building a public, private or time-bound bug bounty program to mitigate cyber risks using HackerOne's trusted hacker community
Pentest – Time-bound targeted penetration testing that allows for easy tracking of pentest progress, with simple integration and regular compliance and customer assessments
A company known for its unique initiative, business model and offerings, HackerOne is a worthy entry, practically unavoidable when talking about the world's top cyber security companies.
7.Valimail

Email remains the most commonly used method of communication for organizations, both internally and for interaction with customers. And remaining as an unavoidable but undesirable reaction to the use of email, phishing attacks and business email compromise attacks are given free rein, threatening business security at ever-increasing levels.
Valimail was founded in 2015 with the goal of offering a sender identity tool that determines the authenticity of emails, prevents phishing attacks and identity theft and detects business email compromise—BEC. They offer a cloud-based platform based on zero-trust sender identity and designed to prevent modern phishing attacks that easily evade email security defenses while blocking untrusted senders from your organization's inboxes and allowing only for authenticated senders to send emails on behalf of your company, all of which goes far toward protecting your security and reputation.
Their different solutions cater to different email security needs, such as anti-phishing defense, brand protection, email security regulations compliance, shadow IT management, solutions for government, marketing and more. Valimail also offers products like:
Valimail Defend™: Email impersonation attack protection
Valimail Enforce™: Automated DMARC protocol
Valimail Amplify™: Automated Brand Indicators for Message Identification (BIMI)
During their five-year history, Valimail has won numerous industry-recognition awards, has partnered with many big-name organizations such as Microsoft and Symantec, and has garnered some equally large clients, including Uber, City National Bank, Yelp and Splunk, among others.
8. Centrify

Privileged access abuse is one of the leading causes of data breaches, and the company Centrify develops identity and access management solutions for cloud, mobile and data center platforms. Their Identity-Centric approach to Privileged Access Management (PAM), is based on the Zero Trust principle, which means zero tolerance for privileged access abuse.
Centrify was founded in 2004 by Tom Kemp, Adam Au and Paul Moore. They were the first security vendor to integrate UNIX and Linux systems into Active Directory, and make privileged identities management more efficient.
And "being first" is something we note often when examining Centrify's 16-year-long history. They were the first to offer PAM-as-a-Service multi-tenant, cloud architecture, and the first in the Privileged Access Management industry to offer subscription pricing. They continue to sharpen their cloud-ready Zero Trust Privilege approach to PAM.
Centrify offers a number of useful services:
Privilege access services: Credential management, secure remote access, access request and approval workflow, etc.
Authentication services: Active directory brokering, multi directory brokering, machine identity, Centrify Zone Technology
Privilege elevation services: Privilege elevation, delegated privilege role and policy management
Audit and monitoring services: Session recording and auditing
Privilege threat analytics services: Adaptive multi-factor authentication, machine learning algorithms for user behaviour analytics
Centrify helps organizations monitor and minimize their attack surface by covering infrastructure, databases and network devices as well as cloud environments, and are automated for DevOps and cover containers. Many Fortune 100 companies can be found in their client portfolio, some from banking and financial institutions, others from government, healthcare, biotech, education and other industries.
Fighting against the top causes of breach for more than 15 years, Centrify continues to rank among the top security companies in existence.
9. Fortinet

Founded in 2000 by Ken Xie and headquartered in Sunnyvale, California, Fortinet is known for their first flagship product, a firewall called FortiGate which is still available to organizations of all sizes and provides next-generation security. Fortinet has since released a number of useful antivirus tools as well as intrusion prevention, endpoint security, sandboxing and messaging security solutions.
As a leader in next-gen firewalls, Fortinet is a respected provider of network security appliances and unified threat management (UTM). The company aims to protect organizations across their entire infrastructure and network, app, cloud and mobile environments.
In Fortinet's product portfolio you can find different solutions and tools categorized by the security needs they fulfill:
Network security: Next-gen firewall, FortiExtender, etc.
Cloud security: Web application security, secure email gateway, data center firewalls, cloud workload protection, etc.
Security operations: SIEM, SOAR, sandboxing, deception, isolation, endpoint security, etc.
Zero-trust network access: Network access control, identity and access management, endpoint visibility and control, etc.
Fortinet holds a strong spot in the market and is the only security vendor to develop custom security processing unit (SPU) technology. It offers high-quality performance that is recognized in the industry and a majority of Fortune 500 companies that share praise as their satisfied customers.
Snagging a couple of 'best security vendor awards' along the way, Fortinet has earned its spot on this list of top cybersecurity companies as well.
10 IntSights

Another one of the younger companies on this list is IntSights. This threat intelligence and protection platform was founded in 2015, with headquarters in New York and offices in many locations across the US and in Amsterdam, Tokyo, Tel Aviv and Singapore. IntSights helps organizations gather intelligence data and map it to their digital assets, in order to discover threats and stop them before causing any real damage.
They provide the IntSights External Threat Protection Suite which offers different products:
Threat Command™: Find and mitigate external threats that directly target your organization with asset based intelligence, one-click remediation and deep integration, and create rule sets to determine alert status
Threat Intelligence Platform (TIP): IoC enrichment and prioritization, visualized deep investigation, integrated and automated threat blocking
Vulnerability Risk Analyzer: Clear, deep, and dark web CVE enrichment, automated vulnerability prioritization, ranking, and management, CVE patching priority
Threat third-party: Identify and triage active threats impacting third-parties, understand threats on an industry specific basis
IntSight's solutions are handy in many different use cases, most notably for data leakage prevention, threat protection, risk management, brand protection, blocking and blacklisting, phishing protection and IoC enrichment; and across different industries that include banking, healthcare, oil, retail and others.
While not on the market as long as some of its competitors, IntSights is one of favorite cyber security companies for monitoring and providing insights into external threats, extending visibility, automating risk mitigation and proactively preventing attacks. Trusted by organizations of all sizes, IntSight's customers include Taboola, Blackstone and American Eagle Outfitters.
But wait, there's more
With so many cyber security companies offering so many different products and services, it can be hard keeping track and choosing the one that's just right for your security needs—especially without feeling like you've probably skipped over a better solution. We hope that our list of the top cybersecurity companies in 2020 and the in-depth, constantly updated security vendors spreadsheet helps you make better-informed decisions and tailor your 2020 cybersecurity spending.
Be sure to download our full list of top security companies, which we will continually and regularly update with new entries. If you notice any worthwhile IT security vendors missing from our list, please don't hesitate to let us know—contact us directly at hello@securitytrails.com.
Source of Article