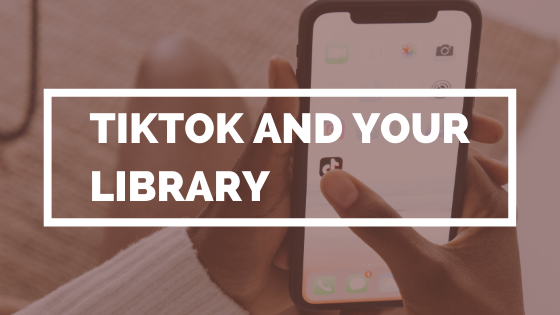 On this week's Princh Library Blog post we have guest writer David Lee King, digital services director at Topeka and Shawnee County Public Library, sharing his thoughts on why using TikTok might be beneficial for your library.
It might be time!
Apple's iTunes is a handy gauge to see what music people are listening to. Sometimes, the most popular songs on iTunes are very different from the Billboard Top 100. For example, this week's number one song on iTunes is Dreams by Fleetwood Mac. Yes, that Dreams – from way back in 1977.
Why is a song from 1977 the most popular song on iTunes? You can blame TikTok for that. Or, more specifically, you can blame TikTok user @420doggface208. He's a middle-aged guy who posted a video of himself on a skateboard, drinking cranberry juice, while lip syncing to Dreams.
That short video went viral – it has been viewed over 39.9 million times. When that happens on TikTok, other users join in the fun by copying the video, using the same song, or creating a "duet" video (a video of themselves and the original video in the same frame).
Weird, I know. But also consider this: that silly 15-second video was influential enough to tip the scales in a completely different industry (the music industry).
And hey – I'll bet that Stevie Nicks is pretty happy that her song from 43 years ago is getting re-discovered.
That's pretty impressive for a mobile app dominated by teenagers. It's also a good indicator that you should explore the world of TikTok and see if it can work in your organization.
What is Tiktok?
TikTok is an app-based social media tool that allows you to create 15-60 second videos. What happens in these videos? There's a lot of lip-syncing and dancing to music. You'll also find pretty much anything you can fit into a video format, including rocket launches, parkour, comedy skits, political speeches, and musicians doing their thing. Cute babies, animals, and gag videos. For organizations with TikTok accounts, you'll find them sharing recent news, thoughts about their industry, and information about new services.
How long has TikTok been around?
Believe it or not, some form of TikTok has been around for six years! In April 2014, the Musical.ly app was released. It focused on … well, pretty much everything that TikTok does. By 2017, Musical.ly had over 200 million users.
In November of 2017, Musical.ly was sold to ByteDance, who made a similar set of apps: Douyin (focused on China) and TikTok (focused on an international market). ByteDance merged the users from Musical.ly and TikTok, and kept the name TikTok for their global app.
How popular is Tiktok?
Here are some recent statistics:
Dolly Parton and her @dollyslibrary are on TikTok now!

Dolly has donated over 100 million books to kids through her Imagination Library.

Also starting tonight, she'll be reading books online! https://t.co/XLkasPrO7V pic.twitter.com/EReQvk2RiI

— Yashar Ali 🐘 (@yashar) April 2, 2020
What can your library do on Tiktok?
Are there ways to connect TikTok content to your library's customers? I think so. Here are some ideas to get you started:
Book Reviews: You can make 15-60 second book reviews and share them on TikTok. Encourage viewers to check out the book.
Share your resources: Share what you do at the library! Like many libraries, yours probably has a lot of services and resources that you can share in a short video format. Invite viewers to try a new service or resource.
Staff being funny: I'll guess you have at least one staff member who always makes you laugh. Get that person to "do their thing" in a TikTok video. TikTok's algorithm is similar to Facebook and Instagram, in that if someone watches and interacts with your content (i.e., watching the video, clicking Like, sharing the video, leaving a comment, or following a user), that person will be presented with more of your content. For a library, that means that a fun video can help your more "serious" content get more views as well.
Library news: Can you deliver library news in 15-60 seconds in a short video format? I'll bet you can! Do it in a fun, lighthearted way, and it will be watched.
Should your library have a TikTok account?
Right now, TikTok is an easy way to grab the attention of that hard-to-connect-with younger generation. Teens and young 20-somethings love the app. If they find other people and organizations that they like using TikTok, they are likely to follow and watch your videos, too.
It's also easy to share a TikTok video to other social media platforms, like Facebook, Instagram, SnapChat and Twitter. That way, you can create content once and share it to multiple places, which saves you time.
With TikTok, there's nothing to really lose by trying it out. So why not set up an account and see if it works for your library?
Curious about how your library might use TikTok? I talked with a wide range of awesome TikTok librarians who are using this social media platform and how they're using it for @sljournal: https://t.co/AiYNUCsUHS pic.twitter.com/jzg15cYVQO

— kelly jensen 🐱🐰 (@veronikellymars) August 12, 2020
Libraries to Follow on TikTok
There are a few libraries using TikTok:
Calgary Public Library (@calgarylibrary)
Dover Public Library (@doverpubliclibrary)
Regina Public Library (@reginapubliclibrary)
Iowa City Public Library (@iowacitypubliclibrary)
Mustang Public Library (@mustangpubliclibrary)
Great Valley High School Library (@gvhslibrary)
Influencers and Organizations to follow
Following some popular influencers and organizations can help you quickly understand what types of content work on TikTok:
Charli D'amelio (@charlidamelio). She's 16 years old and is currently the most followed person on TikTok, with over 92.2 million followers.
Gary Vaynerchuk (@garyvee). Gary is an entrepreneur who shares his thoughts on running businesses and using social media to connect with customers.
Washington Post (@washingtonpost). Yes, the newspaper!
Crocs (@crocs). The makers of those silly shoes do a great job of using TikTok to promote their brand.
Chipotle (@chipotle). Another company promoting their brand on TikTok.
Me (@davidleeking). I'm not doing much on TikTok, but feel free to follow!
Other articles about TikTok
We will be back next week with another interesting article from the library world!
Want more insights from libraries across the world?
Find us on Twitter and Facebook and subscribe to our blog to receive new library insights directly to your e-mail.
Source of Article