On this week's Princh Library Blog post we have guest writer Nick Tanzi, author and library technology consultant, sharing his thoughts on the current technological landscape and how libraries can best adapt to it.

To say that 2020 was a year of disruption and change would be an understatement. The COVID-19 pandemic has caused pervasive alterations in people's daily lives, and spurned rapid technological change. With this in mind, what is the current technology landscape, and how can we expect it to impact libraries today and into the future?
Meeting Patron Expectations
In the current pandemic environment, social distancing protocols have impacted broad swaths of society, altering everything from schooling to how we buy groceries. While some of these adaptations may be temporary, they have nonetheless altered customer behaviors and expectations, and the library must be prepared to operate in an altered environment. Consider the following:
Virtual Programs are here to stay
While service continuity may have been the initial aim of virtual programs, we have reached new audiences who were unable to attend traditional programming, as well as provided traditional users with a convenient alternative. Post-pandemic, we must be prepared to offer some virtual programming, and commit to improving the quality of the offerings.
Continued Growth in Digital Collections
While library digital collections have seen explosive growth for some time, the past year has seen this trend accelerating, with many first-time users discovering our collections. Interestingly enough, digital audiobooks saw a slower-than-expected 20% growth; this should pick back up as commuter traffic rebounds.
Contactless Services
For many people, contactless services were not just safe, but also convenient. To match patron expectations libraries may wish to explore contactless forms of payment and self-checkout. Library cards can embrace this model in several ways:
1.) Online application/creation of digital library cards.
2.) Digital library cards stored in a library app or third-party mobile app.
3.)Ensuring your library purchases scanners that can read mobile device screens.
Expanded Virtual Reference
Our patrons are coming from an environment of expanded telemedicine, virtual learning, and telecommuting; many library services are similarly adaptable. Appointment-based services like career counseling, tech help, and reader's advisory can occur via video conferencing. Chat can be added to compliment phone, email and text reference services.
Dealing with Technological Disruption
The year 2020 has been synonymous with disruption. This uncertainty has provided the library with many avenues to serve our public.
The Digital Divide
The pandemic has laid bare issues of digital inequity. In the short-term libraries can invest in mobile hotspots and expand wireless access beyond their doors and normal hours of operation. Renewed public attention on the issue also makes this a prime time to engage in grant writing and advocacy, with the aim of addressing the cause and not simply treating symptoms.
Distance Learning/Telecommuting
Distance learning and telecommuting are two trends likely to persist. Libraries should invest in their IT infrastructure to meet the increasing bandwidth demands of their users, and ensure library devices are video conferencing ready, with appropriate hardware and software. Spaces can be reimagined as quiet conversation rooms specific to video conferencing. Finally, offer beginner classes on video conferencing software to help patrons understand the different options available and their basic use.
Re-skilling and Reentering the Job Market
In addition to being a public health crisis, the pandemic precipitated an economic crisis as well. With many unemployed, the needs are many. The Public Library Association and Microsoft have partnered on a Digital Skilling initiative to help patrons gain skills for jobs that are well-positioned to grow in the future. Libraries who have invested in online learning software should advertise these services widely, those who have not, may wish to explore their purchase. Plan classes on online resume building, and the online job search. Finally, programs focused on selling online, such as "Introduction to Etsy," or "Selling on Ebay," can help patrons secure additional sources of income during uncertain times.
Streaming Video Services
There is an incredible proliferation in streaming video service, with Netflix, Prime, Disney+, HBO Go/Max Hulu, Peacock, CBS All Access YouTube TV, Apple TV+, just to name a few! Patrons are widely interested in these services, but may have difficulty navigating the marketplace. At my own South Huntington Public Library, "Streaming Services vs Cable" classes have proven immensely popular.
Fake News/Media Literacy
According to Statista, just 26% of Americans are very confident in their ability to recognize fake news. At the same time, a Pew Research Poll indicated that 61% of respondents would be helped if they got training on how to find trustworthy information online. As a widely trusted institution, our libraries' mission is clear! To help plan your approach, the American Library Association has developed a manual: "Media Literacy in the Library: A Guide for Library Practitioners" to get you started.
Just a few of the things @CatherMPS students have been working on in library and technology classes this past month.👨‍💻 pic.twitter.com/BKn2k8WkRP

— Cather Library (@CatherLibrary) March 1, 2021
Planning for the Future: What Lies Ahead?
While we've looked at changing patron expectations and the current disruptive tech environment, what does the future hold? Engaging in a bit of trend forecasting, you can expect the following:
Increased Adoption and Interest in Augmented Reality
In the last few years, Android and Apple released augmented reality frameworks for developers. Known as ARkit and ARcore, they immediately turned billions of mobile devices into AR capable devices. With a new infusion of potential users, libraries can easily and inexpensively assemble AR take home kits which piggyback off of a smartphone to introduce patrons to the technology. Options include AR capable books, temporary tattoos, coloring pages, Merge Cubes and headsets, and an annotated bibliography of apps.
Social VR is Coming
In 2014, Facebook purchased VR startup Oculus, and more recently, unveiled a Facebook account requirement for the Oculus headset. In the space between those two events, the social media giant has been working on a social VR network called Horizon, currently in invite-only beta. As libraries are on social media as a form of digital outreach, you or your organization may wish to sign up for early access in order to explore the platform and its potential uses.
360 Video
The aforementioned power and availability of a smartphone now allows for the easy creation and consumption of 360 video. Google Tour Creator can allow you to create simple virtual tours and overlay them with 2D info panels. With a more advanced 360 camera, you can record live events, document local history in a new, immersive fashion, or create full VR capable tours like this one created by the South Huntington Public Library.
Drones
Drone delivery of library materials may seem far fetched, but a school library in Virginia partnered with Google Wing to do just that! While widespread adoption of drones for this purpose may be years away, they do have immediate value in facility management. For example, a staff-operated drone can check your roof for blocked drains more quickly and safely than sending a member of your maintenance team.
In Conclusion
By understanding the shifting tech landscape, your library can best meet the immediate needs and expectations of your library's patrons. At the same time, identifying trends which lay further ahead can help your organization to engage in effective long-term planning, allowing you to be proactive rather than reactive.
Best Technologies for Public Libraries
Best Technologies for Public Libraries: Policies, Programs, and Services
Introducing new technologies to your library can be a daunting process; they can be costly, they may be unfamiliar to many staff members, and their success is far from assured. This book provides a resource for staff looking to incorporate a number of emerging technologies into the library / makerspace. Each chapter explores a new technology, including 3D printing, drones, augmented reality, and virtual reality, covering how it works, the selection process, training, sample programming, best practices, and relevant policy.
In short, the book is "A one-stop shop for libraries looking to add the most popular technologies and create best practices for their use."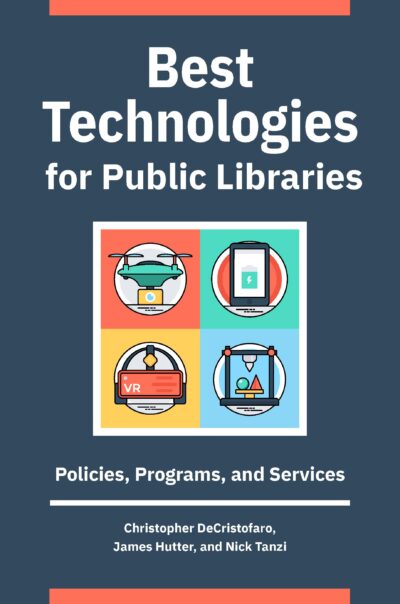 We will be back next week with another interesting article from the library world!
Want more insights from libraries across the world?
Find us on Twitter and Facebook and subscribe to our blog to receive new library insights directly to your e-mail.
Source of Article