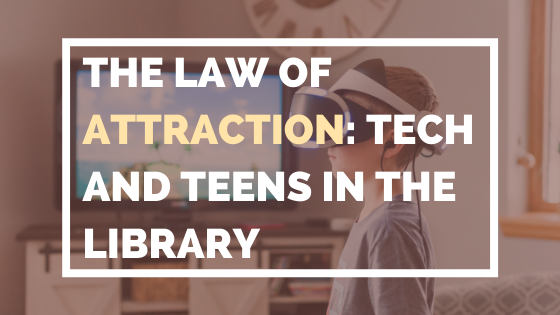 On this week's Princh Library Blog post guest writer Michelle De Aizpurua shares a few pieces of advice on how to attract teens to the library.
Technological initiatives that can be used to attract students to the library
Attracting young people to the library can often be a challenge, there's many competing demands on a student's time, so how can school libraries engage with this busy cohort? A great way to entice young people in to any library is by utilising new and innovative technologies. Let's take a look at some of the current technologies and how libraries are using them to catch everyone's attention!
Library Website
The library's website is usually our first impression for young library patrons, so it's worth getting it right. A clunky and out-dated website is a sure fire way to immediately lose people's interest. Take some time to read and learn about web design; a lot of the theory is easy to understand and implement. To start: get rid of daggy clipart, reduce the text, embrace white space, and build from a user's perspective. Talk to your patrons and find out what their key needs are – are they mainly interested in library programs? Or finding books? Make this information front and centre, and avoid Librarian jargon if you can.
A library's website is not 'set and forget' – it's a fluid site that needs consistent updates. Has a program ended or a deadline passed? Remove that information from your pages! Broken links are frustrating for patrons, so make sure to check them frequently. Include patron created content like book reviews or video book trailers if you can, as utilising their voices helps to create a sense of ownership and community. You don't need to be a tech whiz to build a great website, many providers offer simple 'drag and drop' templates for you to fill in with your information. Look into companies like LibGuides, Softlink, or even WordPress.
eBooks & Audiobooks
Now that you've got a great website, you can fill it with digital content. Attracting students to the library can encompass both the physical and digital spaces. We've found our students still prefer print books over eBooks – but that doesn't mean they don't have a place! During remote learning, eBooks were a necessity. Over school holidays, students can still access our collection. Popular books that are hard to get their hands on, are usually still available as an eBook alternative. Even students who forgot their book for English class can easily borrow the eBook to get them through the day. Audiobooks have also proven popular, and have enabled more accessibility by providing a wider range of formats.
Our school library doesn't purchase individual licenses, we pay a subscription fee to OverDrive whose Librarian curates a collection for high school students. We share access to this collection with some other schools. If cost is a barrier, remember there are many free eBooks available, mostly the 'classics'. You can use a website such as Project Gutenberg and add these resources in to your catalogue.
Makerspaces
Makerspaces are an incredibly popular way to bring exciting technology into the library. These spaces usually offer services like 3D printing, coding clubs, tinkering with robotics, and all sorts of STEM related activities. The most important step in starting a makerspace is having a clear plan. Deciding to purchase a pile of shiny new technology because it's 'the cool new thing' without a cohesive plan is a recipe for disaster. Think about what activities would best suit your patrons, as well as who will be able to offer training on the technologies in use. Also, how will you ensure appropriate use of these likely expensive products? Are there going to be ongoing costs for extra parts or supplies, and will you charge users any fees? Do you plan to allow use of the Makerspace only through library led sessions, or can patrons book in at their leisure? How do you intend to promote this new space? There are many questions to think about before getting started to ensure successful implementation of your new space.
The reason Makerspaces are so effective at engaging young people is that they are hands on. It's learning through play, where the learning isn't explicit or the main goal. It's more of a consequence of having fun with the technologies (or other-low tech products like LEGO) on offer. Giving students free range to be creative and use their imagination to make anything they want is a powerful way to open up the library to them.
Games
Continuing on the theme of having fun – offering games can be an excellent way to engage young people. Many libraries have capitalised on the popularity of games such as Minecraft to connect with their patrons. For example, check out LibraryCraft run by Western Australian Libraries. Some Libraries lend out video games, others have consoles and computers set-up to play in their space. There's a broad range of ways to utilise these games, offering co-operative clubs like eSports teams, or some friendly competitions such as a Mario Kart battle. Simple and free games such as Google Quick Draw can be a fun way to catch people at your entrance way (try a big touchscreen!) and entice them to continue inside for more . Designing a library leader board is a great way to showcase and encourage participation.
To take it to the 'next level' (pardon the pun), Libraries can integrate virtual or augmented reality technologies. For example, some libraries utilised Pokémon Go's augmented reality game, where students could catch Pokémon hiding in the library. These technologies don't have to break the bank, with options including open source cardboard smartphone viewers. These technologies can be a lot of fun and will likely continue to improve and become more accessible in the coming years.
There's a broad range of technologies to try out, with options for a range of contexts and budgets. Getting your student's foot in the door is half the battle, so use that tech to catch their attention and give them the opportunity to see all the great things your library has to offer!
We will be back next week with another interesting article from the library world!
Want more insights from libraries across the world?
Find us on Twitter and Facebook and subscribe to our blog to receive new library insights directly to your e-mail.
Source of Article