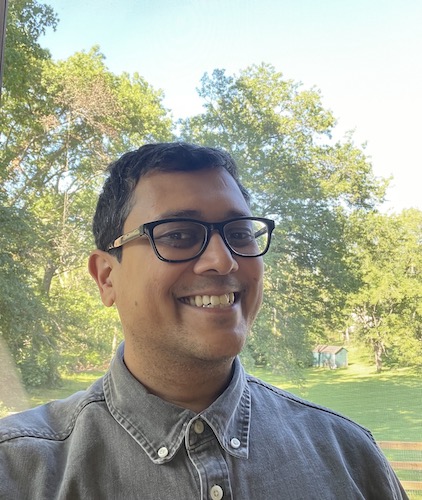 It is my delight to share the news that Kabir Hermon is joining the staff of Digital Library Systems and Services as our new Audio Digitization Specialist. Kabir's first day will be Monday, September 20, and he will be working alongside Geoff Willard and Michael Angeletti at our media preservation facilities on the Stanford Redwood City campus.
Kabir has a striking list of accomplishments in his career. Most recently he worked at the Library of Congress National Audio-Visual Conservation Center in Culpeper, Virginia, where he led preservation and restoration work on archival collections as well as developed a training program and several public-facing projects. In 2019 Kabir digitally transferred over 1000 recordings, making him the Audio Preservation Specialist with the highest throughput at the Library.
Before working in libraries, Kabir enjoyed a successful tenure as a recording engineer in New York. He was assistant engineer on David Bowie's album Blackstar, winner of four GRAMMYs including Best Engineered Album, Non-Classical in 2016. He has curated collections for projects from the independent archives of the Newport Jazz Festival, Lou Reed, Les Paul, Laurie Anderson, and Blondie. What's more, Kabir has performed transferring, remixing, and remastering work for the likes of Elvis Presley, Van Morrison, the Erroll Garner Jazz project, and the Woody Guthrie Foundation. The list goes on.
Kabir is especially excited to work in an academic library setting, and looks forward to taking part in Stanford Libraries' highly collaborative projects and programs. With Kabir here, the future of our audio collections looks brighter!
Source of Article