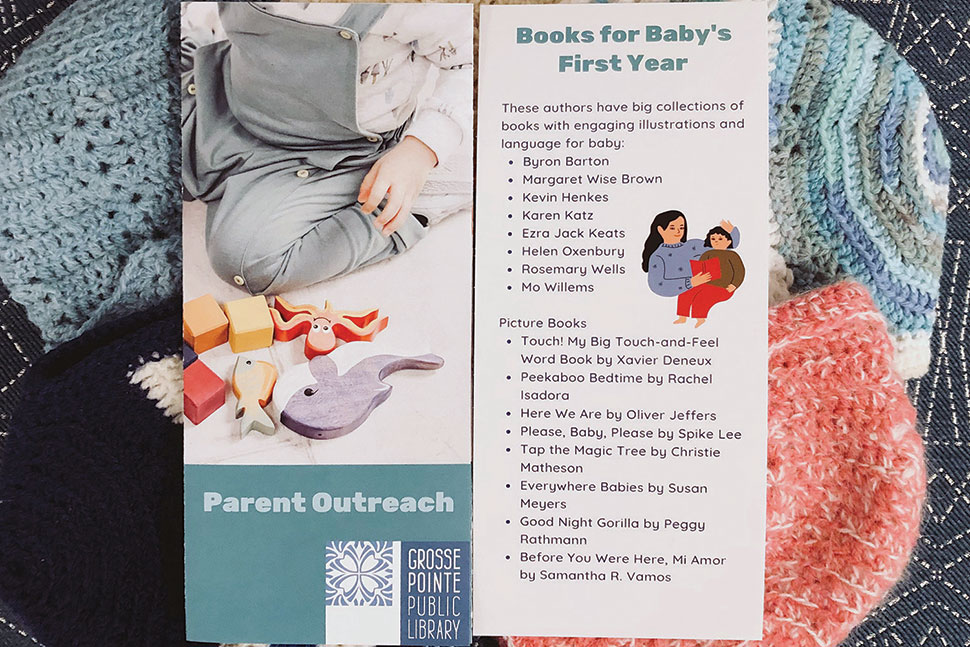 When outreach librarian Annie Spence was working from home during the pandemic, a colleague dropped off a care package of books at her doorstep. The package made her family feel less isolated, and she didn't soon forget the gesture.
"We had run out of books to read," says Spence, a mom of two who works at the Grosse Pointe Public Library (GPPL) in suburban Detroit. Her children were ages 1 and 6 at the time, and she says the gift "felt like Christmas for everyone in the house."
When she returned to onsite work, she thought about the stress new parents and caregivers sometimes feel and how similar deliveries could help keep them connected to the library.
"Young mothers would come in all the time with overdue books, saying they couldn't get out of the house," Spence says. "You have to get groceries and get gas, but the library is the [errand] that maybe you sacrifice if the kids need a nap."
GPPL is among a handful of libraries across the country that have expanded their home delivery service—typically designed for older patrons and those with illnesses or disabilities—to now include families with new children. This includes children from adoption and foster care.
GPPL soft-launched the service in January 2022. Since then, 40–50 families have used it to order books and other materials. For their first delivery, new parents receive a welcome kit that includes information about library resources, free board books, and a baby cap made by Spence's mom.
The service lasts about a year from the time of bringing home a new child, and participants can order anything from the library's catalog for any member of the household.
"We've gotten excellent feedback," Spence says. She recalls one parent telling her that the library's service was keeping them sane. "People are really grateful."
Offering support
At the beginning of this year, North Canton (Ohio) Public Library (NCPL) launched a similar service after director Andrea Legg read online about GPPL's efforts.
"When we typically think of home delivery and that type of outreach, we think of delivering to people who are older or who have had a major life event and can't leave the house," Legg says. "I had never thought that could include new parents as well."
In August 2022, NCPL received a new custom-built Sprinter van through an American Rescue Plan Act grant distributed by the state library. Around the same time, NCPL added an outreach associate position, making it an opportune time to pilot the program.
The new service operates like its existing homebound delivery, which offers patrons a special library card that doesn't incur fines. NCPL gathers contact information from users via Google Forms and asks only that families attest to having a new child.
"We want this to be the most supportive and helpful service possible so we're not adding to [any] stress," Legg says. "We're just trying to enrich their lives during this transition."
Like other libraries offering this service, NCPL allows patrons to select specific items or make more general requests—such as alphabet books or potty-training resources—that outreach staff then fulfill. Users can select a two- or four-week delivery cycle.
Since the program's debut, staffers have had only three patron inquiries, but Legg is confident the program will catch on with time. To reach families in their service area, NCPL staffers plan to partner with local utility companies to include fliers with their bills and establish a network of contacts with nearby pediatricians and obstetricians. Legg says they will also continue to spread the word via social media and other marketing channels.
"The response we've received from parents who might not have a new baby or new child now is that they wished that they had had something like this," Legg says, "and that's heartening to hear."
Families 'more invested'
Fountaindale Public Library District (FPLD) in Bolingbrook, Illinois, began promoting a similar service earlier this year. At the time, staff members were brainstorming programming ideas to remove barriers to access that some patrons face.
"Everyone in the community deserves access to materials, whether they are able to come to the library or not," says Tana Petrov, FPLD's outreach services manager.
So far, FPLD has had one eligible patron interested in the service, which delivers materials via the library's two vans, both of which circulate in the community as part of regular outreach. Prospective participants submit a form on the library's website, and staff follow up with a call to confirm they are a library cardholder in good standing.
"We know that parenting is a hard job to do," Petrov says. "It's a joyful experience, but it can be a stressful time for parents … adjusting to a new way of life."
At GPPL, Spence says that participants in this expanded home delivery program have forged deeper connections with the library.
"I've noticed them showing up more to our programs," she says. "Maybe they always got books, but now they are a little more invested."
Source of Article