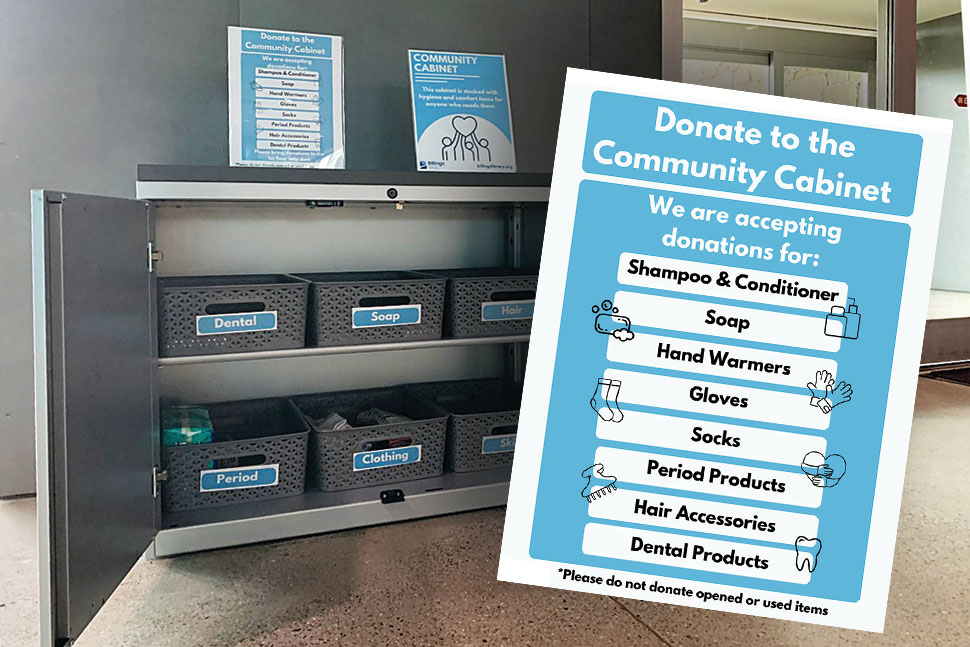 Last summer, Taylor Arnold, media and reference librarian at Billings (Mont.) Public Library (BPL), pedaled a bike library around the city. From an outfitted tricycle, he distributed books, taught yoga classes, and provided outreach services to the community.
During one of his routes, Arnold stopped at a downtown skate park and noticed that many of the people who approached him weren't skaters and had atypical requests.
"I had multiple interactions with folks who were like, 'Do you have any period products? Do you have soap?'" Arnold remembers. "That's what motivated me to start asking more of the folks there, 'What other things do you want? Let's see what I can get you.'"
These frequent conversations at the park, during which Arnold learned about individuals' transitional living situations, motivated him to create BPL's Community Cabinet. The library installed the cabinet in its lobby in January, stocking it with free toiletries and hygiene products that anyone can discreetly take.
"You don't have to be using or patronizing the library to come in and use the cabinet," Arnold says. "You can just pop in the front door before anyone has really seen you or talked to you yet."
Other libraries across the country are identifying similar needs in their communities and implementing hygiene product distribution programs at their institutions.
"It's great that it's being used, but it's sad that folks are having to use the Community Cabinet for these resources," Arnold says. "Everyone should have access to these products for an ideal level of comfort."
Kits create connections
BPL's Community Cabinet, which relies on public donations, has six bins dedicated to different types of items: dental products, soaps, hair products, period products, clothing, and skin care items. Arnold says he restocks the cabinet once or twice a day and usually finds it empty by the time he returns.
In 2021, DC Public Library (DCPL) in Washington, D.C., launched its Care Kits program using a Library Services and Technology Act grant and funding from the DC Public Library Foundation. The library spent $20,000 on the initiative in 2022 to make items like shampoo, hand wipes, lotions, clothing, and period products available to those in need.
"I think the community really appreciates that the public library offers these items," says Jean Badalamenti, manager of health and human services at DCPL, who oversees the program. "And I think our branches appreciate having them available to people."
Nearly all of DCPL's 26 locations carry Care Kits, says Badalamenti, but each branch decides on a distribution model appropriate for its customers. At Martin Luther King Jr. Memorial Library, where Badalamenti works, patrons request kits at the front desk. Across town, the Northeast branch keeps its kits in a basket across from the circulation desk. Northeast Branch Manager Amy Steinbauer says her staffers felt the grab-and-go option created a dignified experience for patrons.
You don't have to be using or patronizing the library to come in and use the cabinet.—Taylor Arnold, media and reference librarian at Billings (Mont.) Public Library
"Sometimes people take more than one kit, or one of our patrons would take the food items out of each bag and leave the rest," Steinbauer says. "Ultimately, we felt that it was still better to have them available than to try to control how people used them."
Steinbauer says the Care Kits have enabled her team to grow relationships with their regular patrons, many of whom are unhoused. She recalls a rainy day when a patron came in and took off his wet socks to dry on the radiator. Steinbauer told him he couldn't do that but offered a kit with a fresh pair of socks in them, which he was grateful for.
"Even though he was a regular, and I knew his name, we had never officially met," Steinbauer says. "From this moment, he asked me my name and introduced himself. That Care Kit brought a lot of positive interactions with him."
Removing the stigma
The township of Oak Park, Illinois, wants to make personal care products more accessible for a specific population: children and teens.
Oak Park Township's Youth and Family Services (YFS) Director Megan Traficano says that the topic of hygiene comes up often when working with this age group. Youth notice their bodies are changing and may have questions about puberty, she says, but many are too embarrassed to talk about it or get bullied if their families can't afford hygiene supplies.
"We really wanted to destigmatize and make it where somebody didn't necessarily have to come in and say 'I need this,'" Traficano says, "because sometimes, especially for youth, they might not feel comfortable doing that."
Though the local agency offers hygiene kits onsite and via delivery through the township, it had been looking to provide a more discreet distribution method. In 2022, YFS partnered with Oak Park Public Library (OPPL) to install a latched cabinet containing free toiletries in the restroom of the library's children's department.
The cabinet gets restocked nightly because it's so popular, says OPPL Children's Librarian Genevieve Grove. She notes the most-used items are toothbrushes and toothpaste, deodorant, and body lotion.
"Sometimes unhoused adults come in and take things, and that's fine," Grove says. "It's not like the township has strictly said these supplies can only go for youth, but the first part of our mission is to try to get them in family spaces."
Grove says there has been discussion about expanding hygiene product distribution to other libraries and schools in Oak Park—and is excited by the prospect that these programs will emerge elsewhere across the country.
For his part, Arnold wants to secure more sustainable funding for BPL's Community Cabinet. He views the cabinet as just a first step toward addressing larger societal concerns, such as financial and housing insecurity.
"Libraries are about creating an ease of access to items and information," Arnold says, "and that's really what the Community Cabinet strives to do."
Source of Article