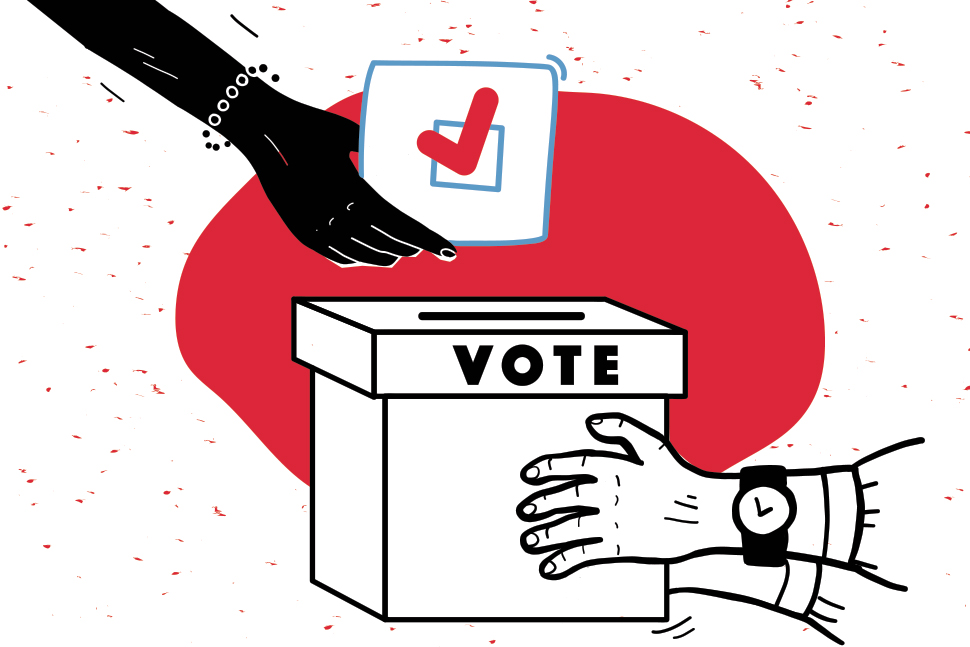 Each year, American Libraries tracks dozens of library referenda across the country, using the ballot box as a means of tracking support for public and school libraries. Because next week's presidential election is expected to generate high voter turnout, some communities may be pushing harder than usual to get local referenda in front of taxpayers, even as the ongoing pandemic lends uncertainty to, well, everything.
To get the ball rolling, here we present library referenda that have appeared since last year's roundup. Check back after Election Day (November 3), as AL brings you the latest in library-related yeas and nays—from Colorado, where Denver voters will decide whether to allow the city to spend money on broadband internet for libraries and other users; to Columbus, Nebraska, where a $16 million bond for new library and other buildings is on the ballot; to Multnomah County, Oregon, which will receive a new flagship library should voters approve the issuance of $387 million in general obligation bonds. A large selection of the referenda will appear in our January/February 2021 issue as well.
ILLINOIS
Manlius, Macon, and Concord townships voted 183–60 in March to turn Buda's Mason Memorial Library into a district library, thereby broadening its tax base and permitting it to remain open.
Calumet Park residents voted in March by a margin of more than two to one against an advisory question asking if the village should disestablish and dissolve the village's library.
In March, 63% of voters in Cook and Kane counties opted to raise the operating tax rate for the Elgin-based Gail Borden Public Library District. The money will be used for building maintenance, IT, and security; preserving current services and hours; and expanding the district's South Elgin branch.
Almost 57% of New Lenox voters approved, in March, the retention of a 7-cent increase to the tax rate of the New Lenox Public Library. The funds will extend library hours, expand services, and sustain funding for materials.
Riverside Public Library will receive a new storytime/multipurpose room, children and youth services common area, teen room, and area for middle schoolers, along with an upgraded public meeting room, thanks to a March referendum that saw more than 70% of voters approving a $1.5 million bond.
A March election found more than 60% of Streator voters in favor of raising an existing annual library tax from 15 cents per dollar to 23 cents per dollar. The increase will go toward maintenance and repairs.
INDIANA
In December 2019, Johnson County Council voted for a property tax increase of 2.5 cents for every $100 of assessed value. The funds raised will help pay for a new $8.8 million library that will replace the Clark-Pleasant branch of the Johnson County Public Library in New Whiteland.
IOWA
City council members voted in December 2019—well before an August derecho destroyed the existing library building—to start a public notice process for issuing up to $7 million in debt to help finance a new home for the Marion Public Library. Ground for the new building was broken October 1.
KANSAS
Leavenworth commissioners voted in August to approve a city budget that includes a 3.75-mill levy for library operations and a 1.15-mill levy for a library employee benefits fund.
LOUISIANA
Ascension Parish opted in August, with 67% of the vote, to lower and consolidate the property taxes that support its libraries. Rather than paying two taxes of 2.6 mills and 4.2 mills each, residents will now pay a single tax of 5.6 mills, which represents a decrease of 15%.
MAINE
In a win for its supporters, the New Gloucester Public Library was closed and its two librarians laid off after its $96,026 budget was rejected in a special September referendum by a vote of 301–173. Library supporters had hoped for a "no" vote in order to pressure the town's Board of Selectmen to increase the budget and re-present it to voters.
In Buckfield, a ballot referendum October 6 yielded a vote of 72 in favor of Zadoc Long Free Library's proposed budget and 82 against. That means the library's budget will revert to its 2019–2020 level.
MICHIGAN
In August, voters passed an eight-year, 0.38-mill renewal levy for Clinton-Macomb Public Library. The levy is projected to raise almost $2.5 million in its first year.
By a count of 336–257, voters in August rejected a .9-mill, six-year levy that would have benefited Goodland Township Library in Imlay City. The levy will reappear on the November ballot.
Voters in August rejected, with 57.5% of the vote, a 10-year, 1-mill levy that would have benefited Harrison Township Public Library. Had it passed, the levy would have replaced an existing 0.5-mill levy that expires in 2023.
An eight-year, 1-mill tax levy to benefit Monroe County Library System was renewed in August 20,612–11,783. The levy provides about 75% of the system's funding.
Mount Clemens Public Library saw the successful passage, in August, of a bond proposal that will permit it to borrow up to $8.8 million and issue general obligation unlimited tax bonds for library renovations and improvements. The proposal passed with 60.9% of the vote.
MINNESOTA
The Rochester City Council voted 6–1 in October to pursue the possibility of a public-private partnership that would allow Rochester Public Library to expand into a space of at least 150,000 square feet.
MISSOURI
Barry-Lawrence Regional Library, which serves Barry and Lawrence counties, will benefit from a tax levy increase of 7 cents, thanks to a June vote of 4,425–2,807. The increase, which brings the current 15-cent library levy to a total of 22 cents per $100 of assessed valuation, will pay for materials, improved facilities and services, and general operating expenses.
Voters opted in a June election to increase a property tax levy from 20 cents to 26 cents per $100 of assessed value in order to benefit Callaway County Library District. The resulting funds will enlarge collections, expand programming and services, purchase a community outreach van, and provide building maintenance and updates. They will also make the Holts Summit branch of Daniel Boone Regional Library a permanent location and increase that branch's weekly hours from 20 to 55.
MONTANA
Thanks to a June vote in Hamilton, Bitterroot Public Library will receive almost $144,000 a year for operations and maintenance. Voters approved a permanent additional 3-mill library levy by a vote of 5,313–3,641.
Jefferson County voters defeated in June a 9-mill levy increase that would have benefited community libraries in Whitehall and Boulder. The increase, which would have yielded an additional $141,534 annually, was rejected 1,209–1,058.
NEW JERSEY
In September, Hoboken City Council adopted by a vote of 8–1 a $177.8-million budget that reduces the municipal tax levy from a proposed increase of about 9.8% to 7.5%. The city's total tax rate includes municipal, county, school, library, and open space taxes.
In August, the Phillipsburg Town Council rejected an ordinance that would have allowed voters to decide whether the Phillipsburg Free Public Library should be dissolved.
NEW YORK
Marcus Whitman Central School District saw in June the successful passage of tax levies for the Gorham Free Library ($54,600, approved 1,157–390); Middlesex Reading Center ($9,997, approved 1,205–345); and Rushville Reading Center ($8,000, approved 1,207–342).
In a June election, a levy that is expected to yield $334,700 annually for Hornell Public Library was approved 1,085–731.
James Prendergast Library in Jamestown will benefit from a $350,000 tax levy, thanks to a June vote of 1,883–1,677.
In June, Massena voters opted nearly two to one against a ballot proposition that would have switched the main source of local public library funding from the town to the school district. Cuts in library hours, staff, and materials are expected as a result.
In a December 2019 election, a $26.69 million bond referendum to renovate and expand the Mastic–Moriches–Shirley Community Library and create two branch libraries passed 1,173—1,078.
Flower Memorial Library in Watertown will receive $75,000 annually thanks to a June vote that saw 2,622 in favor and 906 against a tax levy on school district property owners.
OHIO
In Amherst, a 15-year, 0.73-mill improvement bond to fund an expansion of the public library was approved by voters 2,773–1,715 in April. It is expected to generate $437,328 each year.
Voters in April passed 209–71 a five-year, 2-mill replacement levy for the Wornstaff Memorial Public Library in Ashley. The library will receive an expected $97,000 annually as a result.
Voters opted 2,373–1,599 in April to levy an additional 2-mill tax that will more than double the size of the Lorain Public Library System's Avon branch. The levy is expected to raise $1,902,617 annually.
A 1.5-mill continuing levy to benefit Chillicothe and Ross County Public Library passed in April with a vote of 5,555–2,386. It was expected to generate about $1,940,965 for 2020.
Findlay-Hancock County Public Library will benefit from a five-year, 0.5-mill renewal levy that passed in April with a vote of 10,887–4,368.
In Gratis, a five-year, 1-mill renewal levy to benefit Marion Lawrence Memorial Library passed 122–59 in an April election.
Southwest Public Libraries in Grove City and Columbus saw in April the renewal of a 10-year, 1-mill levy by a vote of 9,953–3,740. The levy is expected to continue to provide $2.5 million annually.
Louisville Public Library will continue to receive funds generated by a 1-mill levy, thanks to an April vote that renewed it by a count of 3,126–1,984.
Middleton-based MidPointe Library System will benefit from the April renewal of a five-year, 0.75-mill operating levy. The levy, the renewal of which passed with a vote of 18,248–6,099, represents nearly 36% of the library system's operating costs.
In March, Oakwood voters approved 1,577–749 a continuing 1.5-mill property tax levy that will fund daily and long-term operations and repairs of Wright Memorial Public Library.
Perry Public Library will continue to benefit from a 0.75-mill levy, which voters opted in March to renew. It will generate $234,739 annually and cost taxpayers $23.76 per $100,000 in property valuation.
A 1.9-mill, four-year replacement levy, expected to generate $1.3 million for Way Public Library in Perrysburg, passed in April by a vote of 2,794–693.
In April, voters passed 859–195 a five-year, 1.5-mill renewal levy for Plain City Public Library.
In April, St. Mary's Community Public Library saw the renewal of a five-year, 0.75-mill levy. The levy passed 1,344–399.
OREGON
A five-year operations levy that would have funded Stayton's library, pool, and parks by increasing the tax rate to 70 cents per $1,000 of assessed value on homes in the city failed narrowly in May, by a vote of 1,125–1,005.
PENNSYLVANIA
In Upper Nazareth Township, 54% of voters in an April election approved a new tax that is expected to bring in $100,000 per year in funding for the Memorial Library of Nazareth and Vicinity.
WEST VIRGINIA
In February, a five-year renewal levy to benefit Fayette County Library System passed with 90% of the vote. The levy is expected to bring in $510,061 annually.
Hampshire County's two public libraries saw a five-year levy that would have raised $215,070 annually fail in a June election.
Jackson County Public Libraries saw in June the renewal of a four-year levy that is expected to generate $255,337 annually. The levy passed with 69.8% of the vote.
In Morgantown, a four-year levy expected to produce $489,644 annually to benefit the public library system passed in June with more than 70% of the vote.
WISCONSIN
In February, taxpayers in Dodgeville voted 478–441 in favor of a referendum that will raise funds to build a new public library. The referendum limits those funds to $7 million, which equates to a taxpayer impact of $0.37 per day per $100,000 of assessed home value.
Residents of the Dodgeland School District in Juneau voted in April 950–509 to approve a $17 million referendum for improvements to school facilities, including library media center renovations.
A 30-year, half a billion dollar referendum voted in by Racine County citizens in an April election will, among other things, provide new flooring for the libraries of Gilmore Fine Arts, Jefferson Lighthouse Elementary, and Mitchell K–8 schools.
Source of Article