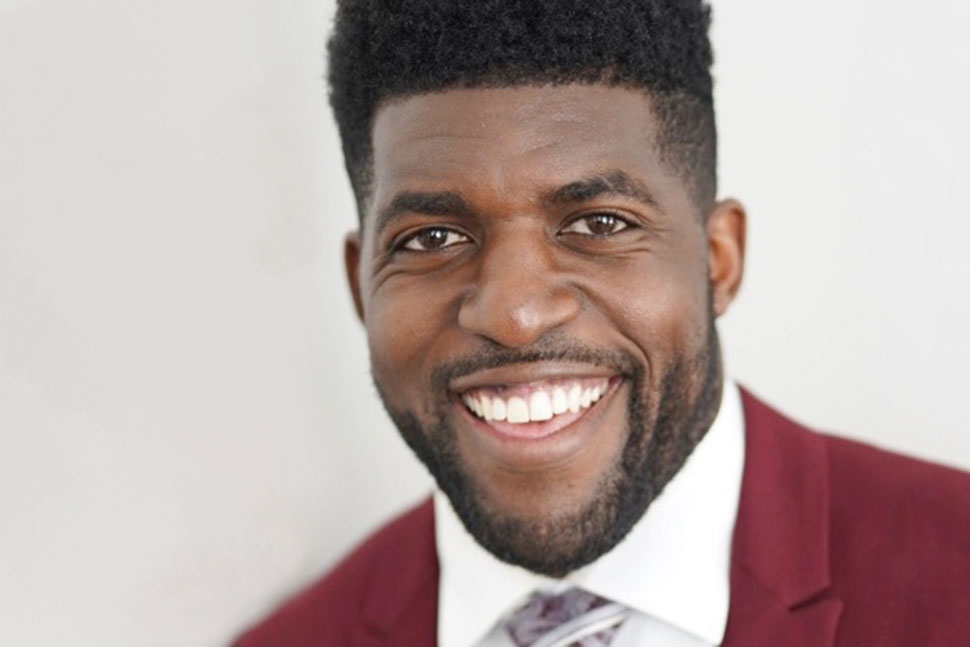 After the killing of George Floyd at the hands of Minneapolis police in May 2020, Fox Sports analyst and former NFL linebacker Emmanuel Acho felt compelled to do something. He, a Black man and son of Nigerian immigrants, was receiving questions from white people asking about racism and how to be a better ally in the fight for equality. By June, Acho decided to channel this discourse into a YouTube series called Uncomfortable Conversations with a Black Man. Directed to a white audience, the series has amassed millions of views and celebrity fans, and covered such topics as police brutality, interracial relationships, and cancel culture. It has also led to a book of the same name (Flatiron Books, November 2020) and the forthcoming Uncomfortable Conversations with a Black Boy (Flatiron, March).
American Libraries caught up with Acho ahead of his January 24 appearance at the American Library Association's 2021 Midwinter Meeting & Exhibits Virtual to discuss his series and book, as well as equity in professional sports and the power of libraries.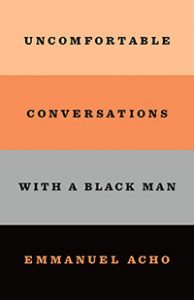 Uncomfortable Conversations with a Black Man—the name of your YouTube series and book—is such a striking title. Do you think discomfort is required in conversations about race for white people to make real progress toward allyship?
I don't know that discomfort is required, but I do think it will be present. Nothing is uncomfortable when you do it enough times—you become used to it—but in our society we just don't have these conversations about race. We talk about sex, we talk about money, and we talk about religion within our households, but we don't talk about race. Since it is so foreign to us, [these conversations are] uncomfortable.
When you were starting your YouTube series and writing your book, what made you want to answer questions from the perspective of a Black friend that a lot of white people in America either don't have or are afraid to ask?
After the murder of George Floyd, I was trying to figure out my own answers. I was grieving in my own way, but I'm very action-oriented. I do not like talking about a problem if I'm not contributing to a solution.
Our problem in America is that there's a disconnect, there's a language barrier. White people are saying one thing and Black people are like, "Huh?" Black people are saying one thing and white people are like, "What do you mean?" Black people, for years, [have been saying] "Hey, oppression exists, racial insensitivity exists, discrimination exists." And my white brothers and sisters are like, "I mean, not really. There aren't 'colored only' signs anymore. Segregation was outlawed in the 1960s, it was federally outlawed in private schools in the 1970s."
It wasn't until we saw George Floyd that now everyone realized there is a barrier. And I just tried to stand in the middle and bridge that gap via these conversations.
One of the rawest interactions in your YouTube series involves you talking with members of the Petaluma (Calif.) Police Department about Floyd's death. Did you have reservations going through with that episode? What has been the feedback from both Black and white viewers?
That was the most powerful episode, as far as piercing the hearts of so many viewers. That episode was seen [on YouTube] by a million people in two or three days. And my friends sent me a screenshot of [an excerpt of this] video on TikTok with 2.5 million views. And I said, "Wow, these conversations are reaching the most grown adults and the most permeable children."
Were there any reservations going into it? No. I'm a little trepidatious before every episode because I never know how it will be received, I never know how it will be executed. It was really just me being in a room full of white men and women in armed uniform—that was the only thing that made me a little uneasy—but no reservations.
When professional sports returned during the pandemic last summer, there seemed to be a lot of ceremonial support for Black Lives Matter from the leagues: Commissioners made statements on systemic racism, promising to do better, and NFL Commissioner Roger Goodell told you he wished the NFL "had listened earlier" to Colin Kaepernick. Do you think the leagues are doing enough to further racial equity? Where would you like to see league leadership go next?
It now has to fall to ownership, individually. There are different needs based on different cities. I grew up in Dallas. The need for racial equality and how you must address racial bias and insensitivity and racial barriers in Dallas is far different than the need in Los Angeles, where I currently live. There can no longer be some one-size-fits-all mandate. There needs to be individual teams taking up their own responsibilities based on the imperative need in that city. So now I would like to see owners deciding what they're going to do with their players, within their cities, and see that across the 32 teams of the National Football League.
What impact have libraries had on your life?
When you walk into a library, it's like going to the airport with a passport without a ticket. You can go wherever you want. I grew up in Dallas but went to Richardson (Tex.) Public Library. My mom would drop me off there. And it's hundreds and thousands of books. You would just walk around and it's like being in a museum.
The impact is understanding that books pass the test of time. Books that I was reading for mandated summer reading—To Kill a Mockingbird, if you will—kids are still reading. Or Things Fall Apart by Chinua Achebe. He inspired me because he was Nigerian and I'm Nigerian, and he wrote a book and I wrote a book. It's just an impact left on a young mind.
Source of Article