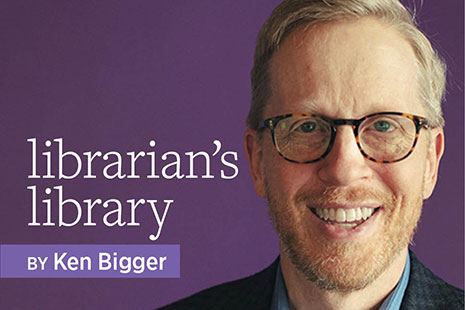 In my work as a literacy equity advocate, I often note how we're living in a new Gutenberg Era. In the Middle Ages, Johannes Gutenberg's invention of the printing press expanded our capacity for mass communication. It catalyzed movements like the Protestant Reformation and Enlightenment—but also spurred centuries of religious wars and disseminated ideas faster than the social systems needed to integrate them.
Like this earlier period of our history, the rise in social media and the 24-hour news cycle has made our ability to distribute information or messages (including false or misleading ones) grow faster than we can manage socially or politically. My hope for our current era is that we quickly come up with ways to avoid negative or violent consequences of this explosion of communication and develop some checks that depolarize our political landscape.
The following books seek to do that, exploring paths to common ground in a post-truth society. Directly or indirectly, these titles describe the civic space that literacy and, by extension, libraries, can hold open for us.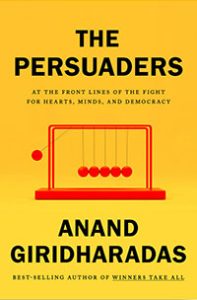 The Persuaders: At the Front Lines of the Fight for Hearts, Minds, and Democracy
By Anand Giridharadas
Giridharadas, a journalist and former New York Times columnist, reports on the strategies that politicians, message managers, and deep canvassers use to build understanding and depolarize our culture. In one example, he explores how refuting and debunking misinformation usually backfires. The more effective technique in changing minds, Giridharadas explains, is to find ways to help listeners better understand the manipulation techniques used by those disseminating misinformation and conspiracies. In other words, don't question what people believe, but prompt them to question why they believe it. This book can help library workers—who already meet patrons of diverse opinions with empathy and skillfully avoid confrontation—promote this kind of critical literacy. Knopf, 2022. 352 p. $30. 978-0-5933-1899-7. (Also available as an ebook.)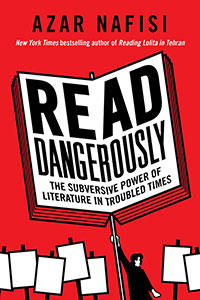 Read Dangerously: The Subversive Power of Literature in Troubled Times
By Azar Nafisi
Read Dangerously presents bestselling author Nafisi's case that literature has the power to spark creativity in support of new democratic possibilities and penetrate political deceptions and manipulations. Through a series of letters to her late father, Nafisi shows how empathy can be cultivated by reading broadly. Her work also posits that the real reason books are banned is because someone benefits from keeping us from understanding one another. "Democracy depends upon engagement with our adversaries and opponents," she writes. "It depends upon us being made to think, and rethink, assess and reassess our own positions, face both the enemies outside of us and the ones within." Dey Street Books, 2022. 240 p. $21.59. 978-0-0629-4736-9. (Also available as an ebook.)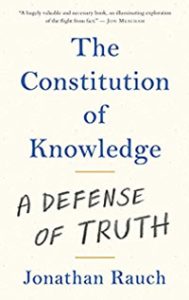 The Constitution of Knowledge: A Defense of Truth
By Jonathan Rauch
This title directly explores the kinds of institutions needed for our society to better collectively manage communicative noise. The constitution of knowledge, Rauch outlines, is a set of social rules for "turning disagreement into knowledge," providing a mechanism to remain committed to truth amid a cacophony of opinion and disinformation. For those looking to live in what Rauch describes as a "reality-based community," those who agree that all statements are open to correction or critique without argument from authority, this book provides a base for hope and means to get there. Brookings Institution Press, 2021. 280 p. $24.99. 978-0-8157-3886-2. (Also available as an ebook.)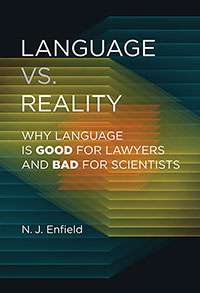 Language vs. Reality: Why Language Is Good for Lawyers and Bad for Scientists
By N. J. Enfield
With a focus on psychology and cognitive science, this volume from Enfield shows how the primary function of language is not to describe reality but to manage social relations. This insight highlights the critical urgency of greater literacy equity and why fairer systems of communicative power are vital for democracy. Further, Enfield elaborates on the importance of narrative: "The very fact that people are telling a story about something shows that they regard it as out of the ordinary. This is how we learn about social norms. It is how we learn about other people. When people show us what they find remarkable and why, they show us who they are." MIT Press, 2022. 312 p. $32.95. 978-0-2620-4661-9. (Also available as an ebook.)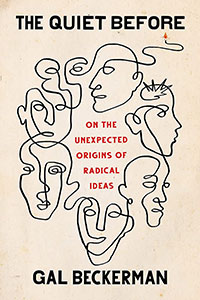 The Quiet Before: On the Unexpected Origins of Radical Ideas
By Gal Beckerman
Using case studies from the 17th century to present day, this book shows the strengths and weaknesses of various tactics for generating and socializing ideas for change before they hit the mainstream. Beckerman argues that the most effective way to create change is by forming ideas within conversational communities, real or virtual, defined by trust. This can nurture, incubate, evaluate, and critique ideas while they're in their early development. The 2010 Arab Spring protests, for example, went viral on social media but didn't generate lasting change. With these insights in mind, libraries and literacy organizations can promote reading groups and activities that cultivate some of these ideas to establish meaningful, enduring, and civil public squares. Crown, 2022. 352 p. $28.99. 978-1-5247-5918-6. (Also available as an ebook.)
Source of Article