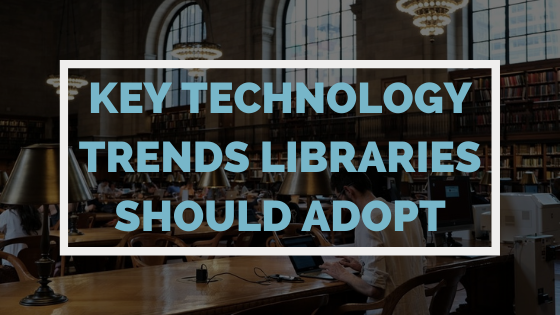 What are some of the key technology trends librarians should consider implementing in their libraries? Guest writer Robin Jeanne discusses her thoughts on this subject in this week's blog post.
Digitized world
It's no secret that the world is becoming digitized. Even before 2020, new and emerging technologies were playing huge roles in the evolution of libraries and other prominent centers or platforms in the knowledge economy.
Princh's vision of a shared public printing economy, for instance, is just the tip of the iceberg. So what other key technology trends and improvements should be on top of every library's list of upgrades?
Basic modern wiring infrastructure
Many public libraries around the world are still not equipped with the basic wiring infrastructure necessary to embrace digitization. This is particularly true for institutional libraries housed in historic buildings, many of which have electrical wiring that's either faulty or largely inadequate. "It is a matter of how people use libraries now. It's about computers and public service rather than the books themselves. When the library opened in 1992 you walked into a building that was your reference center. There aren't as many books now because more things are online," explained Adams County Library System executive director Laura Goss on how the county is seeking to move the Gettysburg Public Library out of the federal building. "It's not just that it's old, but the library is not set up for the 21st century. We wired for the computers 20 years ago. The wiring is old and the outlets are minimal." Goss and other public officials are now seeking a location that can cater to the increasingly tech-dependent needs of the public.
Online education support
With much of the global knowledge exchange economy moving online, it only makes sense that public libraries follow suit. "Libraries are perfectly positioned to assist faculty in the development of online courses," detailed Christopher Cox of Clemson University. "We need to build further relationships with campus offices of online education, instructional technology and teaching and learning to leverage this expertise and ensure that students and faculty have the skills they need to succeed in this new online environment."
This web-based, digital transformation of education is transforming how students learn and develop their skills. Today universities are able to create libraries of online educational information that can be used to give students real world experiences. Back in 2017, Maryville University partnered with the PNC Foundation to launch a program called Protect and Connect. Aimed at filling the increasing demand for cybersecurity positions across the country, the program led to the creation of the university's Cyber Fusion Center. This center is an online library of cybersecurity tools provided by Apple that allow the students to provide cost-free cybersecurity services to non-profit organizations, charities, schools and small businesses. "There are 500,000 jobs in coding in U.S., but only 40,000 are filled right now and the cybersecurity unemployment rate is minus 4 percent," explained university president Mark Lombardi. He believes the students can fill that gap as they study.
Maryville University has been able to keep up with key tech trends through shifting their courses to be more digital oriented, as shown through their Cyber Fusion Center and online degrees. Today, Maryville University's online cybersecurity degree program continues to train more professionals to meet the ever growing demand, and they are able to do so through innovations like the Cyber Fusion Center. This is a key reason why the school was named an Apple Distinguished School, which means students are able to access a vast library of material through their iPads and computers. With emerging tech institutions and universities being increasingly reliant on the web, more can follow suit to better provide support in developing the digital infrastructures and libraries needed for making online education more widespread.
500 online education classes are available for FREE through Universal Class with your library card number. Classes range in topics from Meditation 101, How to Bake Cookies, and Watercolor just to name a few!

Visit https://t.co/6pC49P3Pzx to get started today! #NWRLS pic.twitter.com/yKXd6kaoIf

— Northwest Regional Library System (@NWRLS) March 24, 2020
Library automation
This refers to the different methods with which libraries can digitize their inventories and optimize knowledge distribution to the public. Even outside of library systems, this presents many economic opportunities for different players and industries around the world. Market predictions cited by Business Wire show how the global library automation systems and services market is poised to balloon to over $1.3 billion by 2025. Apart from public and private libraries, the world's fastest-growing economies are increasingly investing in library automation technology. This will exponentially improve library automation, and also lead to such technologies being more affordable in the future, which is good news for publicly funded libraries.
Community building technologies
The very point of upgrading library tech is to support the communities that rely on today's public and private hubs for information. Library staff and administrators should not only look to internal improvements using emerging technologies, but also tech-based additions that can allow libraries to function as venues for community interaction. In Aarhus, Denmark, Dokk1 is a prime example of how libraries can and should be functioning as community centers as well. Apart from the large availability of public computers with Internet access, Dokk1's facilities include a municipal service center which offers various services to the public including library registration and passport renewal.
What goes into scanning negatives and slides so you can see the images online in our Digital Collections? Take a peek into the process with our Digitization Specialists in the latest #MDPLSDigitalCollections blog post. https://t.co/ROMOBhimIX pic.twitter.com/h4M9dMh2Sc

— Miami-Dade Libraries (@MDPLS) November 20, 2020
Technology for the community
In short, any new tech trend has the potential to improve today's public and private libraries. From shared public printing technologies and the basic wiring infrastructure for digitization, to collaborative online technologies and library automation systems, the new tech trends adopted by modern libraries should be aimed at community building and development. And with the rapid evolution of these technologies, we can expect the libraries of the future to be increasingly digitized, more accessible, and friendlier to the typical readers worldwide.
We will be back next week with another interesting article from the library world!
Want more insights from libraries across the world?
Find us on Twitter and Facebook and subscribe to our blog to receive new library insights directly to your e-mail.
Source of Article