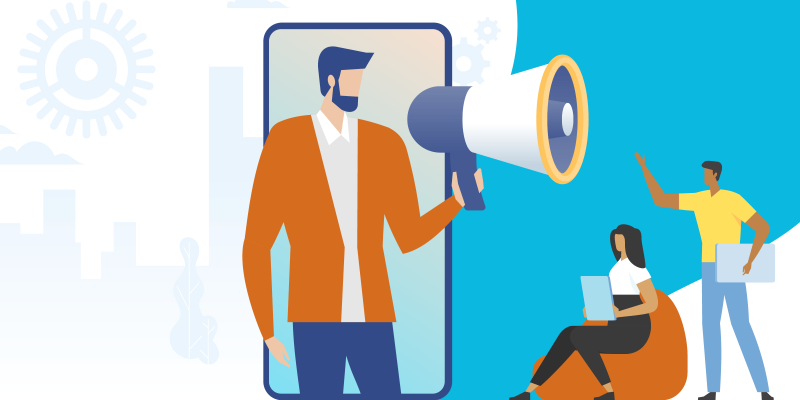 What's new in library tech! Welcome to our monthly collection of fun and hopefully useful news items from our great twitter feed and wherever else we find them.
This month we offer an update about the publisher Macmillan's library e-book throttling for libraries. We also reveal the books that defined the past decade, and also Book Riot author S.F. Whitaker's list of the books that have been repeatedly banned or challenged over the last 15 years. We also tell all that we know so far about the sale of OverDrive to the private equity firm KKR. Then there's news about the new version of PubMed, the free online database in the field of biomedical research, and what's coming up in the LibTech Conference in St. Paul in March.
Where else can you find such a collection of timely library tech news for the new year? Here's your library tech newsbytes for January.
Update on Macmillan's E-Book Embargo
Macmillan Publishers' changes to their library e-book lending model went into effect on November 1, 2019. They are now imposing restrictions on libraries that purchase new e-book titles. Libraries are allowed to purchase no more than one digital edition of a book for the first eight weeks of its publication, regardless of the size the library.
The ALA #eBooksForAll petition, which demands that the company not throttle e-book access for libraries, now has over 238,000 signatures. Boycotts of the publisher are also starting with King County Library System in the greater Seattle area and Central New Jersey Consortium, which shares a collection of e-book and e-audio materials for 70 libraries in the state. According to Book Riot, other library systems are boycotting as well.
Libraries have spent over $40 billion on digital content over the last 10 years, so a widespread library boycott of Macmillan and other publishers over what ALA describes as anti-competitive behaviors would be seriously damaging to the company. American Libraries magazine reports that the House Judiciary Subcommittee on Antitrust, Commercial, and Administrative Law is now investigating the matter.
The Books That Defined the Past Decade
The teens decade in books began with the fallout from the global financial meltdown and ended with two women sharing the Booker Prize. The Guardian's Alex Clark lists a book per year defining our last 10 years.
The list starts with The Big Short by Michael Lewis about the housing bubble for 2010. For 2012, Clark chooses the novel Gone Girl by Gillian Flynn. For 2014, she goes with Naomi Klein's book on capitalism and climate change, This Changes Everything. The 2016 emblematic book choice is the meditative novel about memory, dreams and time, Autumn by Ali Smith. And for 2019 she goes with dual Booker Prize winners Girl, Woman, Other by Bernardine Evaristo and Margaret Atwood's The Testaments.
Find Alex Clark's full list here. The Goodreads Choice Awards for 2019 have also been announced. Find them here.
The Sale of OverDrive to the Private Equity Firm KKR
The big global private equity firm KKR has announced an agreement to acquire OverDrive, Inc., the nearly universal American digital distributor of DRM-protected e-books, audiobooks, music, and video titles for libraries and schools. KKR will acquire OverDrive from Rakuten USA, which has owned the company since 2015.
Financial details of the deal, which is expected to close at the end of January, haven't been disclosed. OverDrive's founder and CEO, Steve Potash, stated that he is "very excited to work with the world-class KKR team due to their track record of accelerating digital media and technology businesses in global markets. This provides access to an extraordinary network of capabilities to empower our institutional partners for the benefit of the communities and readers they serve."
KKR has a long history of investments in digital media businesses. Recent investments include Epic Games, Pandora, WebMD, UFC, BMG Rights Management, Next Issue Media, and Nielsen. At this point, we don't know much more than the announcement of the deal in the KKR press release. What we can say is that private equity companies are controversial. See this Vox article for some background on them.
Banned and Challenged Books over the Past 15 Years
Book Riot author S.F. Whitaker took a look back at what has consistently landed children's and teen books on banned and challenged lists. She says, "I don't think I remember a time when someone wasn't talking about the banned book list. First, what's the difference between banned and challenged? Challenged is when an individual or group petitions to have a work removed from libraries, school curriculum, or otherwise restrict access based on specific reasons, e.g., contains LGBTQ themes, strong language, etc. A ban is the outright removal of those works. Year after year the top banned or challenged books were consistently reported for two things; profanity and sexual references."
Some of the top challenged books from 2004 to 2018 according to the ALA Top Ten Challenged List are
The LibTech Conference
The 13th annual Library Technology Conference will be held March 18 and 19 on the campus of Macalester College in St. Paul, Minnesota. The LibTech Conference provides an opportunity for library professionals to come together to discuss the changing technologies that affect how users interact with libraries and to see how libraries are using technology to create new and better ways to manage their resources. Attendees come from both academic and public libraries. It's a small conference and costs $160 to attend both days. Register here.
The New Version of PubMed
The U.S. National Library of Medicine has released an updated version of PubMed. PubMed is an online database of more than 30 million citations in the field of biomedical literature.
The new version features a responsive layout that works well on small-screen devices such as mobile phones and tablets. The features formerly available just on the desktop are now also available on your mobile device, including library icons for libraries participating in the Library LinkOut using Outside Tool service.
The new version of PubMed also features an improved search tool called Best Match. For more on this feature, see Best Match: New relevance search for PubMed. For more details on the features in the new PubMed, view the recorded webinar A New PubMed: Highlights for Information Professionals.
Happy 2020! We hope you like our selection of newsbytes this month!
Source of Article