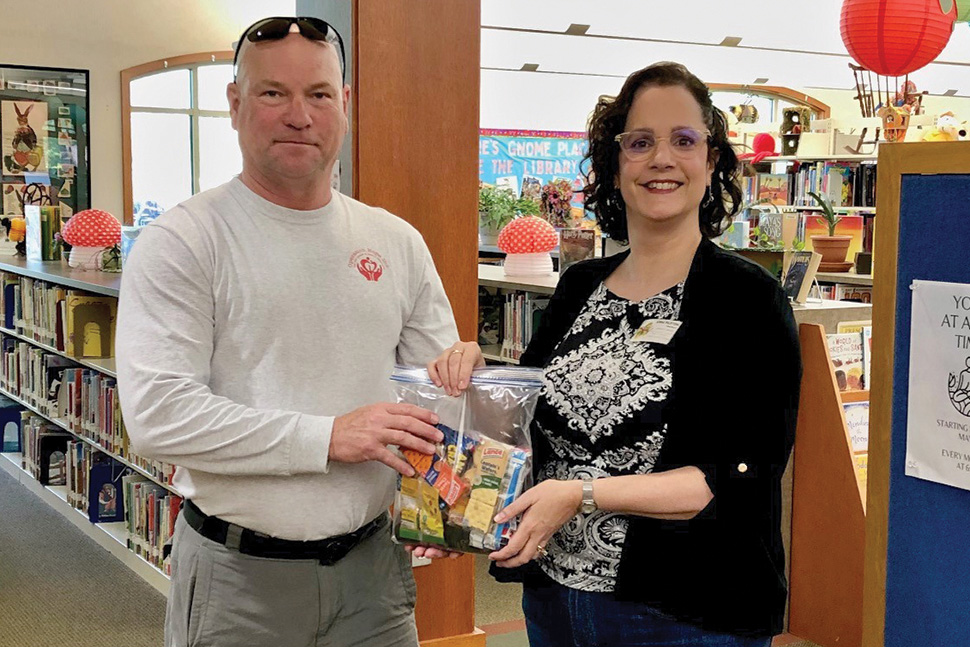 Spartanburg County is the fifth most populated county in South Carolina—and it's growing. In 2022, it had close to 346,000 residents, but nearly 14% of them were living at or below the federal poverty line, with an estimated 11% of children experiencing food insecurity. To help address these issues of affordability and access, Spartanburg County Public Libraries (SCPL) started its Bags of Hope initiative in 2021, connecting food and other essential items to those in need.
Like many communities, Spartanburg County has seen an increase in people experiencing homelessness and food insecurity in the wake of the pandemic. Our county has been proactive in tackling those challenges, including securing $2.1 million in federal grant funds to address homelessness and allocate more shelter space. With 10 locations spread over 819 square miles, SCPL has a reputation of providing safe spaces and being community hubs, making us a natural partner in efforts to serve those in need.
One of our most successful initiatives has been our version of an existing nonprofit program called Bags of Hope. Our concept—a simple one that requires little or no library funding—is similar to other efforts that have been implemented by nonlibrary community organizations across the country to provide bags of food and other necessities to individuals who may be facing poverty.
When the idea of running a small-scale version of Bags of Hope was proposed by a staffer at one of our branch libraries in 2021, we decided to conduct the program system-wide for two months at a time. We called our first event "Hopesgiving" because it took place in November and December, during the holiday season. This year, we ran Bags of Hope in March and April, when fewer competing donation drives occur.
During the first month of each run, patrons, staffers, and other donors drop off individually packaged food and hygiene products—including granola bars, cups of soup, crackers, mini-toiletries, and utensils—at their local library branch. We promote the drive via our marketing channels, including social media, and directly to local businesses, some of whom provide bulk donations.
During the second month, we pack the donations and get them to designated partner organizations—food pantries, soup kitchens, community centers, and other nonprofits—to be distributed to those in need.
Like many communities, our county has seen an increase in people experiencing homelessness and food insecurity in the wake of the pandemic.
This year, we donated more than 740 gallon-sized zipper storage bags' worth of items. We also donated 47 large sacks and 16 boxes of food and supplies that were too big to fit into the bags.
The response to the program was immediate. One community partner wrote us to say, "How my heart is rejoicing at the Bags of Hope donation!" That single nonprofit, which runs a soup kitchen, serves food to several hundred people daily. A representative of another nonprofit wrote, "They're great to give [to] folks who may need something to help them through the day at work if they don't have anything to eat, children at school without lunch, and senior citizens who can't get to a grocery store." This nonprofit provides multilevel services to local families experiencing financial hardship.
Running the program can be challenging. Libraries wanting to implement a similar program should consider the staff time required to collect donations, pack bags, and deliver items to local partners. Also, as libraries, we must always remember to keep track of the data needed to demonstrate our community impact. It's a good idea to create an end-of-program report to share with board members, staff, and partners.
With donations distributed to 11 different nonprofits in Spartanburg County, our 2023 Bags of Hope operation touched hundreds of lives. We are planning another one in spring 2024.
The program is more than worthwhile, both for its service for our patrons in need and for the opportunity it creates to enhance community connections.
Source of Article