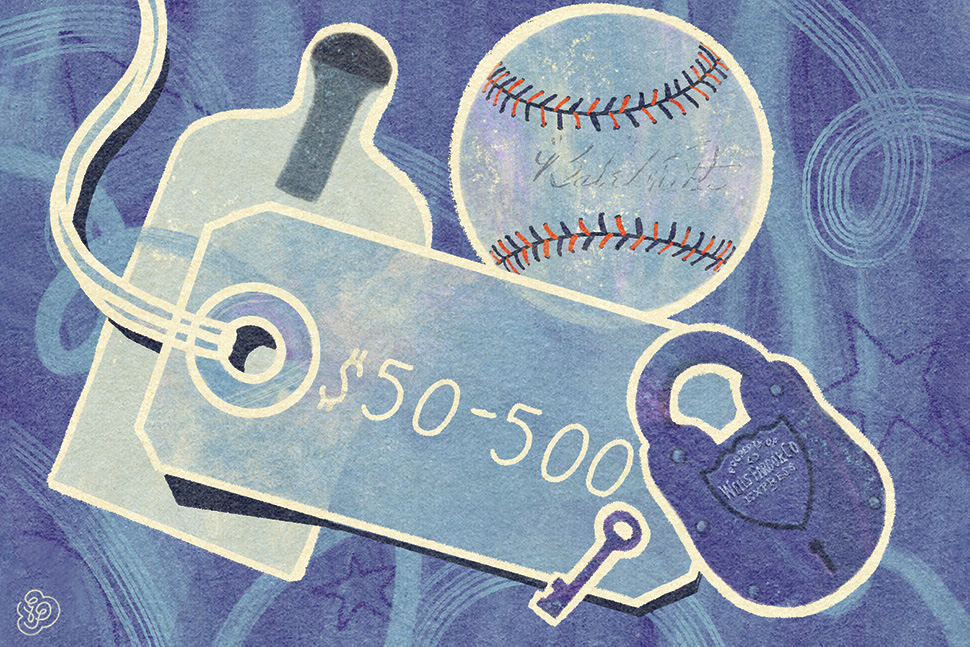 A vintage Wells Fargo padlock that runs anywhere from $50 to $500. A pristine, late-19th-century glass bottle produced by a local company worth a grand. A 1930 baseball signed by 26 baseball players, including six future Hall of Famers—Jimmie Foxx, Lou Gehrig, Lefty Grove, Connie Mack, Babe Ruth, and Al Simmons—valued at $20,000.
These were just some of the items brought in by library patrons during antiques appraisals held at Wilkes County (N.C.) Public Library (WCPL). "You wonder how some of these things end up in this small town in North Carolina," says Nicole de Bruijn, WCPL's technical services manager.
At antiques appraisals, appraisers examine rare and collectible items and determine their historical and monetary value. When held at the library, these events are an opportunity for patrons to engage with their community and get a history lesson.
With many people spending the COVID-19 pandemic lockdowns tidying their homes and purging old belongings tucked away in dark storage spaces or attics, antiques appraisals also give patrons a platform to showcase long-lost gems.
The Wilkes Friends of the Library (WFL) has hosted WCPL's annual antique appraisals since 2006, an event that has regularly sold out. A set number of patrons purchase a ticket to have their item appraised, but others can attend to watch for free. After the pandemic halted library programming in 2020, WFL didn't resume in-person events until an antiques appraisal in August 2022. WFL welcomed back a "full house," says Suzanne Moore, WCPL county librarian.
"It was an anticipated event," de Bruijn says. "It marked our return to normalcy post-COVID."
Uncovering stories
Hinsdale (Ill.) Public Library (HPL) hosted its first antiques appraisals event in May 2022. Lizzy Boden, HPL's adult services manager, says that it's noticeable that residents have been "going through their stuff" following the pandemic: "People have been more interested in going into boxes that were maybe left to them by their parents."
Patrons often uncover stories from their and their families' past based on what the appraiser can tell them about their item, Boden says. For example, one patron brought two silver candelabras. Rex Newell, an Indiana-based appraiser, shared with the crowd that they were made in Paris in 1880.
"There was a lot of family history in that room," Boden adds.
Appraisers can also share insight into how they appraise or what they know about each item, making the events educational.
Boden says the event may return to HPL once a year since the community has been "clamoring for more."
There's a lot of interest lately of people exploring their own homes and going through their stuff.
Virtual valuations
Appraisals can also work virtually with patrons who showcase their items over Zoom or another video platform.
Dover (N.H.) Public Library (DPL) hosted a virtual antiques appraisal in March 2021. Susan Dunker, DPL's adult services librarian, says that as the library explored virtual programming at the beginning of the pandemic, she connected with Pennsylvania-based appraiser Mike Ivankovich, who offered his services at a small discount. By hosting the event virtually, DPL avoided paying travel costs.
"We're trying to broaden our horizons a little bit more post-COVID and try things that we otherwise wouldn't have tried," Dunker says. "I honestly didn't think it would work virtually, but it did."
However, Dunker notes the virtual format occasionally made it difficult for the appraiser to see every fine detail on certain items. Her advice to libraries interested in hosting virtual appraisals is to ask participants to prepare a backup item, which can keep the event moving along.
Dunker also suggests that patrons avoid bringing stamps and coins and instead opt for larger items that the appraiser can see clearly on a computer screen.
A sense of community
To find an appraiser, Boden recommends contacting local antique shops or asking colleagues, which is how she came into contact with Newell. "There is a strong network of librarians who share information on presenters," she says. De Bruijn also recommends library staff use a multimedia projector and a video camera (or a phone camera, in a pinch) for in-person appraisal events, so even a packed room can see items as they're being appraised.
Whether the items—or their monetary values—are big or small, antique appraisals events bring the community together through a shared interest, de Bruijn says.
And at WCPL, who will bring what next is often buzzed about. "There's a sense of community around the stories and what [patrons] learn," de Bruijn says, "but also, what's gonna happen this year? That keeps [patrons] coming back."
Source of Article