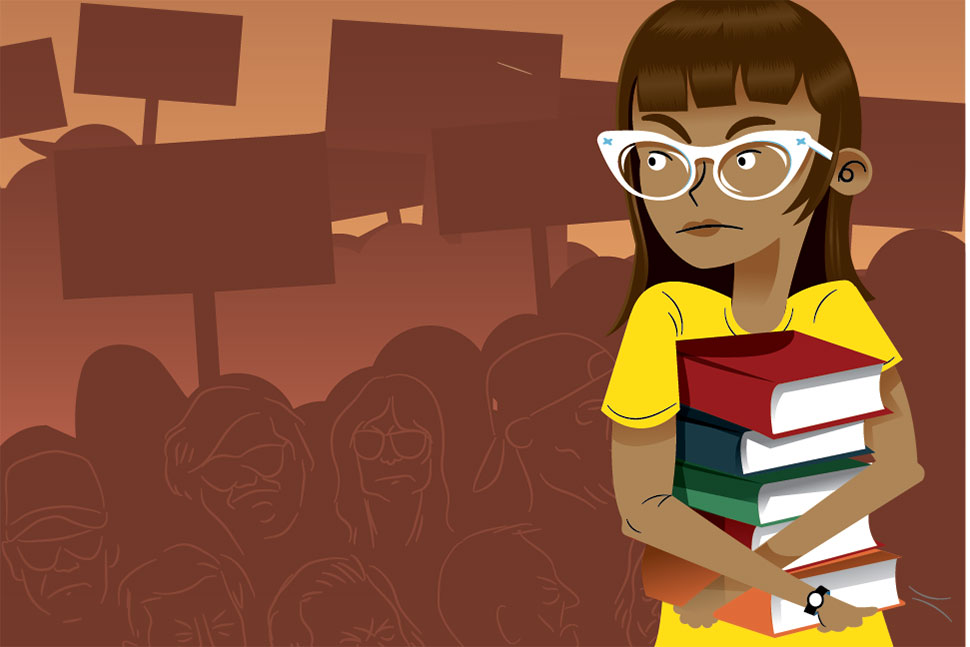 Amanda Jones has been called a pedophile and a groomer. She's received death threats. She's lost friends, weight, and hair. She even had to take a leave of absence from her job as a school librarian in Louisiana for mental health reasons.
All because she spoke at a public library board meeting last year.
"I said, 'Hate and fear have no place in Livingston Parish,'" says Jones. "It was an innocuous speech, a speech on censorship that any librarian would give."
The meeting, which occurred in July 2022, was intended to address general book content at Livingston Parish Library. Jones identified herself as president of the Louisiana Association of School Librarians but says she was speaking as a private citizen and lifelong resident of the area.
A few days later, conservative organization Citizens for a New Louisiana (CNL) and a local blogger began publishing posts about her on social media. "[The blogger] posted memes that I advocated for the teaching of anal sex to 11-year-olds," Jones says.
CNL has pushed for the removal of books about sexuality, race, and gender from libraries across the state. The organization is part of a fast-growing network of right-wing groups that have launched an unprecedented wave of attacks on intellectual freedom over the last three years—attacks that have disproportionately targeted books written by LGBTQ+ and Black authors.
PEN America reports that 1,648 unique book titles were banned in schools between July 2021 and June 2022. Of these titles, 41% explicitly address LGBTQ+ themes or have LGBTQ+ characters, while 40% feature protagonists or prominent secondary characters of color.
Some public libraries and school districts have seen hundreds of book challenges. And in many cases, individuals like Jones must navigate vicious assaults on their character in their own communities.
"Now, I can't go out in public without people pointing at me, whispering, and calling me a pervert," Jones says.
After weeks of harassment, Jones had enough. She retained a lawyer and in August 2022 sued CNL, its executive director, and the local blogger for defamation. The case, however, has since been thrown out.
As calls for censorship in libraries and school districts continue to escalate—and personal attacks on those who oppose these attempts persist—library workers are finding new ways to protect themselves, the books they care so much about, and intellectual freedom in their communities.
Some are adjusting their policies on book challenges or trying to improve the dialogue with patrons. Others, like Jones, are fighting back through the judicial system. Even state lawmakers are supporting the right to read with bills to curtail book bans.
"We don't want to go through these individual fights, like the one that my community went through, because of the negative rhetoric that harms people within already marginalized communities," says Illinois State Rep. Anne Stava-Murray (D-Downers Grove), lead sponsor of a new law that withholds state funding from libraries that succumb to partisan pressure to ban books. "We want to make sure that every person who uses a library can see themselves reflected in it."
Much of the fight, however, starts at the local level.
Changing times, changing policies
Jones hasn't had to deal with any book challenges at her current school. But about a month after the public library board meeting where she spoke, Jones formed the Livingston Parish Library Alliance, a grassroots coalition that fights to keep books on the shelves. She is currently the group's executive director.
Several parishes in Louisiana have similar groups that work with a statewide organization called Louisiana Citizens Against Censorship, which Jones helped form in fall 2022 and for which she is assistant director.
So far in Livingston Parish, only a handful of books have been challenged at the public library. But neighboring St. Tammany Parish has experienced more than 200 book challenges in the last few years, according to St. Tammany Library Alliance. Targeted titles have included children's picture books Pride Puppy! by Robin Stevenson, about a family that loses their dog during a Pride celebration, and I Am Jazz, written by Jazz Jennings, a transgender rights activist.
With help from these grassroots organizations and its own alliance, St. Tammany Parish Library has won every challenge. ("If there is a 'winning,'" Jones says.) But part of the problem, according to Jones, is that the books are removed from the shelves during the challenge process, which effectively bans them, at least for a time.
We want to make sure that every person who uses a library can see themselves reflected in it.—Illinois State Rep. Anne Stava-Murray (D-Downers Grove), lead sponsor of the state's new anti–book ban bill
In response, the St. Tammany Parish Library Board of Control instituted a new policy in which an individual title can be challenged only once every five years. Otherwise, people could keep a book out of readers' hands by challenging it again as soon as the previous challenge is completed.
Last year, Ferndale (Mich.) Area District Library (FADL), which serves a Detroit suburb known for its large LGBTQ+ community, also made changes to its policies as a preventive measure against book challenges and other attacks on intellectual freedom.
To start, Jenny Marr, director of FADL, contacted the library's attorney—the first step she recommends for every library before changing policies. Not every library system will have a lawyer on retainer, but your state's public information office (if your state has one) or your state library should be able to point you in the right direction, Marr says.
From there, FADL's board of directors formed a working group that went over the library's materials selection policy, which helps define what will be added or removed from the library's shelves. The library also revamped its request for reconsideration form.
"You basically have to write a book report in order to submit a challenge to our book," Marr says. "That's done deliberately so that we don't just get mass challenges from around the country."
"It's like three pages long," adds Mary Grahame Hunter, youth services coordinator at FADL. "If you don't fill out all of it, it doesn't count."
The updated policy notes the library will consider a challenger's residency status but doesn't require them to live within the district. Since Ferndale sits in a large metro area, it's not unusual for a patron to visit several different libraries, which have reciprocal borrowing. But if someone from out of state files a challenge, for example, that might not make the cut.
As of late July, FADL hasn't experienced a single book challenge. Still, people find ways to limit access to books, especially ones with LGBTQ+ themes.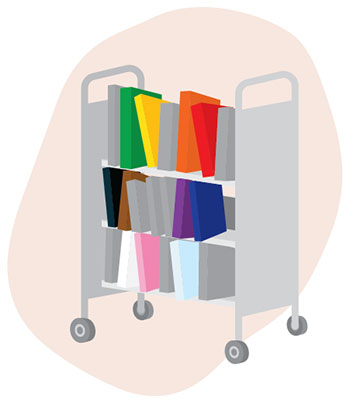 As part of the national "Hide the Pride" movement, members of the right-wing organization CatholicVote checked out FADL's entire young adult Pride display—which included titles about queer history and a guide for parents looking to support their trans and nonbinary kids—and replaced the books with religious texts from the library's collection in June.
"There's been a wonderful grassroots effort by parents to 'Hide the Pride' and protect children from harmful filth in our public libraries," CatholicVote Vice President Joshua Mercer stated in a June 8 post on the group's website.
FADL, however, immediately asked for donations and was able to repurchase all the books on display as well as buy others.
"You would think this groundswell of opposition by parents would make librarians think twice about having these nasty X-rated books that are targeting our children," Mercer continued in the post. "But in Ferndale, Michigan, they are sadly doubling down and begging people to go to Amazon, so they can restock the shelves with smut for kids."
But it's not just about the books. Hunter, who identifies as queer, knows these attacks can feel personal for many library employees around the country.
"So much of this particular moral panic … it's about books with queer themes, it's really about books with trans themes," Hunter says. "If you're a member of a marginalized group that's being targeted on top of also being a library worker … it can be just absolutely crushing."
In light of these personal attacks on identity, one of the staff guidelines at FADL is particularly meaningful to Hunter, and she encourages every library to consider a similar one.
"My first day on the job, I was told, 'If someone is mean or rude or harassing you over the phone—click, put that down, they can call back when they can have some manners,'" Hunter says.
But not all libraries can—or want to—make significant changes to their policies. For example, Dubuque County (Iowa) Library District (DCLD) recently switched from a request for reconsideration form to a statement of concern form, designed to separate the challenge process from its larger collection development policy and use discussion as a way to minimize challenges.
"We wanted to reframe the conversation and try to make it a little more explicit that it is the right of our community members to petition their government and to raise their issues with us, and we are going to engage in a respectful conversation about this concern that they have," says Amanda Vazquez, director of DCLD. "It doesn't draw such a direct line from, 'I don't like this book, and you should reconsider its location here and remove it.'"
DCLD policy requires that the petitioning individual have a conversation with Vazquez, the director, before filling out a statement of concern. If the person still wants to formally voice their complaint, they fill out the form and the library creates a committee to review it. The committee includes people with expertise on the material or program in question; the number and makeup of committee members varies with each case. After reviewing the challenge, the committee files a recommendation to the library board, which makes a final decision— although the complainant may speak before the board.
The committee always includes a librarian, but it doesn't have to be someone who works at the specific library that received the complaint. Vazquez says this happens for two reasons: First, she wants someone not involved with purchasing or choosing the book to review the challenge. Second, it protects her staff.
"It can feel very personal and distressing when your own decisions are being questioned," Vazquez says. "Also, it puts that person [who made the decision] potentially at the forefront of any conversation with the complainant."
Yet, for all these measures, libraries can't necessarily protect staff members outside of their own walls.
'I won, because I was not silent'
After taking a leave of absence from her job, slowly but surely, Jones started to recover. She still cries, she says, but she's angrier than ever: "I guess I went through all the stages of grief."
In September 2022, a judge threw out Jones's defamation lawsuit. The following month, she filed a motion for a new trial, which was denied in November 2022.
In an opposition filed against Jones's motion for a new trial, lawyers for defendants CNL and Michael Lunsford, the group's executive director, stated: "This court specifically found that it could not conclude statements made online by [CNL] and Lunsford were false and defamatory, as the statements were based upon opinions."
Similarly, a memorandum in opposition filed by a lawyer for defendant Ryan Thames, blogger for Bayou State of Mind, stated: "The court found that comments by Thames were protected opinion…. Jones seems to think she is the only one who can exercise free speech. Thames didn't like her public speech and criticized that speech."
But Jones and her legal team vow to keep fighting and have filed an intent to appeal. "It doesn't matter if I win in the court system," she says. "I won, because I was not silent."
As part of her appeal, the court will again have to consider whether Jones is a private citizen or a public figure; the burden of proof on her legal team increases with the latter determination.
Jones knows that continuing to speak out may turn her into more of a public figure and thus hurt her chances of winning her appeal. But, she says, "What determines winning to me is that I spoke up on behalf of myself, who was getting bullied online. I spoke out for all the LGBTQ and Black and Brown kids in my community."
The Freedom to Read Foundation (FTRF), the anti-censorship legal arm of the American Library Association (ALA), has goals similar to Jones's: protecting access to books. FTRF has recently gotten involved in two lawsuits—one in Texas and the other in Arkansas.
If you're a member of a marginalized group that's being targeted on top of also being a library worker … it can be just absolutely crushing.—Mary Grahame Hunter, youth services coordinator at Ferndale (Mich.) Area District Library
"Anytime you have a government entity, whether it be a city council, a library board, or a school board, restricting access and making people either identify themselves or get permission to read an item in the library, that's troubling to us, because that's not what libraries do," says Peter Coyl, immediate past president of FTRF. He encourages anyone—librarians or private citizens—with a question or legal concern in this area to get in touch with FTRF through its website.
In early June, FTRF filed an amicus brief with the Fifth Circuit Court of Appeals in support of plaintiffs in Llano County, Texas, who lost access to a large collection of books at their public library, including thousands of ebooks and print titles such as Caste: The Origins of Our Discontents by Isabel Wilkerson and In the Night Kitchen by Maurice Sendak. After the county government removed these titles, seven patrons filed a lawsuit in April 2022 alleging their First Amendment rights had been violated. The books have since been returned to shelves following a preliminary injunction, but Llano County officials have appealed.
"That's not access to information," Coyl says. "That's the recipe for censorship and for shaming and for restricting people's ability to freely find what they're looking for. That's a clear violation of the First Amendment."
The lawsuit in Arkansas­—which FTRF joined in early June alongside a coalition of publishers, booksellers, and libraries—challenges Arkansas Act 372, signed into law by Arkansas Gov. Sarah Huckabee Sanders in March. The new measure, plaintiffs argue, limits First and Fourteenth Amendment rights to public reading. On July 29, a federal judge granted plaintiffs' request for a preliminary injunction against the law, which would have gone into effect August 1.
Arkansas Act 372 aims to allow anyone in the state to demand the removal of a library book based on appropriateness. The lawsuit filed by FTRF and the coalition alleges that under this Challenge Procedure, the law does not define what appropriateness means.
The Availability Provision, arguably the more controversial aspect of the law, would forbid libraries and bookstores from displaying anything deemed "harmful to minors" (as defined in Arkansas Code Title 5, Chapter 68, Subchapter 5), with a punishment of up to one year in prison for anyone who doesn't comply.
"They're wanting to penalize library workers for sharing information," Coyl says. "In essence, they want to penalize librarians for doing their job."
In other states, however, bills are being introduced to reduce book challenges—not encourage them.
On the books, for the books
On June 12, Illinois became the first state in the nation to pass a law to disincentivize book bans. Gov. J. B. Pritzker signed into law a measure that would pull state funding from libraries that remove books for partisan or ideological reasons, as forbidden by ALA's Library Bill of Rights. The law, which goes into effect January 1, 2024, also requires that libraries adopt the Library Bill of Rights or their own anti–book banning statement to qualify for funding.
Illinois State Rep. Stava-Murray introduced the law after the book Gender Queer by Maia Kobabe was challenged at a high school in her district. Soon after, the Proud Boys—deemed an extremist hate group by Southern Poverty Law Center—attended school board and community meetings to support removing the book.
"It's incredibly important to make sure that our local elected bodies can focus on the work they need to be focused on, and that we're not wasting taxpayer dollars or time on book challenges," Stava-Murray says, "which are more akin to that of a fascist government than any democracy would ever agree to."
As to whether the new law could be used to tactically defund libraries, Stava-Murray says she is not concerned that will happen in Illinois.
"This money pays for initiatives and services that everyone agrees on, such as literacy programs for children," she says. "Letting professional librarians choose the books that are and aren't in our libraries is something that makes sense whether you're a Republican, a Democrat, or anywhere in between."
In May, New Jersey State Sen. Andrew Zwicker (D-Hillsborough) introduced a bill that's similar to the new law in Illinois, prohibiting libraries from removing books for partisan reasons. State legislators in Massachusetts followed suit in July.
And while many libraries are seeing a swell of censorship attempts right now, some are experiencing immense public support as a result. Glen Ridge (N.J) Public Library (GRPL), for instance, saw unprecedented backing from its community during a recent spate of book challenges.
In October 2022, GRPL Director Tina Marie Doody received an envelope with about 30 challenge forms from eight residents focusing on six titles. Most of the books focused on sex education or LGBTQ+ content: It's Perfectly Normal by Robie H. Harris, which offers information on topics like birth control and AIDS, and This Book Is Gay by Juno Dawson, a title focusing on sexuality and gender.
Per the library's policy, the director—Doody herself—had 30 days to respond to these challenges. She decided that all the books fell within the library's selection policy. Also per the policy, the challengers had 30 days to appeal—which they did, to the library's board of trustees.
A typical library board meeting may have one or two non–board members in attendance, Doody says. But for the meeting to consider the appeal in February, hundreds of people showed up, and every person who spoke supported keeping the books on the shelves—except for one, who didn't appear to take a side, according to Doody. The library had to change the meeting location three times, ultimately hosting it in a local high school auditorium, the largest meeting space the county has.
"I'm hoping that the response here will give some other libraries and librarians some hope that it can go the right way—that just because you receive a challenge, that it's not the end," Doody says. "You can work your process, and if your community is on board, you can make it through and have the right outcome."
Source of Article