Chinese studies scholars and Stanford Libraries are celebrating the digitization of a selection of Chinese rare books in a collaboration with the National Central Library of Taiwan (NCL). As mentioned in a previous blog post introducing the 6 month long project, a selection of 210 volumes from 26 titles in the holdings of the East Asia Library and the Bowes Art & Architecture Library were digitized by Digital Production Group (DPG) and then delivered to NCL for its Rare Books Database in November to complete the project. This post is authored by Zhaohui Xue, Chinese Studies Librarian, and guest blogger Katharine Dimitruk, who coordinated the digitization project.
About the materials
These traditional woodblock printed books are unique and valuable pre-modern Chinese resources. As Professor Ronald Egan, a expert in Chinese pre-modern literature commented on the project, "they belong to a wide range of topics and fields, including local gazetteers, scholarly studies of Chinese classics and historiography, historical phonology, literary collections, and anecdotal works. Some of the books are from the hands of famous scholars and writers, including Wang Shizhen 王士禎, You Tong 尤侗, and Yuan Hongtao 袁宏道. These newly available rare books will be very useful to scholars working on Ming-Qing period scholarship, literature, and history."
Likun Yang, a doctoral student in East Asia languages and cultures working on traveling writings from the Southern Song, finds some of the sources in the collection of special value. Focusing on three books that published around late 17th and early 18th century, a local gazetteer Siming shan zhi 四明山志, by Huang Zongxi 黃宗羲, An ya tang wei kan gao 安雅堂未刻稿by Song Wan 宋琬 and Huang hua ji wen 皇華紀聞 by Wang Shizhen 王士禎, he compared them with the travel writings by the Southern Song. "During the transition from the Northern Song to the Southern Song, literati officials faced a divided China and served either the Jin or the Southern Song; by contrast, literati from the Ming-Qing transition lived under a unified empire but faced the dilemma of whether to serve the court or not. The travel writings by the Southern Song literati such as biji筆記 and poetry often reveal their feelings and reactions during their official trips to places both domestic and foreign and set precedents for later generations. Three books from the collection show such a continuity. But more importantly, they display a very different mental world inhabited by some of the most well-known literati of the time".
In Likun's study of Huang hua ji wen 皇華紀聞 by Wang Shizhen, he pointed out that " most entries in this work have precedents in the Song dynasty, but three entries about non-Han people are worth our attention. One entry (縛龍角) records the mystic power of a Manchu warrior 賴塔拉把土魯. Such a positive portrayal was not possible in the Southern Song. The second entry preserves a poem by an emissary from An'nan 安南; and the third entry describes the customs of foreign traders in 香山㠗 in Guangdong. The same trade port in Guangdong also receives a brief mention under the entry 歐羅巴 in 外國志 from the collection. Together these entries may provide a reference point for more systematic inquiries into China's evolving perception of the world."
Just as Egan stated, Likun remarks, "Availability of these digitized books is a pleasant discovery. They provide easy access for later reading and study". These digitized Chinese rare books are just a small representation of a unique collection at the Stanford Libraries. The project will continue to digitize more titles.
About the project
This was the first mass digitization project imaged primarily on equipment that DPG recently acquired from Digital Transitions, called the BC100 Dual Copy System. The BC100 is a book capture system that uses two overhead PhaseOne iXG 100MP cameras, a pneumatic glass platen and book cradle to create FADGI 4 star quality images at efficient production rates.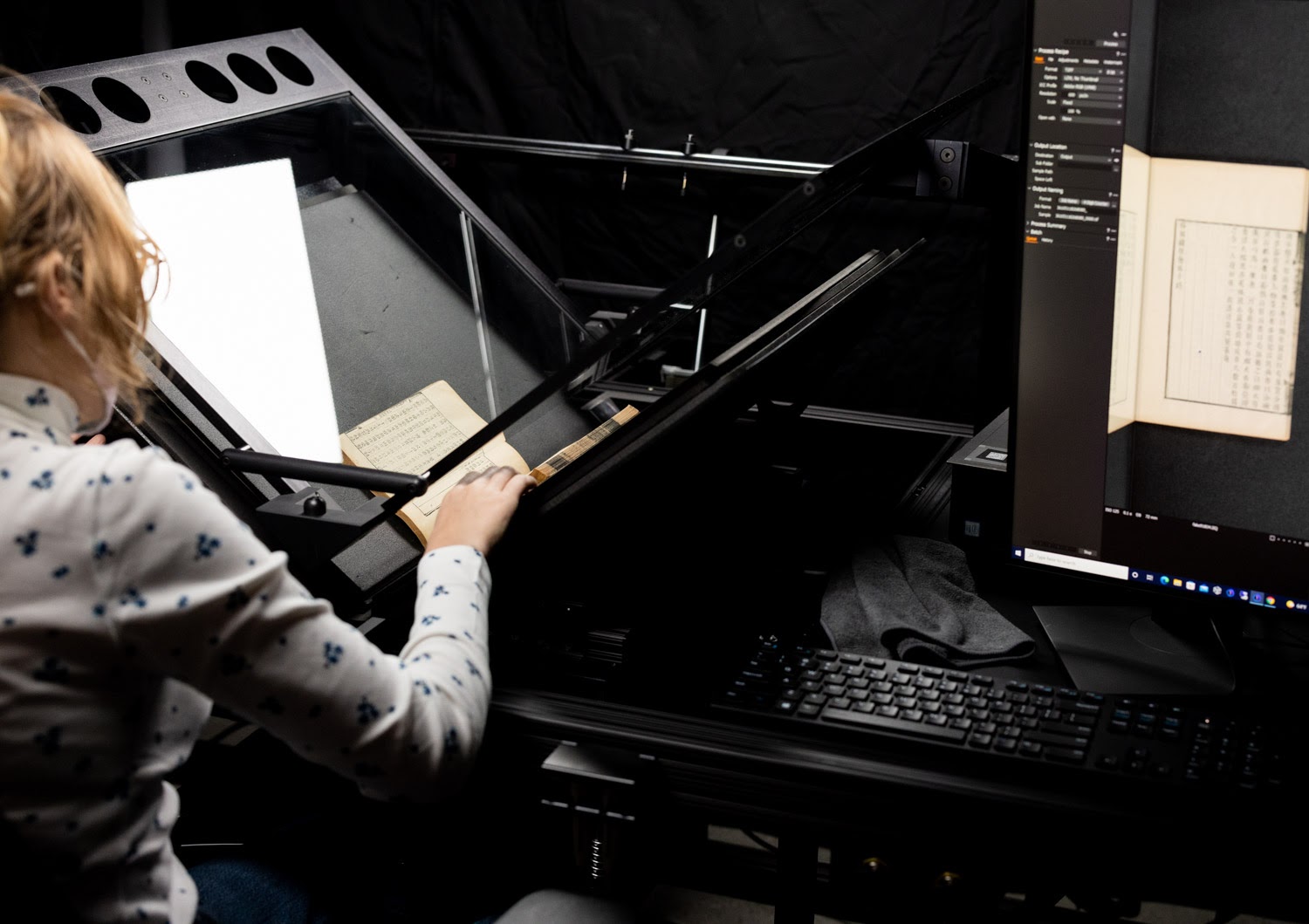 DPG Lab Assistant Abigail Watson scanning a book for the project using the BC100.
With production beginning in May of 2020, a goal for this international collaboration was to create a close and accurate estimate of how long it would take to complete digitizing the requested selection of books. The team was able to deliver well over the original agreement, providing a total of 33,613 pages ahead of schedule.
This project would not have been possible without the dedicated work and care of colleagues at Stanford Libraries: Tony Calavano, Jessica Cebra, Jen Diaz, Kylee Diedrich, Katharine Dimitruk, Keenan Eng, Hannah Frost, Chris Hacker, Dinah Handel, Linda Lam, Alex Nguyen, John Pearson, Tati Scutelnic, Astrid Smith, Kristen St. John, Wayne Vanderkuil, Abigail Watson, Justine Xi, Zhaohui Xue, and Jidong Yang.
For research questions related to library resources for Chinese studies, please contact Zhaohui Xue.
Source of Article