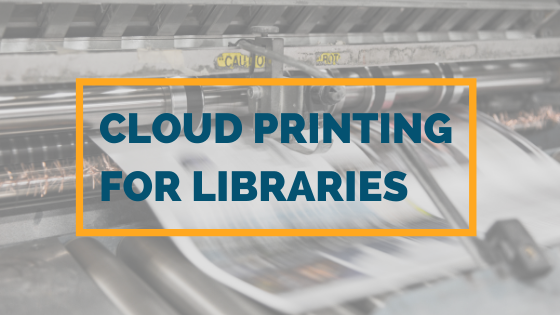 Cloud services are a commonly used resource in most people's daily life. Whether it is with iCloud, Google Drive, or other mobile or web applications, people are using cloud services. This is no different at an organizational level, many organizations are using cloud services to improve their user's experience and improve internal business processes.
Though many cloud related services are omnipresent, this does not mean that the understanding of the technology is at the same level as the services' presence.
Cloud services and libraries
To focus this post, lets discuss cloud services and libraries. Libraries have always done a great job with being an early adopter and influencer for new technologies. They are the leaders in education on new tech for their communities and often show both people and other organizations how these new technologies can be beneficial to them.
However, when it comes to the many amazing and beneficial services that libraries offer, there is perhaps one service that is not always on par with the others. That would be the library printing services.
Library printing services
To be clear, there are libraries all over the world that have adopted printing services that match the needs and expectations of library visitors and staff. Nonetheless, there are still many libraries that have not. By not investigating into upgrading their printing services, libraries can potentially deny their users the ability easily print and pay from their own devices. This could sour the experience for the library visitor, which can lead to those library visitors asking why is printing at this library so complicated, historic, or unsecure/intrusive… all of which are valid questions.
Cloud printing services can be the answer. Cloud printing is a beneficial service that benefits library staff, users and even the environment. Why isn't cloud printing the automatic norm for shared printing spaces such as the library? Many times, it is due to the lack of information or knowledge about the service. Without this understanding it may be hard to know how cloud printing services will benefit the library or remove the common perception that pricing will not fit into a library's budget.
The benefits
To provide context to help start a conversation on if cloud printing is a fit for your library, here are some benefits of cloud printing services.
*It should be mentioned, that there are differences between cloud printing services depending on the company, but in general here are some quick hitter benefits:
Benefits for library staff: Staff can spend less time solving printing issues or maintenance/support on their printing systems.
Benefits for the library: The library can offer Bring Your Own Device (BYOD) printing which will allow options for visitors to print from all devices. This also allows for the library to offer unmanned hours for printing without affecting library staff's hours.
Benefits for library visitors: Cloud printing services will provide a pleasant experience for library visitors. Providing a modern, simple way to print from their own devices – making the library the best place to go to print when they need to.
Benefit for the collective: Cloud printing services allow for printing from your own device which will help reduce unnecessary touch points within the library on shared devices like desktops or printers. This is an important point to mention after all we have learned through the Covid-19 pandemic.
Closing thoughts
Overall, it allows libraries to continue to lead the way by providing top tier services while making the experience for all parties involved a happy and valued one.
There is a lot more information that can be discussed about what cloud printing is, and what it can do, but that would take more than one blog post to get into.
However, if you are still curious about finding out more, you can read a beginners guide to learn the foundation of what cloud printing is and the benefits of such a service, by downloading our free "What is Cloud Printing" resource below!
Source of Article