While some people still primarily associate libraries with books, they offer so much more! Libraries are often a resource hub for the community where passionate, friendly, and helpful library professionals work. Libraries have much more to offer than just books. Libraries offer access to technology, the internet, meeting rooms & creative spaces, and endless resources for education and development. An often forgotten but convenient and occasionally necessary service libraries offer is printing. Library visitors appreciate the ability to print on demand. If libraries can successfully offer this, it means that library visitors do not have to purchase a home printer that's harmful for the environment. Additionally, many libraries offer a Bring Your Own Device (BYOD) printing option, which allows visitors to print from their own devices, making the process even more simple, secure, and convenient.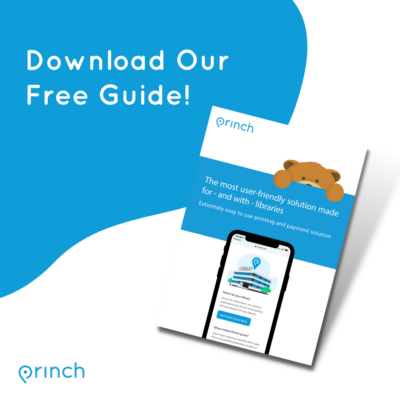 Are you curious what Princh can offer for your library and your patrons? Then check out the Ultimate Guide To Princh For Libraries, to learn about all the benefits our solution offers! You can download our guide here.
Offering printing services to your visitors may be a simple afterthought for your library. However, having an unreliable and complicated printing solution can lead to a poor experience for your visitors and create frustrations for library staff. Libraries are faced with many questions to answer when thinking about their printing services. For example, questions such as whether library visitors can print from their own devices, whether the solution is reliable, whether we can offer unmanned printing hours, and whether we accept electronic payment instead of handling cash are all questions that arise in internal discussions. Do any of these questions sound familiar to you?
All libraries want to provide the best user experience for their visitors, but libraries must provide reliable services to do so. This means a reliable printing solution that meets the libraries, and their visitor's needs is a necessity.
In this post, you will read stories of libraries that faced printing challenges and how Princh helped them overcome those challenges!
Mobile friendly printing in rural areas
Many library users utilize services both online and offline. There are also situations where library users need the library to come to them. Montgomery Floyd Regional Library (MFRL) recognized the demand for a mobile library in rural and underserved areas, where people could not print at home. The understanding of how crucial offering library services such as printing to people from rural areas, lead the Montgomery Floyd Regional Library to the creation of their mobile library for those areas. The goal of their mobile library was to offer a full-service library on wheels. This meant not just books, like the mobile libraries of decades past but also services like printing. MFRL chose to provide our Bring Your Own Device (BYOD) printing and payment solution that allowed their Mobile Library to offer easy and simple printing and paying to all their visitors. "(Princh's) BYOD printing and payment solution has allowed our Mobile Library to offer a great, user-friendly printing experience to our patrons."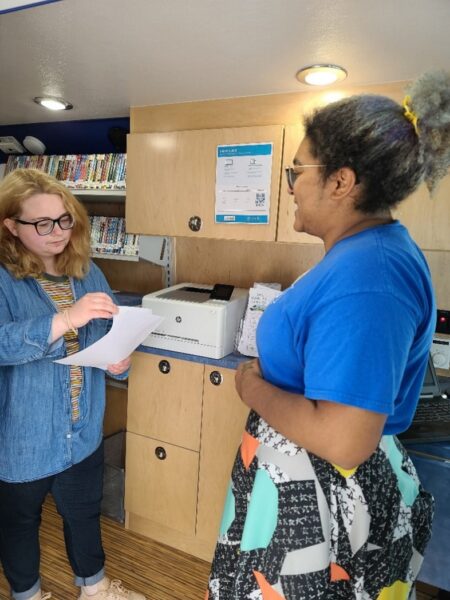 Safe, cashless printing
Since the start of the pandemic, public libraries have been faced with challenges on how to adapt their services to safely serve visitors. It was particularly challenging to provide a contactless printing and payment service, which often would require either complicated or expensive upgrades. This was a problem that Sutton Council's Libraries previously faced.
It was essential for Sutton Council's Libraries to conform to public health regulations, such as social distancing and hygienic equipment, meaning they had to change their old library kiosks system to a more cashless based service. Implementing our Bring Your Own Device (BYOD) printing and payment solution helped Sutton Council's Libraries move their printing services from kiosks to a solution where their visitors could print and pay from their own devices safely and simply. Visitors of their libraries now have a choice to use credit/debit cards or mobile payment apps to print, and they don't need to wait in a queue to pay for their printing. Instead, they can print and pay from their own devices. "(Princh) is an empowering tool for the whole community, but especially those that need to be flexible with their time. It allows the customer to enter our library, print their documents and then leave. Quick, simple and convenient for all sections of the community." – says Helena Casey, Customer Service Assistant at Westcroft Library.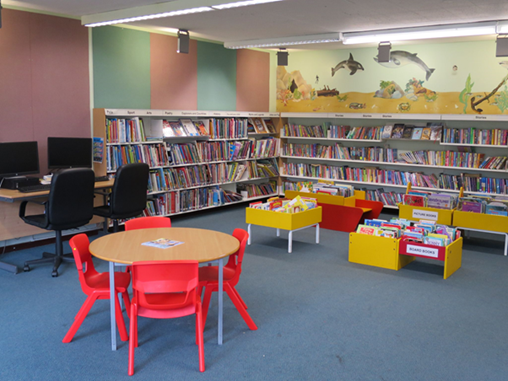 Reduced paper waste
Some libraries are faced with the unfortunate issue of unnecessary paper waste, due to their complex printing systems and processes. For example Horten City Library used to face this issue. They previously had many visitors mistakenly print more pages than they needed or intended to print. This issue led to many conversations between the library staff and visitors about what price would be charged for the documents that were printed. In many cases, the library had to accept payment for only the pages that the visitor intended to print and did not collect payment on the mistakenly printed pages.
Horten City library implemented our Bring Your Own Device (BYOD) printing and payment solution in order to resolve this issue, and our solution did just that. We reduced their paper waste by providing users with a clear preview of their files to confirm the correct page range and requiring them to pay for their print jobs in advance. "When we were assessing the different options for printing solutions, Princh was the only printing solution that could help us solve our issues, offer a better service to our users and do it at a fair cost." – says Knut Hellum, Senior Librarian at Horten Library.
Removing printing problems
Obion County Library in the US faced a lot of challenges with their previous printing solution. Their library visitors would come to print their documents and end up spending a lot more time than they needed or expected to. One of the main issues with printing at their library was they could not allow visitors to print from their own devices. Library visitors wanting to print had to send their print jobs to the library's email every time. This was inconvenient for the entire community, especially library professionals who had to manage print jobs, sensitive information and manage their other daily tasks. Obion County Library decided to upgrade its printing service to provide its library visitors with our BYOD printing and payment solution. Since the implementation of our solution, neither the library professionals nor library visitors have experienced challenges with printing. The library now offers a extremely user-friendly printing and payment with the ability for users to print from their own devices. This means, having no immediately available library staff is no longer a problem since visitors can print themselves. "It really just made every aspect of printing easier, far easier than I ever thought possible." – says Zach Crews, IT Coordinator at The Obion County Library.
Libraries are an essential resource for every community, whether big, or small. Libraries connect people through the in-depth and versatile services they provide, such as book clubs, programs and classes for children and teens, and so much more. However, the most important asset of every library is the library professionals working there. They are the guides and the teachers to all who enter the world of libraries. That's exactly why it is not ideal when library professionals are tied up dealing with printing issues when they can be fulfilling many of their other important duties throughout the day.
If any of the above stories resonated with your current library's situation, then check out how we can innovate your printing services with our user-friendly printing and payment solution. You can learn more about the Princh library printing and payment solution HERE.
We will be back next week with another interesting article from the library world!
Want more insights from libraries across the world?
Find us on Twitter and Facebook and subscribe to our blog to receive new library insights directly to your e-mail.
Source of Article