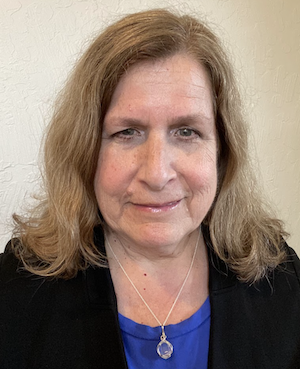 I am truly happy to announce Cathy Aster's promotion to Senior Digital Library Services Manager in Digital Library Systems and Services (DLSS).
Cathy is widely recognized by her colleagues as a superb project manager, model service manager, gifted meeting facilitator, supportive mentor, and steadfast advocate for organizational effectiveness in DLSS and Stanford Libraries. In recent years, Cathy has grown into a senior member of the team, operating at an advanced level in each of the projects and work activities in which she plays a role. Some examples of her wide-ranging contributions include: ongoing service management of the electronic thesis and dissertation (ETD) submission program with the University Registrar; project management of the Martin Wong catalog raisonné, now under development in Spotlight in collaboration with Stanford faculty and external experts; and facilitating the transition of the Piano Roll project to a full program with long-term goals. Cathy's positive impact extends to the broader professional community by way of her leadership in the Spotlight software community and her ongoing involvement, first as a mentor and now as an advisory board member, in the Authenticity Project, a collaboration between the Digital Library Federation and the HBCU Library Alliance.
In her elevated role, Cathy is squarely positioned to contribute substantially in new key areas. Stanford's digital library services have matured and expanded in recent years, and at the same time, our projects are growing in number and complexity. The work of library staff increasingly involves the use of DLSS products and services on a regular basis. These developments require a higher level of cross-organizational, cross-portfolio analysis, where the needs of the Libraries' evolving programs that leverage the services and resources of DLSS and adjacent units are more systematically surfaced, assessed, understood, managed, and communicated. Cathy's experience, portfolio, and skills lend themselves directly to addressing this growing need for broader awareness, analysis and advocacy. She will work closely with DLSS staff and leadership to identify opportunities to refine or develop new capabilities within the department as well as augment our collaborations with other units. This will ensure we are better prepared to anticipate and respond to the emerging needs of our patrons and our fellow library staff who work hard every day to serve them.
Please join me in congratulating Cathy on her achievements and cheering her on in our work ahead!
Source of Article