With summer just around the corner, many of us are busy planning our holiday travels. Whether your plans include going to the beach, hiking or sightseeing, it is always worth checking out the libraries. In this week's Princh Library Blog, to help your bibliotourism journey, we are suggesting 5 libraries around the world to visit.
Learn the key aspects of Princh! Watch our on-demand demos at your convenience and see what makes Princh such a simple solution. Watch our demos here.
China – Tianjin Binhai Library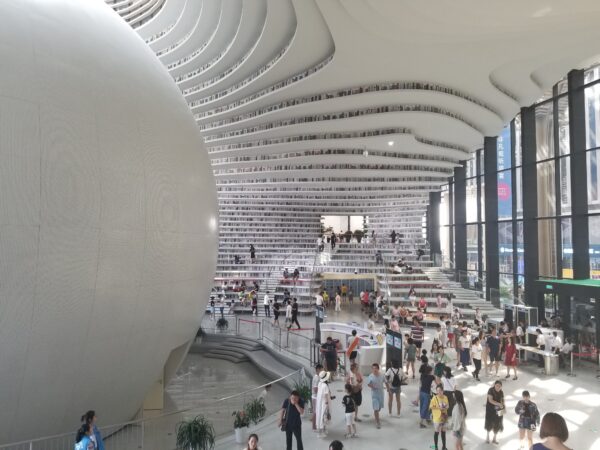 This futuristic library is located in Tianjin, China. The library and cultural center features a spherical auditorium (called the Eye) and floor-to-ceiling bookcases, which are even more impressive when you consider the 33700m2 surface area of the building (about 362,743 sq. ft).
The building has 5 floors and hosts a number of diverse educational facilities. The ground floor and lower levels focus on the children and the elderly, as well as reading rooms and lounge areas, while the upper floors include meeting rooms, offices and even rooftop patios.
The library is part of a larger overall project, aimed at accentuating the characteristics of the surrounding districts. Because of its rigid and fast-paced building timeline (only 3 years between the first sketch and opening!) some parts of the original concepts are yet to be realized. Nevertheless, this library is still awe-inspiring.
France – La Tête Carrée
La Tête Carrée de l'artiste Sacha Sosno à Nice va ouvrir au publichttps://t.co/K6wsGCDnnL pic.twitter.com/GcI7vvb77F

— France 3 Côte d'Azur (@F3cotedazur) January 29, 2022
Located in Southern France, in the heart of Nice, La Tête Carrée is a library combined with an art installation. The statue, designed by French sculptor Sacha Sonso, is 30 meters tall and 14 meters wide, and resembles a bust, where the head is replaced by a large cube at mouth level.
The cube houses seven floors of the Bibliothèque Louis Nucera's administrative offices. At night these offices are lit up, with the lights regularly changing color, creating an even more futuristic feel.
Unfortunately, the inside of the building is not open to the public. However, the area surrounding the library features peaceful parks, fountains, and a modern arts museum, making visiting this library an easy part of any tourist route.
Italy – Biblioteca Sandro Penna
#Perugia riapre la Biblioteca Sandro Penna. Dopo i lavori che hanno eliminato le cause degli importanti fenomeni di infiltrazioni di acqua, la Biblioteca Sandro Penna riapre al pubblico 19 aprile 2018. Buona lettura a tutti voi 😀 pic.twitter.com/lMxmz06thf

— Comune di Perugia (@Comuneperugia) April 18, 2018
Located in Perugia, between Florence and Rome, Biblioteca Sandro Penna is another unique-looking library. Inaugurated in 2004, the library building is a huge pink glass dish sitting on a bright green base. Both the base and the dish are glazed and are entirely illuminated during nighttime.
The library's collection is curated to meet the needs of all generations, with a special focus on the children and teenager selections.
Mexico – Biblioteca Pública de San Miguel de Allende
#SanMigueldeAllende | La Biblioteca Pública de San Miguel de Allende, A.C. invita a inscribirse en los diversos #talleres que tienen para la comunidad sanmiguelense 📚 https://t.co/FUkZuQ4fRo pic.twitter.com/DEutjvElkp

— Radio San Miguel (@sqradiosma) February 23, 2022
Serving the San Miguel community for over 65 years, La Biblioteca Publica (the public library) is a non-profit organization. The library has been growing and thriving thanks to nothing but the generous donations of its community members over the last decades.
Today, the library is host to 3 different reading rooms (a Spanish, an English, and a mixed language one which focuses on infants and young children) that offer 50,000 titles overall, a theater, a café, and many different programs for patrons of all ages.
Morocco – Al-Qarawiyyin Library
One of the oldest libraries in the world — Al-Qarawiyyin library, was founded by a Muslim woman more than 12 centuries ago! Libraries developed in the Islamic Golden Age due to a commitment to literacy & knowledge.

For #WorldBookDay a thread on libraries in Islamic history… pic.twitter.com/o6fDAShJ41

— Bayt Al Fann (@BaytAlFann) March 2, 2023
When talking about bibliotourism and the specific locations to visit, one can't not mention the world's oldest working library. Founded in the city of Fez in 859 CE by Fatima Muhammad Al-Fihri Al-Quraysh, the recently renovated al-Qarawiyyin is not only a library, but it also includes a mosque and a university.
Among the numerous ancient texts, the library houses a ninth-century copy of the Qur'an, escribed on camel skin, a manuscript of Ibn Khaldun's Muqaddimah and a manuscript by Averroes on Islamic jurisprudence.
Thanks to the efforts of its most recent renovator, Aziza Chaouni, the library now has a wing open to the public, which includes an exhibition room and a café.
BONUS: Bulgaria – The Black Sea Beach Library
How amazing is this library!! It is situated in Albena. A gorgeous beach library in a Bulgarian resort on the Black Sea coast. It is the first of its kind in the European Union, and boasts over 6,000 books in more than 15 languages. #libraries https://t.co/KD7Uahcxh1 pic.twitter.com/fCPyHJ2Rn2

— artefacto (@artefactors) August 24, 2019
We also included this library as a unique entry on our list. The appeal of this library is simple: it provides easy access to books to read while tanning or otherwise relaxing on the beach. Hosted by Albena, a resort on the coast of the Black Sea, the library offers over 6000 books, in more than 15 languages.
The world is your oyster
There are of course many more libraries around the globe to visit, from the Picture Book Library in Japan to the Stadtbibliotek in Stuttgart, Germany, but no blog post could ever list all libraries on the globe. After all, all libraries are worth visiting.
With that in mind, dear bibliotourist, which library will you be visiting?
We will be back next week with another interesting article from the library world!
Want more insights from libraries across the world?
Find us on Twitter and Facebook and subscribe to our blog to receive new library insights directly to your e-mail.
Source of Article