The world is becoming more and more digital with everyday. Regardless, libraries still stand tall as culturally important places for their communities. But don't take our words for it. In today's Princh Library Blog post, recurring guest writer, Robin Jeanne, shares quotes from well known authors, directors and public figures, that shed light on the importance of libraries.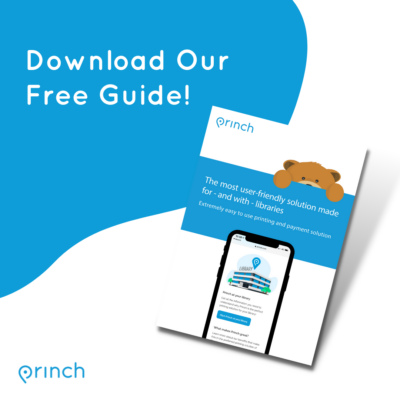 Are you curious what Princh can offer for your library and your patrons? Then check out the Ultimate Guide To Princh For Libraries, to learn about all the benefits our solution offers! You can download our guide here.
Still widely appreciated
As we now live in a predominantly digital age, you'd be forgiven for thinking that libraries now serve limited purposes. However, the overall consensus is to the contrary. In a detailed survey described at World Economic Forum, it was made clear that a majority of readers still opt for printed material, despite having access to digital and audio stories. It seems the tactility of a book – handling it and turning the pages – is still very appealing to most. Even the scent of a physical book prompts pleasant associations for avid readers – memories of school libraries among them.
Libraries are the central hub of most schools: quiet, peaceful spaces to conduct research and study. Most are now at least somewhat digitalized and provide computers that simply archive access and general research. But the libraries themselves are still relevant. Outside of schools as well, they remain sanctuaries for many people and purposes – from authors doing research, to friends playing Dungeons and Dragons, to parents fostering a love of reading in young children.
We would contend, given all of this, that physical books and libraries are still widely appreciated. But nowhere is that appreciation more evident than in literature and among writers themselves. So, in this piece, we thought it would be fun to look back at some of the best quotes about the value – and the majesty – of libraries.
"Libraries are the backbone of our education system" – Karin Slaughter
American crime writer Karin Slaughter – founder of Save the Libraries – often talks of how libraries are important to the education infrastructure and our communities. Understanding their significance, having spent so much of her time within library walls as a child, Slaughter founded Save the Libraries in order to raise funds for the establishment and maintenance of libraries of all sizes.
"It turned out to be near impossible to stand in a library and not want to pull things from the shelves" – Matt Haig
Pulled from "The Midnight Library" by Matt Haig, this quote speaks to the sense of possibility one feels when surrounded by books. "The Midnight Library" is a recent bestseller that revolves around a sort of in-between space between life and death that takes the form of an infinite library. In the novel, books represent alternate lives one could have lived. But the story is still packed with wisdom and insight about the value of knowledge, which the library metaphor is apt in conveying.
"Libraries allow children to ask questions about the world and find the answers. And the wonderful thing is that once a child learns to use a library, the doors to learning are always open" – Laura Bush
Former U.S. first lady, teacher, memoirist, and – yes – librarian, Laura Bush explained in this quote just how significant libraries can be to young children, not just in the moment, but in development. Too often we think of libraries as serving specific purposes. With these few, powerful words Mrs. Bush reminds us that they are more than that and can, in the best of cases, serve as lifelong resources.
"I took to the Bodleian library as to a lover and… would sit long hours in Bodley's arms to emerge, blinking and dazed with the smell and feel of all those books." – Laurie R. King
A beautifully written passage from "The Beekeepers Apprentice" by Laurie R. King, this quote captures the essence of how a library can fully embrace you. It speaks clearly to the tactility of books and libraries mentioned above and conveys how powerful and emotional a connection to books can be.
"Libraries store the energy that fuels the imagination. They open up windows to the world and inspire us to explore and achieve and contribute to improving our quality of life. Libraries change lives for the better" – Sidney Sheldon
The American writer, director, and producer Sidney Sheldon perfectly describes how inspiring libraries are in this wonderful quote – one of many he voiced during his career. It's a forward (but true) declaration of how libraries are life-changing places for many.
"The only thing you absolutely have to know, is the location of the library" – Albert Einstein
Einstein could not have delivered a more perfectly compact yet weighted quote to encompass the importance of libraries. Sometimes, only a few words are enough.
"But I loved the library simply because it was a library. I love libraries. I like reading, but I love libraries. Being surrounded by books makes me feel safe, the way some people need trees or mountains around them to feel secure. Not me – nature's not what I cling to. I cling to books." – Emily Wing Smith
Describing a very personal account of someone's love affair with libraries, these lines were written by Emily Wing Smith in the book "Back When You Were Easier to Love." The powerful quote describes how the experience of a library can so deeply affect one's emotions. The thought that someone can feel so protected by the happy confinement of a library is hugely comforting.
We will be back next week with another interesting article from the library world!
Want more insights from libraries across the world?
Find us on Twitter and Facebook and subscribe to our blog to receive new library insights directly to your e-mail.
Source of Article