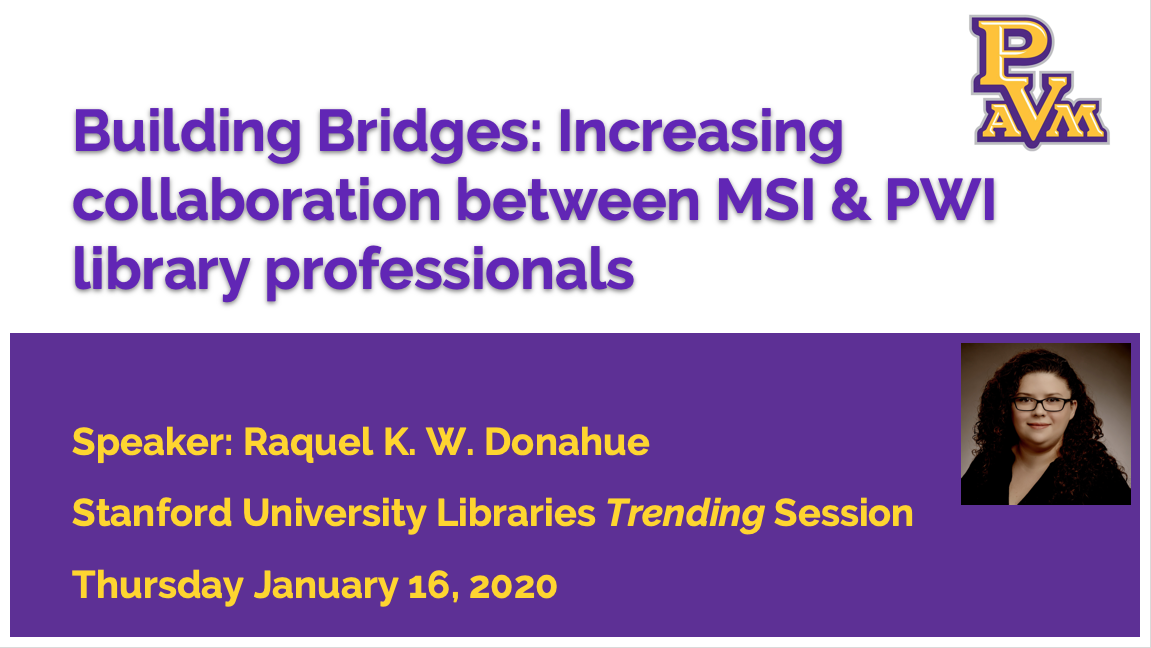 This is my third guest blog post for Stanford Libraries' Digital Library Blog at the invitation of Cathy Aster, a Product and Service Manager in Digital Library Systems and Services (DLSS) at Stanford University, who was my assigned Conversation Partner in the inaugural 2019 cohort of the Authenticity Project organized by CLIR/DLF and the HBCU Library Alliance. (You can still read my first and second blog posts on the Stanford Libraries' Digital Library Blog for additional background.) Our panel presentation, "The DLF and HBCU LA Authenticity Project: A Personal and Professional Review" reporting on our summer survey findings of our inaugural project cohort at DLF Forum 2019 in Tampa, Florida was a success and a major milestone for me and another project Fellow, Raeshawn McGuffie, the Assistant Director of Technical Services at Hampton University's Harvey Library, because it was our first ever panel presentation. We received valuable feedback from attendees during our Q&A session facilitated by Melissa Wisner, IT Projects and Portfolio Management Librarian at North Carolina State University and Conversation Partner to Raeshawn McGuffie, which we also incorporated into a document of recommendations we provided to the project organizers to improve the experiential outcomes of the next two scheduled cohorts. The organizers agreed to implement several of our recommendations, which will impact the start date and experience of the second year's 45-person cohort kicking off (tentatively) in April 2020. (The IMLS-grant-funded project spans three years in total.)
In addition to this wrap-up post, Cathy invited me to remotely present "Building Bridges: Increasing collaboration between Minority-Serving Institution (MSI) & Predominantly White Institution (PWI) library professionals" at Stanford University Libraries' Trending session on January 16, 2020 where I talked about my experiences as an early-career HBCU librarian in the Authenticity Project and the challenges faced by students at Prairie View A&M University. We had an interactive discussion on how we might carry forward the spirit of the Authenticity Project more broadly across our institutions and profession to benefit the students we serve and professionals we cultivate based on the project's overarching goal:
"…to create a more diverse, inclusive, collaborative, and cohesive next-generation digital library workforce, ready to work across types of institutions in building infrastructure of various kinds (social and technological) in service to a wide array of communities."
During that interactive portion of the presentation, we produced a Brainstorming document that I shared earlier this week with the DLF's Advocacy, Leadership, and Recruitment committee thanks to Co-Chair Melissa Wisner. The committee added some thoughts to the document, engaged in mutual feedback, and allowed me to highlight some of the challenges and suggestions I found most noteworthy for consideration in DEI initiatives. They thought some of the ideas written therein could be implemented into a toolkit for advertising, recruiting, onboarding, and retaining for the 21st century that they are building. I plan to share the expanded Brainstorming document in early February with my library colleagues at Prairie View A&M University to give them an opportunity to contribute and possibly act on any ideas that might build a partnership between Stanford University Libraries and Prairie View A&M University Libraries. Once I've received feedback from them, I will also present on my Authenticity Project experience and the brainstorming document to the broader Prairie View faculty and staff body at our university's Spring 2020 Faculty Friday professional development conference to learn what other opportunities are possible to:
"…help us "get real," one conversation at a time: contributing to systemic change in the profession and improving the ability of PWIs and HBCUs to collaborate more fruitfully, equitably, and genuinely." (CLIR/DLF "On Authenticity" 2019)
It is my hope that together, we all dig in to the start given us by the Authenticity Project to build authentic bridges across PWI, HBCU, and MSI academic libraries and institutions of higher learning so that we can grow as professionals and as valuable service-providers to the people we serve.
I would like to thank Cathy Aster, Melissa Wisner, Raeshawn McGuffie, Monica Riley, Becca Quon, Christine Wiseman, Andrea Jackson Gavin, Josh Hogan, Monika Rhue, Sandra Phoenix, Phyllis Earles, Elizabeth Jean Brumfield, and the entire inaugural cohort of 2019 for their support in the Authenticity Project. Additional thanks to Musa Olaka, Kimberly Gay, Lisa Stafford, Lea DeForest, Dinah Handel, and Mark Matienzo for their support around the Authenticity Project.
Mrs. Raquel K. Donahue, MLS
Reference & Instruction Librarian
Instruction Liaison to College of Juvenile Justice & Psychology &
Division of Social Work, Behavioral & Political Sciences;
Collection Development Liaison to Sociology
Prairie View A&M University
John B. Coleman Library (Office 126A)
P.O. Box 519; M.S. 1040
Prairie View, Texas 77446
Ph. 936.261.1505 | FAX 936.261.1538
rkwilliams@pvamu.edu | https://www.pvamu.edu/library/
twitter: @RaquelKWilliams
Source of Article