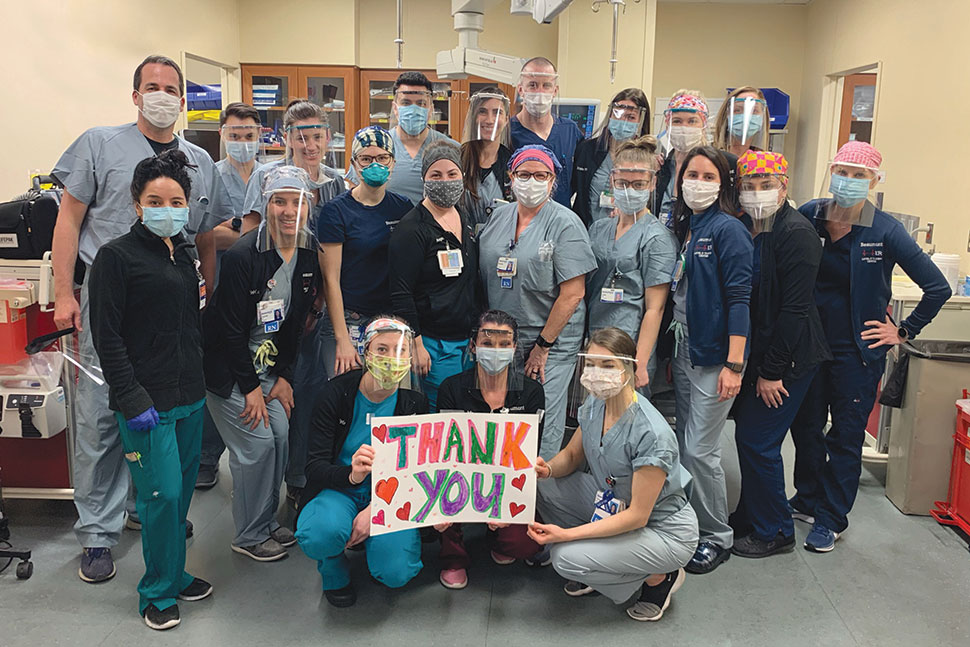 Personal protective equipment (PPE) for health care workers, including face shields, surgical masks, and N95 respirator masks, is in critically short supply. To mitigate the ongoing crisis, some public and academic libraries are using their 3D printers to create the PPE components needed on the front lines of the COVID-19 pandemic.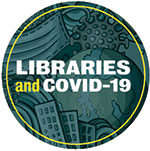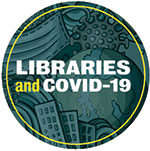 Jillian Rutledge, public services manager at Waterloo (Iowa) Public Library, learned about a PPE production initiative through a local branch of the national community revitalization project Main Street America. When her library closed its doors to patrons March 17, she obtained instructions online for printing PPE and tried various iterations before finding one that worked well.
Now the library's single 3D printer sits in the kitchen of Rutledge's home, where it creates a component of face shields: the visor, which attaches to a clear plastic component that protects the face of the health care worker wearing it. Every five hours, the printer can create two visors, which are then collected and assembled into face shields by other local organizations and volunteers.
"It's been incredible how quickly everything's really come together," Rutledge says. "There's been thousands of completed [face] shields that have been driven out all over the state."
Some libraries are choosing not only to create PPE on their own, but also to assemble it—printing face-shield visors, sourcing the clear plastic component themselves, and attaching the two. Baldwin Public Library (BPL) in Birmingham, Michigan, is taking this approach.
In conjunction with a BPL patron and members of a local 3D-printing Facebook group, Jeff Jimison, who supervises BPL's Idea Lab, has been using the library's six 3D printers to create full face shields to donate to local hospitals.
"We're keeping track of requests for donations," Jimison says. "Once we get about 100 shields' worth of material together, we sterilize them, bag them as kits, and take those kits to whichever organization is next on the list."
I went from helping people 3D-print models of spaceships to running a small PPE factory in my garage. —Jeff Jimison, Idea Lab supervisor, Baldwin Public Library in Birmingham, Michigan
Other libraries are opting to donate the use of their 3D printers instead. Toronto Public Library (TPL) has loaned 30 printers to a Toronto General Hospital initiative to source protective gear. Ab Velasco, TPL's manager of innovation, says this was the best option for the library network: "It all boiled down to the fact that the hospital team has the technical and medical expertise of the process, so that's why we decided to lend to them."
University libraries are also contributing to production efforts, working alongside engineering and health departments to create medical-grade equipment. University of Utah's libraries have been 3D-printing face shields, but they are now pivoting to N95 mask production. This poses an added challenge, as the masks' proximity to the face requires additional testing and sterilization steps. While the libraries have not yet begun printing these masks, University of Utah Health is currently testing several prototypes.
Columbia University is among the many schools assisting in the effort; the university library system recently published a guide and design for producing face shields to be used by others with access to 3D printers. Brandon Patterson, technology engagement librarian at University of Utah's Eccles Health Sciences Library, is working on a guide to share with other academic libraries. "The larger the community we can create around this, the better our products will be, and the better we'll be able to help," he says.
Both public and academic libraries rely on donations to continue PPE production. BPL has relied on a $2,300 donation from its Friends of the Library group, but there are currently efforts to raise additional funds. And, while printing PPE provides librarians with a way to directly support health care workers, the pivot has not been easy. "All the things I'm used to doing have vanished at this point," says Jimison. "I went from helping people 3D-print models of spaceships to running a small PPE factory in my garage."
A version of this story was originally published in The Scoop blog on April 3, 2020.
Source of Article