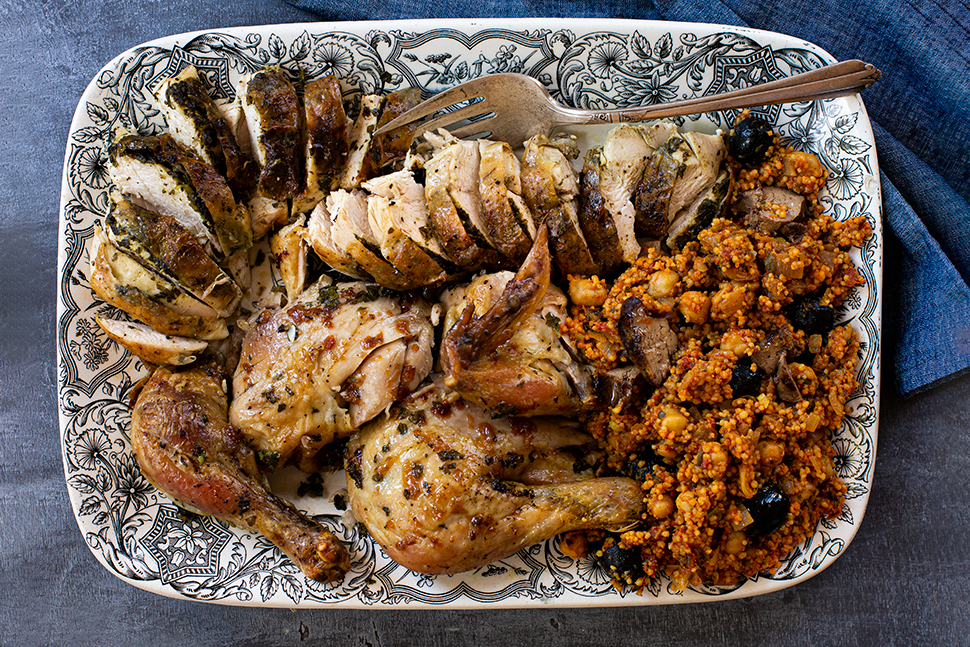 Reprinted with permission from The Rise: Black Cooks and the Soul of American Food (Voracious, October) by Marcus Samuelsson and Osayi Endolyn.
Alberta Wright owned Jezebel, which was one of my inspirations for Red Rooster, and that place was fabulous. Located in Manhattan, near the southeast corner of West 45th Street and 9th Avenue, Jezebel was right across the street from where I lived. I've never seen anyone host like Alberta. Whether she was seating a celebrity, even Denzel Washington or Madonna, Alberta was always the real star in that dining room. She had style. She set the restaurant up like you had just walked into a Southern lady's home. Once you were there, she surrounded you with her warmth.
When I think about Alberta's history—her fierceness combined with her incredible charm and grace—I am humbled by how much she accomplished, when she started with very little. She had an 8th-grade education, but she ended up opening a Jezebel in Paris. I am reminded that there are so many Albertas out there, a whole lineage of Black queens who won't be told what they can't do—they are charming, hardworking, talented—even if most of them don't get acknowledged. I was very lucky to have Alberta as a mentor. In fact, I wouldn't be in Harlem without her. In fact, I wouldn't be in Harlem without her.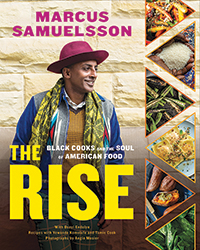 She died in 2015. I remember our last conversation. She was living in Harlem and we were standing on the terrace outside Red Rooster, watching people walk back and forth. She leaned over and whispered, "I'm coming back, Marcus. I'm coming back."
ACTIVE TIME: 30 minutes
START TO FINISH: 1 hour, 15 minutes
SERVES 4 TO 6
1 whole chicken, innards removed
1/2 cup berbere spice brown butter (see recipe below), cut into cubes
1 small bunch fresh parsley, chopped
1 small bunch fresh cilantro, chopped
8 to 10 stems fresh sage, chopped
1 tablespoon plus 1 teaspoon extra virgin olive oil
2 teaspoons kosher salt
1 teaspoon freshly ground black pepper
1 red onion, chopped
2 cloves garlic, minced
1 (14-ounce) can chickpeas
1/2 cup pitted black olives
1 (14-ounce) can crushed tomatoes
1 teaspoon ground cumin
1 teaspoon ground turmeric
½ cup red wine
2/3 cup couscous
Grated zest and juice of 1 lemon
4 chicken livers
Preheat oven to 400ºF. Using your fingers and starting at the neck of the chicken, gently separate the skin from the meat of the breasts, just enough to slide half of the berbere butter in between the skin and the breast. Take half of all the herbs and distribute them under the skin and inside the cavity of the chicken. Rub the chicken all over with 1 tablespoon of olive oil and season with half of the salt and pepper.
Place the chicken in a medium roasting pan and roast 45 to 60 minutes until the skin is golden brown, juices from the thigh run clear when pricked with a knife, and the internal temperature of the thickest part of the thigh registers 165ºF. Remove the bird from the oven and allow to rest at least 10 minutes before carving. In the meantime, heat the remaining berbere butter in a medium Dutch oven set over medium heat. When the butter has melted, add the onion, garlic, and remaining salt and pepper and sauté until the onion begins to brown, about 10 minutes.
Add the remaining herbs, chickpeas, olives, tomatoes, cumin, turmeric, and red wine and stir to combine. Decrease the heat to low, cover, and cook for 20 minutes. Add the couscous and the lemon zest and juice and stir to combine. Remove from heat, cover, and set aside for 5 to 10 minutes, until the couscous is tender.
Heat the remaining 1 teaspoon olive oil in a small sauté pan set over medium heat. When the oil shimmers, add the chicken livers. Cook for 4 to 5 minutes, just until cooked through. Slice the liver and stir into the chickpea couscous mixture. Carve the chicken and serve with chickpeas and couscous.
Berbere Seasoning
Berbere is a complex spice mix containing ground chiles, garlic, coriander, and more—some versions include 20 spices, and one of my favorite blends also includes fenugreek, cardamom, allspice, paprika, ginger, cinnamon, and nutmeg.
In Ethiopia, berbere is almost a currency. It's what people make at home, but it's also something they trade with at the market. We put it on everything. I'm so happy to see berbere gaining in popularity with chefs and others outside the Ethiopian community. Sprinkle berbere on grilled carrots or roasted chicken or a piece of lamb.
Berbere Spice Brown Butter
Another great way to use berbere is to add it to butter. You brown the butter, which gives you one level of flavor, then you add spices to it to make kibbeh, and finally add berbere on top of that. Put it on anything poached or grilled and get ready to smack your lips.
ACTIVE TIME: 10 minutes
START TO FINISH: 10 minutes
MAKES ABOUT 1½ CUPS
Kibbeh (recipe follows)
1 tablespoon berbere seasoning
Melt the niter kibbeh in a small saucepan set over medium-low heat. Add the berbere spice and stir to combine.
Store refrigerated in an airtight container for up to 3 weeks.
Niter Kibbeh
Niter kibbeh is a staple of Ethiopian and Eritrean cooking. A seasoned clarified butter, niter kibbeh is similar to Indian ghee but infused with spices before the dairy solids are removed. That aromatic flavor is imparted to whatever is cooked with it—seared fish or meat, or stirred into legumes or a stew like doro wat. It can take high heat without burning and ferments well. The longer it sits, the better it tastes.
ACTIVE TIME: 15 minutes
START TO FINISH: About 1 hour
MAKES ABOUT 1½ CUPS
1 pound (4 sticks) unsalted butter
1 small red onion, coarsely chopped
3-inch piece fresh ginger, peeled and coarsely chopped
3 cloves garlic, minced
1 cinnamon stick
4 cardamom pods
1 teaspoon fenugreek seeds
1 teaspoon ground cumin
1 teaspoon dried oregano
½ teaspoon ground turmeric
4 sprigs fresh thyme
Melt the butter in a medium saucepan over low heat, stirring occasionally. As foam rises to the top, skim and discard it. Continue cooking, without letting the butter brown, until no more foam appears. Add the onion, ginger, garlic, cinnamon stick, cardamom, fenugreek, cumin, oregano, turmeric, and thyme and continue cooking for 15 minutes, stirring occasionally, until the onion is lightly browned and aromatic.
Remove from heat and set aside to infuse for 30 minutes. Strain through a fine mesh strainer lined with a cheesecloth. Store refrigerated in an airtight container for up to 3 weeks.
Source of Article