In early March 2020—before the COVID-19 pandemic struck the US in full—a typical Tuesday evening at the Rodolfo "Corky" Gonzales branch of Denver Public Library (DPL) would bustle with activity, the smell of coffee brewing, and the murmurs of many voices. Some people would practice English together, while others worked on homework assignments or drilled civics flashcards to prepare for their US citizenship exams. This was the Plaza program in action—weekly programming designed to build community and make immigrant and refugee newcomers feel welcome at DPL.
DPL's Cultural Inclusivity Department is tasked with developing programs that help connect the library with its immigrant community. The department's mission is to "collaborat[e] with Denver's multicultural community to create equitable opportunities for learning, discovery, and connection." This is done through Plaza and other intentional multicultural programming.
DPL's Plaza program has existed for more than a decade. Its initial aim was to help Spanish speakers find the resources they needed. Over the years, the program has expanded, now representing more than 15 languages spoken in Denver.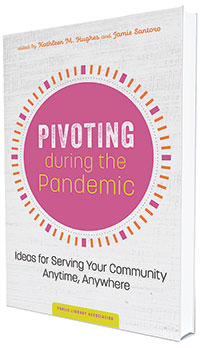 Before COVID-19, the 11 branches supporting Plaza provided 48 total hours of programming each week: English conversation tables, naturalization support, immigration legal help, job search assistance, and computer help, as well as activities for kids that allowed families to work and play in the same space. The Plaza program served approximately 25,000 participants a year; people from different parts of the world engaged with one another, learning things and building relationships. Then, the entire program shut down overnight because of the pandemic.
Knowing the importance of this programming and the community it cultivated, Plaza's 40 staffers quickly pivoted and learned to facilitate online. Within six weeks, staff members were leading six online conversation tables each week, as well as a citizenship study group and appointment services.
Pandemic programming opportunities
COVID-19 created many new barriers, but as some obstacles sprung up, others disappeared. Some participants in the now-online groups could never make it to a library because of prohibitively long bus journeys or unforgiving work schedules that are day-to-day realities for many in our immigrant and refugee communities. Many older adults faced health concerns or mobility issues that prevented their attendance. Suddenly, these patrons were able to participate from the comfort and safety of home. Online groups are also attractive for those who are shy or introverted. A surprising number of new faces began participating in the Plaza program since the pandemic closed in-person gatherings. Staff members have also found creative ways to facilitate engaging conversations online. Adult Education Lead Kalid Al-Rajhi has taken his group on virtual museum tours. Together, they have explored the Louvre and the Smithsonian National Museum of Natural History, zooming in to read plaques and discuss what they observed.
Staffers have helped customers use their digital devices for new purposes. Now, when a new participant joins a group, others often step in to help them get connected. Each time it gets a little easier.
The training around resources helps staffers connect the program's participants with other organizations. When the quarantine began, DPL worked with organizations across the city to create and maintain a list of service interruptions caused by COVID-19; that list is now used by more than 1,200 immigrant and refugee service providers in the metro area.
Online obstacles
Despite the connections these groups have fostered, staffers are still aware that for each person engaged, many more are left isolated and alone without computers, internet access, or the tech skills needed to join an online class.
To fill the gaps, DPL staff improvised a new appointment system to reach people weekly, mostly over the phone, to help with English-language skills, citizenship, technology access, unemployment insurance, and more.
"It's a big challenge to start from square one by phone with a new English speaker," says Amy Van Vranken, an activities leader at DPL who hosts weekly calls with newly settled refugees. Every Plaza staffer speaks at least two languages, and Van Vranken uses French to aid in her communication. "Being able to have class by phone has filled a tech gap for a customer who doesn't have a computer," she says. "I'm grateful for his patience and determination."
Amanda Savasky, head of Plaza's citizenship programs, described what she has learned about online teaching: "There are fewer social cues—facial and body cues—to guide the flow of conversation." DPL staffers have learned how much work it can take to create a natural feeling of spontaneity online or over the phone, but they remain committed to providing this access for immigrant and refugee patrons.
Cultural inclusivity programming
Naghem Swade is cultural inclusivity services coordinator at DPL. She collaborates with many community organizations and partners to create and implement mindful programs that serve Denver's multicultural communities. Programs such as Lunar New Year, Stories of Light, Día del Niño, Día del Libro, and Día de los Muertos aim to establish trusting and authentic relationships with underrepresented community members in the city. But transitioning to virtual programming has been a challenge.
Virtual spaces are not always equitable, nor are they always accessible given technological barriers. Another challenge of virtual programming has been engaging with the audiences that would benefit from them. Traditional public library engagement with immigrant and refugee communities has been mostly through English-acquisition programs and naturalization efforts. DPL's aim is to create a foundation where library spaces can cater to the individual and collective needs of community members without enforcing our personal biases and assumptions of what some of those members might need.
Our initial efforts were focused on transitioning the Plaza program to an online model, while continuing to explore how to provide multicultural programming to community members. One such program that Swade developed was Satrangi: Seven Stories of Light, a virtual dance series that features global narratives celebrating joy and resilience.
Outreach during the pandemic
After a couple of months of virtual programming, some Plaza staffers began doing outreach at an apartment complex that houses immigrants. During these events, staffers talk with community members about their needs, provide free books, promote virtual events, and support the residents with tech access. The library provides Chromebooks with hotspots so patrons can access the internet and perform vital tasks like registering their children for school. One of the challenges for outreach during this time was developing guidelines that would ensure the safety of both staff and visitors while still engaging with the community. DPL's mobile services department, which was in the field early in April, developed COVID-19 health and safety guidelines for outreach, such as wearing masks at all times, sanitizing and bagging books, maintaining six feet of distance with customers, and displaying books rather than handing them to patrons. Plaza staffers teamed up with their department to bring resources to the apartment complex.
Since the start of the pandemic, DPL staffers have expressed the need to connect with Plaza program participants in person. This has been one of the biggest challenges they have faced during the pandemic. As of March, staffers are doing outreach at five locations on a weekly basis, and while this doesn't reach the large number of people they reached before the pandemic, it is a step in the right direction.
Supporting staff
As the library figured out how to better serve patrons during the pandemic, it quickly became clear that staff members also faced technical challenges of their own. Staffers who didn't have internet access at home were able to borrow hotspots and Chromebooks in order to work remotely. Many also benefitted from new training modules designed for virtual programming, while the library began working on its policies for this type of programming. These policies were developed to address concerns about confidentiality, accessibility, and privacy, particularly regarding Zoom and its security vulnerabilities.
Another concern addressed in the guidelines included which online platform to use for virtual programs. Each digital platform comes with its own pros and cons, and DPL needed to use the one that best fit the needs of participants and staff. For example, Google Meet may be preferable when doing a program that relies on small group discussions, while Zoom may work better for larger groups.
Offering services during the pandemic has certainly been challenging for DPL, but it has taught staffers to slow down, take tasks one at a time, and be patient with one another. In doing so, they have developed new relationships and forged deeper connections with and among patrons from Denver's immigrant and refugee communities. After all, through shared challenges, empathy grows. Even with freezing screens, audio glitches, and faulty microphones, a moment of connection is a truly worthwhile endeavor.
The post Serving the Community at All Times appeared first on American Libraries Magazine.
Source of Article