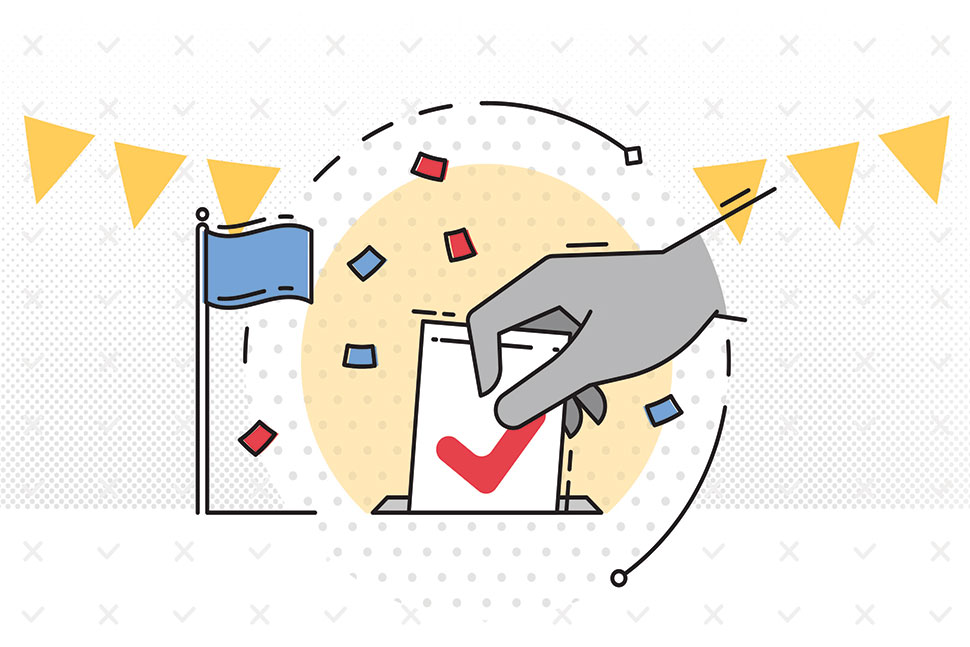 As in past years, American Libraries and the Public Library Association have again partnered to track library ballot measures and council actions across the country. In 2021, we followed 78 referenda items; results were positive for libraries in nearly 90% of cases. Ohio remains a national leader in supporting libraries at the ballot box, passing all 24 proposed local library levies in its May and November elections. In a noteworthy statewide victory, Colorado residents rejected Proposition 120, which would have lowered the property tax assessment rate for multifamily homeowners and commercial lodging properties, eliminating about $1 billion in revenue that currently funds libraries, school districts, and other services.
ALASKA
In October Juneau voted 6,580–1,786 in favor of renewing the city's 3% temporary sales tax for five years. A portion of the approved tax goes toward supporting libraries.
ARKANSAS
On November 9 Little Rock approved a library levy increase from 3.3 to 3.8 mills by a vote of 4,842–1,973. The increase represents the first boost to Central Arkansas Library System's Little Rock millage rate since a 2007 referendum. Library officials anticipate the new rate will generate $2.3 million per year.
CALIFORNIA
By a tally of 16,078–13,420, voters in Riverside on November 2 approved Measure C, which would allow the city to continue generating about $40 million annually for programs—including libraries—by charging more than it costs to provide electricity and shifting those monies to the city's general fund. This de facto taxation method, first established in 1968, has been subject to legal challenges that the ballot measure attempts to settle by amending the city's charter. However, a judge has blocked certification of Measure C until at least January 7, when the court is scheduled to hear arguments that allege putting the measure on the special election ballot violated state law.
COLORADO
The following are results from the state's November 2 election.
Residents of Berthoud rejected a 0.36-mill tax that would have funded the construction of a new library building by a vote of 2,404–1,768.
Denver voted 108,302–54,831 for bonds providing $104 million in funds to construct two new libraries, upgrade existing library facilities, and upgrade and maintain museums and entertainment venues.
CONNECTICUT
The New Canaan Town Council voted in August to approve a grant of $10 million and a line of credit to New Canaan Library for a new building budgeted at $38 million. A campaign to reverse the decision by referendum did not garner enough signatures by the October deadline to prompt a vote.
On November 2, Southington voted 6,896–4,922 to authorize $16.9 million in bonds to construct a new facility for Southington Public Library at its current location.
IDAHO
Residents of McCall voted in May to approve a $4.2 million bond to fund an addition to its public library and renovations to the existing building, including updates intended to improve accessibility.
ILLINOIS
Rolling Meadows City Council approved a 1.8% increase in the city's library levy in October.
The following are results from the state's April 6 election.
In Cook County, residents of Prospect Heights Public Library District approved the annexation of new territory into the district by a vote of 787–198. The annexation is expected to generate an extra $24,000 annually in property taxes for the library.
Voters in Hancock County decided 358–333 to approve the issuance of $1.2 million in bonds by Carthage Public Library District for building and furnishing a new library facility. The funds were matched by a Public Library Construction Grant from the state.
Mercer and Rock Island counties rejected a proposed increase in the public library tax rate for Sherrard Public Library District from 0.15% to 0.19% by a vote of 278–185.
Residents of Monee voted 487–410 in favor of a nonbinding resolution instructing officials to continue efforts to create a library facility within village boundaries.
By a vote of 1,655, St. Clair County residents approved the annexation of the unserved territory of Cahokia Heights into Cahokia Public Library District.
IOWA
Hiawatha can continue using the Linn County local-option sales tax in part for library improvements. The tax, which each community in the county spends differently, was extended through 2034 on November 2 with the metro voting bloc of Cedar Rapids, Fairfax, Hiawatha, Marion, and Robins voting 24,627–10,757 in favor and unincorporated Linn County approving by a vote of 2,349–1,360.
LOUISIANA
Voters in Lafayette Parish on November 13 approved the renewal of a 1.84-mill property tax for public libraries by a vote of 12,252–8,502. The tax will provide an estimated $4 million annually over 10 years and go toward construction, improvements, materials, and operating costs for Lafayette Public Library System.
The Welsh Board of Aldermen in October voted 5–0 to declare a stretch of property as surplus, which will allow the land to be donated to Jefferson Davis Parish Library. The library plans to use the property to expand its McBurney Memorial branch facility or potentially construct a new building in the next 5–10 years.
MASSACHUSETTS
Amherst upheld the Town Council's decision to appropriate $35.3 million to expand and renovate Jones Library by a vote of 3,187–1,683. The Massachusetts Board of Library Commissioners has also agreed to a $13.8 million grant for the project.
In May, Upton voted 806–727 to issue bonds for the creation of a new community center that will include a library and senior center. The vote creates an exemption from an existing proposition that places limits on raising property taxes.
MICHIGAN
Residents of Cheboygan County voted 348–215 in May to increase the millage rate for Indian River Area Library by 0.4 mills for 10 years—the first increase the library has requested in 44 years.
The following are results from the state's November 2 election.
By a vote of 1,319–1,240, Auburn Hills increased its library millage to 0.298, which is expected to raise an additional $515,000 in its first year.
Residents of the Ionia Community Library district voted 1,447–1,551 to reject a 25-year, 0.98-mill levy that would have funded a new library to replace the current one.
Oxford Township rejected a plan to borrow $9.1 million to expand and refurbish its public library by a vote of 3,302–1,533.
The following are results from the state's August 3 election.
Chesterfield rejected a levy increase of 1 mill for 20 years that would have funded the construction of a new public library in a 5,482–2,090 vote.
Dearborn voted 13,331–6,447 to renew a 1-mill tax to help fund its three-branch public library system for the next six years.
By a count of 958–242, voters in the townships of Empire, Glen Arbor, and Kasson renewed a levy of 0.27 mills for Glen Lake Community Library and approved an additional 0.03 mills for five years.
Residents of Nelson Township voted 481–319 against a four-year millage increase of 0.62 mills supporting Kent District Library's Nelson Township branch.
In support of the Saugatuck–Douglas District Library, Saugatuck, Douglas, and Saugatuck Township voted 809–321 to renew a 0.19-mill operating millage that had expired in December 2020 and authorize an additional 0.06-mill tax for the next five years.
In Westland residents voted 5,418–4,972 to approve an 0.85 millage rate for 10 years to support Westland Public Library—a reduction from the expiring millage rate of 0.98.
MONTANA
Belgrade voted 1,137–946 to approve $14 million in bonds for the design and construction of a new library and community center. The Belgrade Library Foundation has already raised $2.2 million of the estimated $16 million budgeted for the project.
NEW YORK
On October 26, residents of Cayuga County voted 67–2, or 97% in favor, to approve a $1.04 million budget for Auburn's Seymour Library in 2022—$864,000 of which will be funded by a property tax levy.
In September voters approved by a count of 169–27 Kingston Library's $1.2 million budget for 2022, a 10.7% increase from 2021. The budget includes a 6.5% increase in the property tax levy.
Residents of Lawrence in May passed a $3.1 million budget for Peninsula Public Library by a tally of 1,153–256, which puts the budget at the same level as the previous year.
In May Ogdensburg voters approved an extra $225,000 for Ogdensburg Public Library, for a total allocation of $350,000 for the year. The measure, which will help make up funds that have been slashed since 2017, passed 792–405.
In a 422–395 vote in September, Pearl River rejected a $20 million bond for a new public library.
By a 350–191 vote in October, Stillwater approved a $4.4 million project that will triple the size of the village library through the purchase of nearby property. The current library is located in a 147-year-old former Episcopal church.
The following are results from the state's November 2 election.
New Lebanon voted 381–309 to approve an increase of $20,000 to its annual library budget.
New Paltz voted 1,383–530 to increase the town's annual contribution to Elting Memorial Library by $100,000, bringing the yearly total to $656,000.
The Town of Olive approved increasing annual funding for Olive Free Library from $148,142 to $168,142 by a 1,333–334 vote.
A proposition to raise the Town of Shandaken's annual contribution to two libraries—increasing Morton Memorial Library's funding from $44,750 to $54,750 and Phoenicia Library's from $172,000 to $182,000—was approved by a vote of 635–330.
Residents of Stony Point voted 2,349–1,826 to allow Rose Memorial Library to increase its budget from $295,000 to $365,000.
OHIO
The following are results from the state's November 2 election.
By a vote of 766–375, Ada approved a 1-mill renewal levy for five years.
Adams County approved a 1-mill renewal levy for 10 years, 3,210–1,894. The levy will help Adams County Public Library with staffing, materials, and maintenance at its four locations.
A 1-mill, 5-year renewal levy for Barnesville Hutton Memorial Library was approved by a vote of 1,165–332.
A 3-mill ongoing levy to support Washington–Centerville Public Library was approved by a vote of 11,425–4,110.
Coshocton County residents voted 5,001–2,264 to approve a 0.5-mill renewal levy for five years. Had the levy—which currently makes up 23% of Coshocton Public Library's funding—not been renewed, the library would have had to reduce hours, services, and programs.
By a vote of 482–247, the 2-mill levy for Carnegie Public Library in East Liverpool was renewed for five years.
A 1-mill, 5-year renewal levy was approved in Guernsey County by a vote of 4,160–1,959. County officials expect the levy will generate more than $835,000 for the public library system in its first year of collection.
Pataskala narrowly renewed its levy and increased it to 1 mill for five years by a vote of 2,973–2,911.
By a close margin of 9,912–9,846—and after 11 straight defeats—Portage County residents approved an additional 1-mill levy for 10 years. Portage County District Library hopes to use the funds to restore hours and bookmobile services.
St. Clairsville approved a 0.5-mill renewal levy for five years by a vote of 2,302–686.
In Fulton County, 1-mill, 5-year renewal levies passed in both Swanton (905–391) and Wauseon (1,397–706).
Voters in Vermilion approved a 10-year renewal levy of 0.63 mills for Ritter Public Library by a vote of 2,495­–803.
Wellington voters approved a 1.25-mill, 5-year renewal levy for Herrick Memorial Library, 1,086–604. The levy will continue to generate almost $314,000 annually.
Williams County voted 4,072–1,391 to approve a 1-mill, 5-year renewal levy.
The following are results from the state's May 4 election.
Voters approved a five-year renewal levy of 1 mill for Dover Public Library, 962–116.
Hudson Library and Historical Society won a five-year renewal levy of 2.9 mill by a vote of 2,087–677.
Voters in Jefferson Township and Jefferson renewed a 1.5-mill levy for Henderson Memorial Public Library by a vote of 199–27. The levy has helped the library replace its HVAC system and upgrade technology, according to officials.
Lorain County residents approved four 5-year renewal levies: 2.95 mills for the Domonkas branch of Lorain Public Library in Sheffield Lake (passed 327–75); 3.25 mills for Oberlin Public Library (passed 734–106); 2.8 mills for Avon Lake Public Library (passed 1,337–255); and 5.95 mills for Lorain Public Library (passed 1,439–363).
Piqua voted 595–252 to renew Piqua Public Library's 1.3-mill tax and increase it to 1.8 mills for five years.
In a 15,120–4,821 vote, Summit County residents approved a six-year, 1.9-mill renewal levy for Akron–Summit County Public Library.
OREGON
The following are results from the state's May 18 election.
With nearly 79% in favor, Multnomah County passed a five-year renewal levy of .05 mills to support the library, museum, and educational programs of Oregon Historical Society in Portland.
Stayton approved a five-year levy of 0.4 mills for Stayton Public Library by a vote of 1,286–543, replacing a tax set to expire this year. Had the levy not passed, the library would have faced significant cuts to operations, services, and programs.
TEXAS
By a vote of 102,791–46,433, Austin voters on November 2 shot down Proposition A, which would have scaled up the city's police force while likely reducing the ranks of librarians, firefighters, and those who work at other city departments.
The following are results from the state's May 1 election.
In Anna, residents voted 844–465 to approve $22 million in bonds for the design and construction of a combined library and community center including multipurpose recreation, meeting, and classroom space.
Irving residents voted 3,910–2,397 in support of Proposition J, which authorizes the issuance of $20.2 million in bonds for constructing, improving, and expanding library facilities.
In a 245–106 vote, Plano residents approved $2.5 million in bonds in support of the city's library facilities.
Saginaw approved $18.7 million in bonds for the construction and equipping of a new public library by a vote of 674–560.
WASHINGTON
The following are results from the state's November 2 election.
Birch Bay voted 2,142–1,469 to establish the Birch Bay Library Capital Facility Area (LCFA), which will be able to issue bonds to fund the construction of a planned library. Property owners within the LCFA boundary will pay a 0.11-mill levy.
As of press time, it appears that a 0.3-mill levy for Castle Rock Public Library—with 58% of voters in favor—has not met the 60% supermajority threshold needed to pass. With some ballots still left to count, it was not yet known if the November 2 measure met the required number of votes for validation. This is the sixth attempt in three years to fund the library, which relies entirely on donations.
WISCONSIN
Appleton Common Council voted November 10 to approve a city budget that includes $10 million for renovation and expansion of Appleton Public Library. A new library is currently being designed and is slated to begin construction in 2022.
In April voters decided 553–234 to issue up to $17.6 million in bonds to construct a new library and other facilities in the Kohler School District.
WEST VIRGINIA
Doddridge County in January voted 380–168 to fund the Doddridge County Public Library among several other county organizations. The levy, which has existed since 1987, provides 97% of the library's budget.
Source of Article