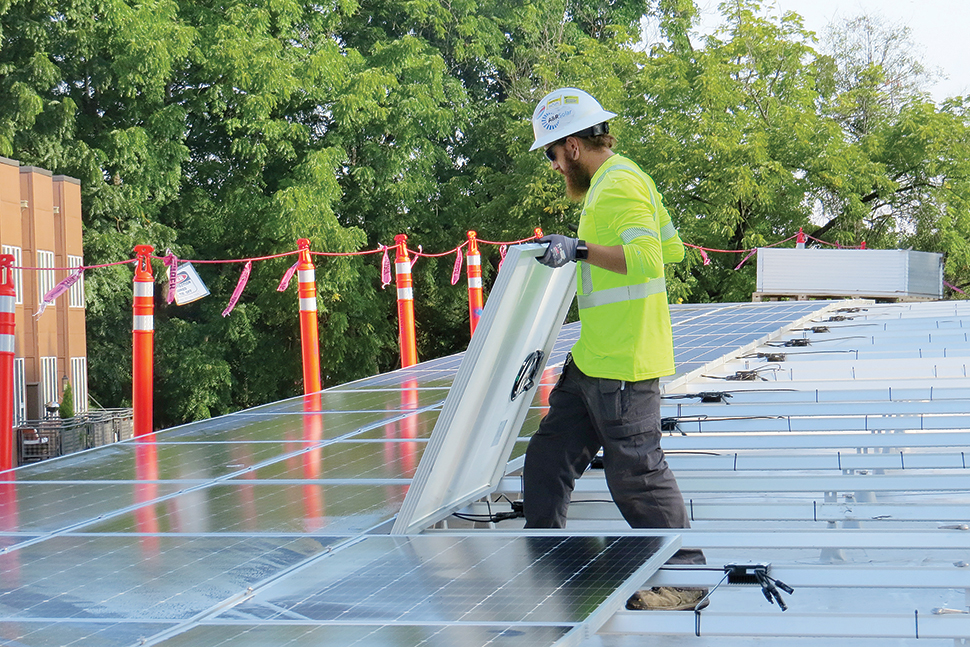 Sarah Preskitt has lived in Alaska for almost 40 years—and seen its climate change in ways the Lower 48's hasn't. "We used to joke that you had to arrange your Halloween costume over your snowsuit. It used to snow by October 15," says Preskitt, Alaska Collection librarian for Anchorage Public Library (APL). "Now it's closer to Thanksgiving."
In recent years, global warming has also led to worsening wildfires, invasive pests, and the melting of permafrost across the state. "There are some coastal villages that are literally sinking into the sea," Preskitt says.
In response, the city of Anchorage decided to brace for the impact of climate change by creating a formal framework. In May 2019, its municipal assembly approved the climate action plan (CAP) it had been working on since 2015—a plan in which APL has long been a stakeholder.
Increasingly, localities across the US, along with a handful of public libraries, are writing and following their own CAPs with objectives for reducing emissions and energy consumption, preparing for disasters, addressing residents' climate concerns, meeting other sustainability goals, or all of the above. Bend, Oregon; Boston; Everett, Washington; Houston; South Bend, Indiana; and Tempe, Arizona, are just a few of the many cities that have drafted, enacted, or updated a CAP within the past year.
"It is not something that is nice to do but rather critically necessary," says Rebekkah Smith Aldrich, executive director of the Mid-Hudson Library System in Poughkeepsie, New York. Aldrich is a founding member of the American Library Association's (ALA) Sustainability Round Table and author of the ALA Editions titles Resilience (2018) and Sustainable Thinking: Ensuring Your Library's Future in an Uncertain World (2018). "The urgency that is necessary is not coming from the federal government."
Given the lack of broad national climate legislation or initiatives, many cities see CAPs as a way to take matters into their own hands—and libraries are emerging as partners, innovators, and originators.
Enhancements and engagement
The aim of Anchorage's 108-page CAP is to reduce citywide greenhouse gas emissions 80% from 2008 levels by 2050, with intermediary reduction goals before then. To get there, the plan requires increased energy efficiency with new net-zero (that is, using only as much electricity as is produced onsite) building codes, expanded renewable energy generation, and infrastructure to charge electric vehicles. The plan also calls for educating residents on the city's sustainability goals and motivating them to reduce their carbon footprints—areas in which the library is identified as a liaison.
APL supported the city in the years before CAP approval by holding a community kickoff and public forum at its midtown Z. J. Loussac Library, as well as panel discussions on topics such as plastic pollution and the responsible extraction of resources by Indigenous-owned Alaska corporations. "When building a new mine, for example," Preskitt says, "when you have extracted what you need, how do you wrap up?"
As APL upgrades its five buildings, it keeps the city's CAP goals in mind. At the Loussac location, for example, it installed energy-efficient, temperature-sensitive windows. "If it's sunny and hot outside, they don't let so much light in," Preskitt says. "If it is cold and sunny outside, they let in more light. That helps with the heating and cooling bills."
The biggest obstacle to building improvements, Preskitt says, is money. There is also some disagreement among city residents as to whether the CAP-recommended changes are worth that money. "Some of the [event] discussions get pretty spirited," she says.
It is not something that is nice to do but rather critically necessary.—Rebekkah Smith Aldrich, executive director of the Mid-Hudson Library System in Poughkeepsie, New York
On the opposite coast, Princeton (N.J.) Public Library (PPL) had been working on its environmental efforts long before the city approved its CAP in July 2019.
"Four to five years ago, we had a 'green team' to find ways to be more sustainable," PPL Community Engagement Coordinator Kim Dorman says. "We considered where we were purchasing electricity and the type of lighting we were using, and one branch purchased a hybrid vehicle."
The library also upgraded its recycling program, switched to more environmentally friendly materials (such as carpeting with low levels of volatile organic compounds), and committed to not discarding furniture. "When we redid our second floor, we reached out to other libraries to see if they could use [the furniture]," she says.
The city's CAP focuses on five implementation areas: energy, land use and transportation, natural resources, materials management, and resiliency. When environmental nonprofit Sustainable Princeton reached out to community partners to develop the plan, Dorman was ready to represent the library on the materials management working group.
As the CAP was developed, PPL held meetings for the local stakeholders working directly on the plan. It also continued to host its Great Ideas series in partnership with Sustainable Princeton, which attracted 75–100 people per event and featured practical, actionable ways for members of the public to shrink their footprints—everything from bringing reusable bags to the supermarket to properly planting trees. Before closing for the COVID-19 pandemic, the library had also planned to host the Princeton Environmental Film Festival in April.
"Many libraries are set up to be excellent partners in this sort of endeavor," Dorman says. "Libraries are often community centers. I think it's a natural fit."
Margie Menard, who has been director of Kingston (N.Y.) Library since 2008, agrees. Hers is thought to be one of the first public libraries to author a CAP.
In October 2009, the city of Kingston approved a 10-step Climate Smart and Green Jobs Community Pledge. One year later, Kingston Library approved its own pledge to reduce greenhouse gas emissions and integrate climate change actions into library programming.
"One of our board members, who was also involved with the city, knew libraries have their own special role and function," which includes educating and providing materials to the public, says Menard. "To say we would go along [with the city's plan] would be good, but to take it a little further and say we are a unique entity" would be better.
Kingston Library began by upgrading its building: insulating the attic, replacing the roof with light-membrane materials, installing energy-efficient windows, tuckpointing, and installing a second set of doors at its main entry. The building was separated into different zones to avoid heating or cooling unused spaces.
To avoid contributing to local flooding, the library disconnected from the city's stormwater system, instead building a rain garden and two dry wells under the parking lot. Improvements were paid for with capital funds and complemented with grants from the state and federal government and other sources.
Many of the upgrades started with adopting an environmental mindset, Menard says. "We had to replace the roof anyway. We said, 'How do we do this in the most environmentally sustainable way?'" So thoroughly has the library adopted this mentality that its CAP has been absorbed into its long-term strategic plan.
Ledding Library in Milwaukie, Oregon, a Portland suburb of about 21,000 people, has chosen to focus most of its efforts on sustainable construction. A new library building, which opened in January, replaces a historic building from the early 1900s as well as a 1960s addition.
"When the wind blew, it blew through the [closed] windows," says Director Katie Newell. "I always had to wear multiple layers that I could take off or add over the day. Our utility bills were out of control."
Voters approved a $9.2 million bond measure in 2016 for the new building, with the remaining funds for the $12 million project contributed by the city, county, library foundation, and Friends group. Construction started in October 2018.
"Originally we were just going to do an addition," Newell says. "When we looked at the old mechanical system and windows and how to integrate the old part of the building, that didn't make sense. For the same amount of money, we could raze the building and have a brand-new, energy-efficient building." That required the library to appeal to the state of Oregon for permission to tear down the historic building. "That was hard for the community at first," Newell recalls.
The new building features LED lights with motion detectors, hefty insulation in the walls and ceiling, double front doors, energy-efficient windows that allow sunlight in without overheating rooms, radiant floor heating, and rooftop solar panels. The library designed its new building as a single-floor structure to avoid heating two stories.
In its first two months open to the public, Ledding Library has seen its energy use decrease from 37.6 KBTUs to 25.5 KBTUs, with a projected annual lighting savings of at least $3,700. (That figure doesn't include heating and cooling costs or factor in the energy from the solar roof.)
We had to replace the roof anyway. We said, 'How do we do this in the most environmentally sustainable way'?—Margie Menard, director of Kingston (N.Y.) Library
The same month the library opened its new building, the city of Milwaukie—whose CAP, adopted in 2018, calls Newell a "climate action champion"—declared a climate emergency. With that declaration, the city accelerated its original goals, with the hope of hitting net-zero electricity emissions by 2030 and a completely carbon-neutral community by 2045.
"I'm glad that city officials can point at us and show that this is the direction they want to go in," Newell says.
Mindsets and mobilization
For libraries considering creating CAPs or supporting those of their local governments, Preskitt recommends partnering with climate-change experts. APL's partners include personnel from the University of Alaska Anchorage, National Oceanic and Atmospheric Administration, and Renewable Energy Alaska Project.
She also suggests that libraries avoid duplicating the efforts of their municipalities and that they hold focus groups to determine how much their communities are willing to support a CAP. "That will give you a better idea of some of the challenges you haven't considered," Preskitt says.
Menard advises: "Do not do it in isolation." She suggests that a library develop its CAP with its municipality as well as environmental groups and others. "They can provide you with information and tools you may not have been aware of. There might even be money out there," she says, noting that the city of Kingston helped her library fund its rain garden and water disconnection.
Dorman suggests casting a wide net for potential partners. "Make sure you are being diverse," she says, "from academics to schools to businesses." Her materials management working group, for example, included a professor from Rutgers University with a background in environmental issues, area merchants and restaurants, a green schools coalition, and a representative from nearby Fortune 500 company Johnson & Johnson.
Meetings have to be moderated carefully, Dorman adds: "Since [sustainability] touches every part of life, it's easy for discussions to go off track." Consider how information will be presented to the public and what steps must be taken to get buy-in, she suggests.
Aldrich—whose library system has 66 members, including Kingston Library—thinks libraries should get involved with this work as part of a paradigm shift. "Libraries have to understand it's not just about promoting [sustainability] on Earth Day," she says. "It's not just a checklist you take out and look at every few months. We want more libraries to think at a governance level."
The biggest challenge to addressing global warming? Overwhelming people with the scope of the issue, she says. Aldrich suggests starting with policy and educating library leadership. "Then unleash your staff to creatively get there," she says.
"We need a wartime mobilization on this topic," she adds, likening the idea to the recent actions the world has taken on COVID-19. "Can you imagine if we had that response on climate change? That's the level of energy that is needed."
Source of Article