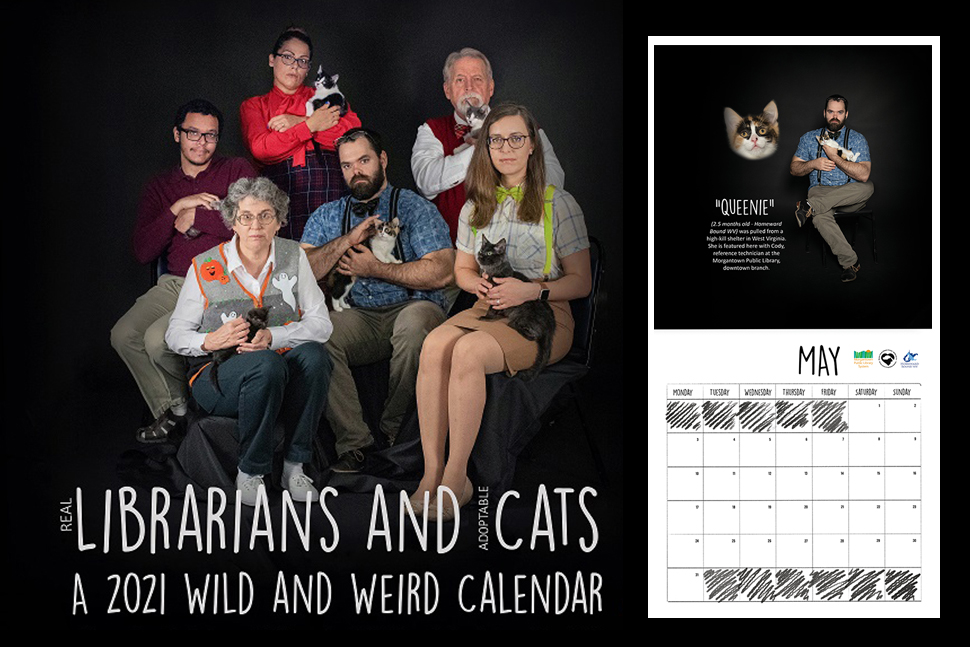 Created as a fundraiser with the help of local animal adoption agencies, Morgantown (W.Va.) Public Library System's (MPLS) limited-edition 2021 calendar features librarians posing with adoptable cats.
As the marketing manager for MPLS, I'm always brainstorming novel ways to reach our audiences. This time, I wanted to lend a library twist to those popular fundraising calendars that depict smoldering firefighters.
Thus was born our 2021 Wild and Weird calendar. Each month features library workers from MPLS—all fully clothed, of course!—alongside an adoptable cat, including Cadillac Frank (a gray and white kitten rescued from a high-kill shelter) and Olaf (a black and white senior that was surrendered to the shelter by his family after 13 years). Whether you support libraries, believe in safe shelter for homeless animals, or both, this calendar supports our community. Proceeds from sales were divided between the library, the Humane Society of Marion County, and local animal adoption agency Homeward Bound WV.
Part of our library's three-year vision is to cultivate stronger community relationships. This project has allowed us to tap into each partner organization's audiences, increasing our exposure for a more successful fundraising and outreach campaign. All three organizations were able to collaborate in a very public way, bringing attention to our causes with a single effort.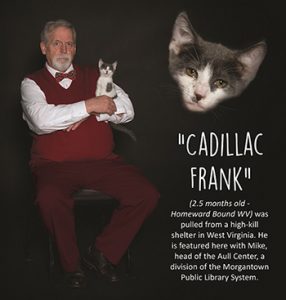 From initial concept to the last calendar sale, the project required nine months of coordination between library staff and administration, print vendors, and animal shelter partners. I took the photos with the library's DSLR camera in front of a simple gray backdrop using lights brought from home. I coordinated with the two animal agencies to deliver a diverse group of cats for four days of photos and helped our staff create their looks. Leaning into the librarian stereotype, I allowed a good deal of latitude of personal expression while aiming for a style that was dressed up but unequivocally librarian—pencil skirts, hair buns, sweater vests. For example, Kelly Funkhouser, the library's accountant, graced the November spread outfitted in khakis, a coffee-colored turtleneck, and a floral woven-linen vest.
This project yielded two major lessons. First, the cat theme resounded with niche populations, particularly librarians and cat fans ages 24–45. If I were to create another calendar fundraiser, I would definitely collaborate again with community partners, but I would choose a theme that appealed to a larger audience.
Second, the project began as a marketing initiative but evolved into a sales campaign, requiring more public relations work. I contacted more than 70 media outlets, individuals, organizations, bloggers, and social media groups. In retrospect, I would have enlisted help from staff and built a better sales infrastructure to get the word out and create consistent, scalable messaging through purchased media.
The calendar's reception has been overwhelmingly positive, with media mentions in local newspapers, magazines, and news channels. My post in a popular library Facebook group saw more than 1,000 likes, in 48 hours. "This is so lovely it actually brought me to tears," commented Patti H. on the post. "Two great causes and so perfectly worded. Great work." Chris H., who purchased a calendar, said, "These could all be Renaissance paintings!"
Within one month, we sold all 250 copies of the calendar for a total profit of around $2,500, half of which went to our partners. Most important, I am happy to report that all 12 cats featured in the calendar found their forever homes.
Source of Article