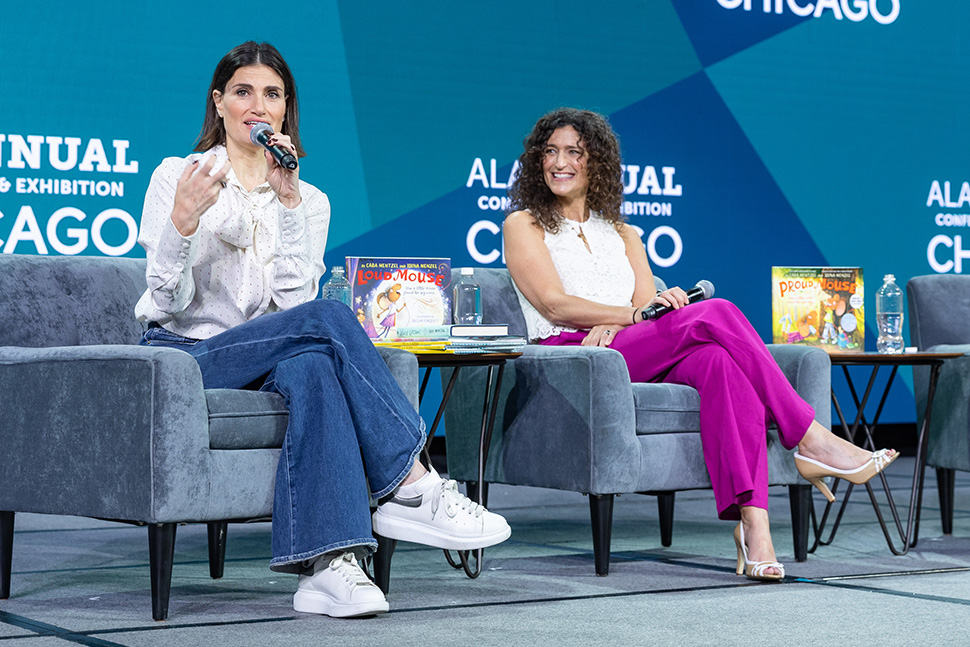 When Idina Menzel was contemplating writing a children's book, her first thought was to join forces with her younger sister.
"I wouldn't have done it any other way," Menzel—a world-renowned singer and performer best known for her stage and screen roles in Frozen, Rent, and Wicked—said about working with her sister Cara Mentzel, an author and former elementary school teacher. "I knew that she would bring it to life and guide me in my storytelling."
The duo debuted with the book Loud Mouse (Disney-Hyperion, 2022). Its sequel, Proud Mouse, comes out this September. Both follow a pair of mouse sisters, Dee and Cara Lee, who support each other in their journeys of being their most authentic selves.
The sisters spoke with American Libraries about their series, what they hope young readers take away from it, and their own memories of libraries.
These books are based on your own personalities and experiences. Proud Mouse is from Cara's perspective and Loud Mouse is from Idina's. What messages do you think young readers will take away from this series?
Idina Menzel: I think they'll love the story of sisters, which is a theme in my life and my career. I love how we complement one another. Loud Mouse explores a young person's complicated nature of embracing who they are, being seen and heard. While that might be scary—taking risks is scary, being vulnerable is scary—it's the thing that connects you to, in my case, your audience, or readers, or your friends and family. It's a form of expression.
Cara Mentzel: So much of what's modeled in the books is "sister and ally." Whether it's your sister or just a friend, it's about learning how to be an ally and support people being their biggest, best selves.
In Proud Mouse, the takeaway is also just [to] be yourself, because who else would you be? But you don't have to decide who you are. It's so much about just being curious, being open to all these things, and being in love with the world. Cara Lee has a journal in that story, and she just wants to document everything. That's what we wanted kids to take away: You don't need to know what you're going to be when you grow up. You don't need to know your major in college. What you need to do is to be open to all these things.
How is it collaborating with a sister on a creative project?
Mentzel: It's the best. It's a personal and professional relationship. All I knew I wanted to be when I grew up was to be a mom, and then the idea to be a teacher and a writer, both came from my sister. She was the one whose idea it was for me to write a memoir [Voice Lessons: A Sister's Story] in 2017, and then she's the one who brought me on board to write Loud Mouse. To see the person that you have on a pedestal, that you love so much, say, "I see you, I see you doing it well, and I want to see you do it," is really special.
Cara, you spent a decade as an elementary school teacher and studied children's literacy as part of your master's degree. How do those experiences help you write for a children's audience and reach young people?
Mentzel: It's so much about loving children and thinking about what will speak to them the most. Like Dee in Loud Mouse growing into this big mouse because she's so full of life, so happy to be singing, and to be recognized for that. Kids sometimes just absorb the metaphor. They don't necessarily say, "Oh, that's a metaphor," but they experience it.
Menzel: I think she challenges children with words.
Mentzel: Kids are pretty sophisticated. I know when you work with kids, you should be explicit and keep things kind of simple. But I also think you should embed a lot of layers, because they will rise to the occasion. And over repeated readings, they will get different things out of a text.
Menzel: The books that we love so much are the books that evolve with us, that you can return to at different ages and discover new things.
Idina, as you've been promoting these books, do children recognize your voice as Elsa's from Frozen? What's been their response?
Menzel: It depends on age. It could be rather traumatic for a child to love Elsa, and see Elsa, and then meet me and be told I'm Elsa. So sometimes I have them close their eyes and then I say something to them from the movie. And then they get it.
What do you make of this wave of book bans and challenges currently sweeping the country?
Mentzel: It's really sad and frustrating, especially because I feel like librarians are on the front lines. That's a really bizarre juxtaposition—they're just people who want to provide trusted sources of information, and texts, and the love of reading to people.
Menzel: A lot of our kids are feeling alone and unseen. It's so important for us to have representation in media, but also our books, so they can see themselves and we can educate the people around them. That's very disconcerting for me.
Mentzel: So much of our sense of community comes from these protagonists that we fall in love with, that we see ourselves in.
What role have libraries played in your life?
Mentzel: Libraries were the beginning of my love of books. I just remember walking into libraries and having all these options, seeing the spines of all the books and knowing I had so many to choose from.
I remember my first chapter book was right off the shelf of the Syosset (N.Y.) Public Library. It was B Is for Betsy [by Carolyn Haywood]. I remember just feeling so grown up that I was checking a book out of the library. I used to pretend I was a librarian at my desk at home. I pretended that I was doing the checkout with my dolls and books.
Menzel: The same thing, the exhilaration of walking into the school library. My first book wasn't this, but I remember looking at all the Judy Blume books and being so excited to choose one.
Source of Article