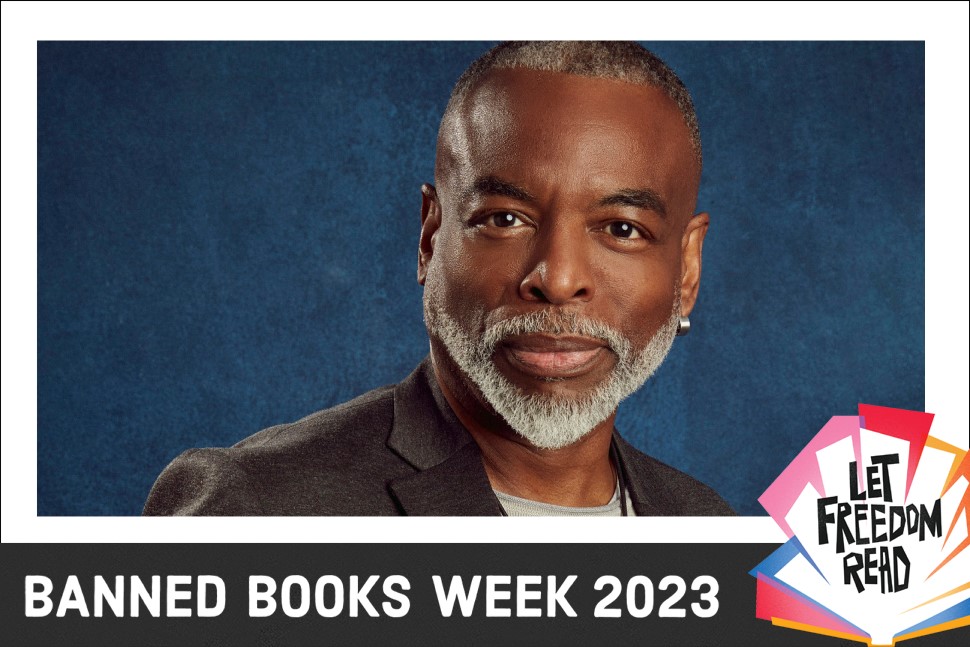 When asked about the impact libraries have had on his life and work, LeVar Burton answered simply and succinctly: "Better to ask what role sunlight and water plays in the life and work of flowers."
The actor, known for his roles in the iconic series Roots and Star Trek: The Next Generation, has long been recognized for his work as a reading and literacy advocate. From 1983 to 2006, he was host of PBS's children's show Reading Rainbow. He founded Skybrary, a digital library app for young readers, and served as executive producer for the 2023 documentary The Right to Read, which addresses literacy as a civil rights issue. And he produces and narrates the LeVar Burton Reads podcast, in which he reads and discusses short stories by illustrious authors. His new children's podcast, Sound Detectives, debuts November 1.
Burton is honorary chair of the American Library Association's 2023 Banned Books Week (Oct. 1–7), the first actor to be chosen for the role. This year's weeklong commemoration of intellectual freedom comes at a time of record-breaking book challenges and bans, mostly directed at books by or about people of color or the LGBTQ community.
In a recent email interview with American Libraries, Burton reflected on his career and advocacy for young readers, the ongoing threat to intellectual freedom, and what gives him hope amid adversity.
What do you make of this record-breaking wave of book challenges and bans across the US?
I see these challenges and bans as part of a larger energy of fear that has taken hold of America today. For traditionally dominant forces in this society, the fear is around being replaced. The central conflict is about control. What ideas and values are to guide us during this next iteration of the American experiment? Book banning is an offshoot of that conversation about control.
On the one hand, there are those who believe in age-appropriate access to literature that represents a wide swath of human experience. On the other, there seems to be an intention toward censorship based on an agenda of control. This is a common dynamic in conversations about democracy versus autocracy and authoritarianism.
In your work as a literacy advocate, how have you seen the impact access to diverse stories has had on young people?
It has been the privilege of my life to have been part of an effort to use the medium of television [through Reading Rainbow]—and in the case of Skybrary, the digital medium—to promote a lifelong love of literature and the written word to the world, and most especially, to emerging readers. Every day of my life I am approached by an adult who watched Reading Rainbow as a child. Their testimonials about the impact the show had on them, their worldview, and their self-identification as a lifelong reader always reinforce for me the value of giving children access to diverse literature that reflects the rich variety of human experience. Representation matters in popular culture. Books are no exception.
What kinds of messages do you think are being sent to young people from marginalized communities when books that reflect them and their experiences are the ones disproportionately being challenged?
The message it sends is that you do not matter. This is the old way. In today's world it is essential that we make room at the table for all voices, for all peoples, and points of view.
What books have had a major impact on your life? Are there books you are particularly proud of introducing to readers through Reading Rainbow, Skybrary, or your podcast?
Amazing Grace by Mary Hoffman and Enemy Pie by Derek Munson are two of my favorite recommendations of terrific children's books. My podcast, LeVar Burton Reads, is geared toward adults. However, it is part of my commitment to continuing a relationship around literature with those who grew up on Reading Rainbow. I believe my generation is leaving behind a world of very complex problems, and it will be incumbent upon the next generations to solve them. Chief among the tools they will need, in my view, is the power of imagination, and there is no better prime for the imaginative pump than reading.
In today's world it is essential that we make room at the table for all voices, for all peoples, and points of view.
You've written your own books in the past: a sci-fi novel, Aftermath, in 1997, and children's books The Rhino Who Swallowed a Storm in 2014 and A Kid's Book on Imagination in 2021. Do you see writing more books in your future? If so, what kind of genres or topics would you like to tackle next?
I have had it in mind for quite some time to pick up the story where Aftermath ends. However, there seem to be forces at work that have me thinking about what my first memoir might look like. The more I think about it, the more excited I become at the prospect.
You just announced a new podcast for kids, Sound Detectives. Where did the idea for this new podcast came from, and what made you want to pursue this avenue of storytelling?
Having gotten into the podcast field fairly early, it became clear to me that this was a medium where storytelling to kids makes great sense. [It's] something that would lend itself to co-listening with parents and caregivers, while taking full advantage of the auditory medium.
My longtime producer on LeVar Burton Reads, Julia Smith, and her producing partner, Joanna Sokolowski, brought us the idea for Sound Detectives, and it just clicked. Each episode introduces a new mystery sound that has become separated from its source and must be returned before the world falls forever soundless. Sound Detectives gives our young listeners a fun way to explore the world through the sounds that are a part of our everyday lives but that we might not readily recognize.
Amid these difficult times and the fight for the right to read, what gives you hope for the future?
As always, it's the children. They are the inspiration for all of the advocacy work I do. As a bona fide elder in this society, I feel it is part and parcel of my responsibility to them to do my utmost best in creating for them a world that is safe, welcoming, and above all, nurturing.
Source of Article