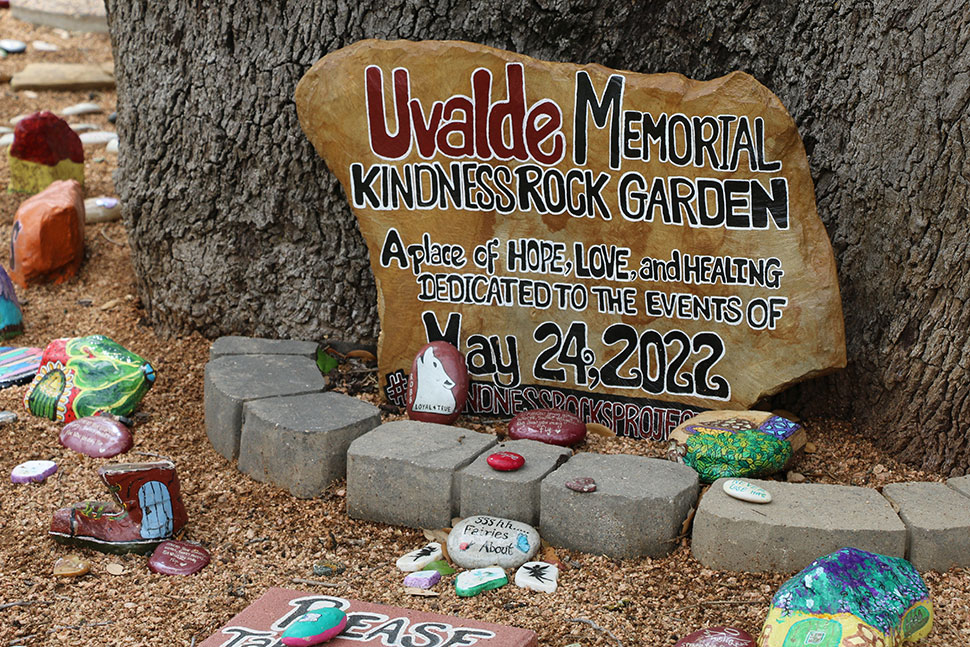 On a recent spring Saturday morning in Uvalde, Texas, young library patrons were learning how to set off a volcano. With help from Michelle Ramirez, outreach coordinator for the Children's Bereavement Center of South Texas (CBCST), kids carefully poured vinegar into a glass bottle with baking soda. Almost instantly, the concoction bubbled up and overflowed, to shrieks of joy and giggles. But the activity wasn't just for fun. It was part of a grief counseling session for children following the massacre at Robb Elementary School on May 24, 2022, that killed 19 students and two teachers.
"Sometimes those emotions are so powerful, and we're using the metaphor of a volcano because sometimes they erupt at any time, at any moment," Ramirez explains. "We can't help what comes out sometimes. We are here to help families maneuver through those very powerful emotions and those difficult days."
Counselors from CBCST, a nonprofit that has been working in Uvalde since the evening of the shooting, have spent much of the past year holding art therapy and other counseling events at Uvalde's only public library, El Progreso Memorial Library (EPML), until the permanent location is completed at the end of May.
"The library always tries to bring a sense of normalcy in the middle of chaotic times," Ramirez says. "Some children were not as directly impacted as some others, and so we need to have that healthy balance. The library's been excellent at doing that."
A safe, largely unchanged space
The library has brought a sense of safety and calm to patrons of all ages in the small, close-knit south Texas town now synonymous with tragedy. But at first, library director and head librarian Mendell Morgan, who is 82, wasn't sure how to handle something he'd never experienced in his career.
Morgan, who grew up in Uvalde and often visited the library with his mother, remembers sitting at his desk in the empty, closed library on the evening of the shooting, his head in his hands.
"I wrestled for hours with, 'How do you respond to this?'" he says. "Should we close for an hour, for a day, for a week, a month? And I thought, 'Well, that's not going to help the children who died. It's not going to help their families if we're just closed.'"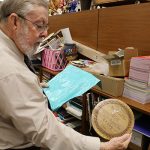 The morning after the shooting, Morgan opened up the library. It was a Wednesday, the day that children's librarian Martha Carreon usually led a preschooler storytime.
"Well, she didn't want to do it at all," Morgan remembers. "And eventually she agreed because she understood what I was saying about trying to help the healing of the children in the community."
Before the families arrived, Morgan pulled every book in their children's collection about death, grieving, loss, and recovery, and laid them out in the children's room.
Morgan was "nervous as a cat," not knowing what to expect. Not surprisingly, the turnout was much smaller than usual, but about half a dozen children and their families came. "After it was all over, she came and said, 'I am so glad we did this,'" he recalls of his conversation with Carreon that day. She told him that she'd only come because she thought maybe she could help the children by hosting a storytime, but in reality it was the kids who helped her. They were just preschoolers who didn't know what had happened. The normalcy gave Carreon strength.
Having this dual purpose has been the mission of the library over the past year: to not only provide a safe space for children and families affected by the shooting but to also provide a business-as-usual space for kids who now live in a town inundated with media attention, satellite trucks, and a brightly colored mural of each dead elementary school student, painted by artists, scattered throughout downtown.
The generosity of strangers
EPML, which has served the community since 1903, sits on a sunny, tree-filled plot of land on Uvalde's Main Street. The 36,000-square-foot building was constructed in 2004, after outgrowing several previous locations. Outside, there's a memorial garden full of painted rocks from well-wishers all around the world. Morgan's light-filled office looks out onto the children's room, now filled with donated materials that have poured in since the shooting.
Walking through the library, Morgan stops every few feet to point out a pile of donated books, a mobile hanging from the ceiling made of 1,000 handmade origami cranes from children in Massachusetts, and an enormous pile of soft blue building blocks from financial services company Morgan Stanley.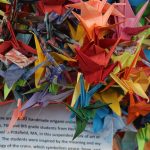 But one gesture of unexpected generosity especially stands out to the library director.
For many years, the library has had a QR code on its website that allows patrons to pay fines or pay for photocopies. The day after the shooting, people started making donations to the library through that code. The library used the funds, about $76,000, to establish the Los Angelitos de Robb Memorial Book Fund, supporting the purchase of new books, puzzles, games, toys, computers, and software.
"What happened was like this savage, horrible lightning bolt of pure evil that struck our community, but then that was followed by this tsunami that was equally overwhelming of good things that people did to help us," Morgan says.
A vision for the future
Since the tragedy, the library has also begun an archival project to collect and store all materials related to the shooting at Robb Elementary at the library, ranging from school floorplans to well-wish cards to local newspapers. The library will also be home to a new oral history project to collect remembrances of the families and community members; it is expected to start in a few months. Thanks to funding from Humanities Texas and the National Endowment for the Humanities, the library was able to bring on a library student, Tammie Sinclair, to manage these projects.
Sinclair has a similar story to Morgan. She grew up in Uvalde and has fond memories of visiting EPML as a kid, and then again with her sons when they were younger.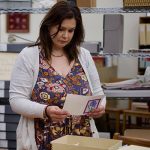 Until the COVID-19 pandemic, Sinclair was a public school teacher at Morales Junior High in town, and was even named 2017 Uvalde Teacher of the Year. But like many educators, she left the profession during the pandemic. Sinclair enrolled in a master's of library science program at University of North Texas and applied for the archivist position at EPML while still finishing her final courses.
"Something just stuck to my heart. It's home," Sinclair says. "And I think about how the people of the world are seeing Uvalde right now. And I just thought, 'I want to be part of the healing.'"
When Sinclair arrived on her first day, on January 1, there were already thousands of items ready to archive. A backroom still serves as half-storage, half-workspace. People from all over the country still mail items—such as ephemera and article clippings—that will need to be archived.
In April, the library received an unmarked envelope. "We don't know who it came from, but it was stuffed with articles about the tragedy," she says. People have been sending clipping like that since the shooting. "[We] never know exactly what was going to be coming!"
Given the finite nature of grant and donation money, Morgan says he is being mindful not to overbudget for the future.
"These [projects] are going to be one-time things, and we know it," he says. "We're trying to be very careful about how we use [the money] and not expand with the idea that we'll always have the operating budget to sustain."
After nearly a decade, Morgan will be stepping down as director next year, and Sinclair will be taking over as both director and archivist. But Morgan says he'll still be involved in fundraising for the library and working to fulfill its mission.
"My vision for the library … has been that this is a civic and cultural hub," he says. "We want everyone to feel that this is the place that is safe to come, you're not going to be judged, where you can seek information, you can develop, grow, and hopefully improve your life."
CBCST's Ramirez, who began working in Uvalde after the shooting, says she's seen that vision come to life in the last year. For her it's been "a place of learning, education, community, hope, and stability."
This May 24, the library will host a butterfly release to memorialize the tragedy. But staff members won't call it an anniversary, because it's not a celebration.
"There's joy in life," Morgan says. "We need to find that joy. We are devastated about what happened. We'll never minimize or forget it in any way, but that simply cannot be the defining moment of this town. It's the worst thing that will ever happen here, but that's not the whole story. The community must go on."
Source of Article