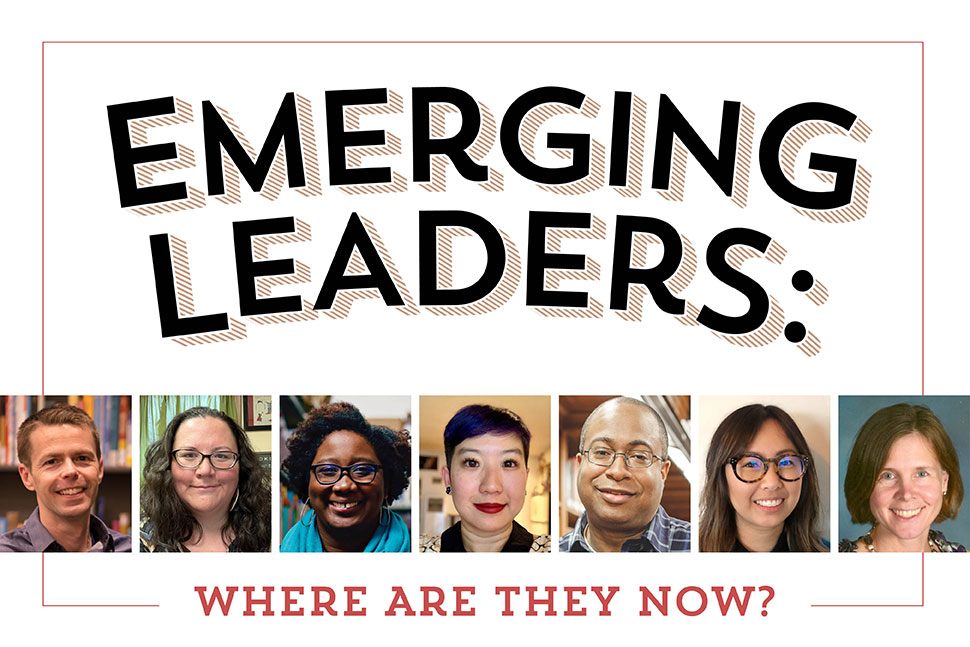 The American Library Association's (ALA) annual Emerging Leaders (ELs) program recognizes the best and brightest new leaders in the library profession, allowing them to get on a fast track at the Association by participating in planning groups, networking, gaining an inside look at ALA structure, and serving in leadership capacities early in their careers.
At each ALA Midwinter Meeting, new ELs divide into groups to complete projects for their host units and affiliates. However, because of the COVID- 19 pandemic, the program has been postponed for the class of 2021. Instead, American Libraries asked several past ELs to share their thoughts on the program—and its influence on their accomplishments.
Tom Bober, Class of 2015
District library coordinator at School District of Clayton in Missouri and library media specialist at R. M. Captain Elementary School
What did you learn during your time as an EL? There are two lessons I think back to, one more structural and the other philosophical. First, learning more about ALA as an organization—how it was organized and how I could be involved—was important to me. It helped me envision being an active member of ALA. The second was that I could be involved in big things. There was a place for me, and I had something to contribute.
You're an author, most recently of Elementary Educator's Guide to Primary Sources: Strategies for Teaching (Libraries Unlimited 2018). How did the EL program influence that experience? Being in the EL program encouraged me to not be afraid of being part of bigger conversations, and it showed me that my voice had value. Sharing my work with students and advocating for the roles that all school librarians can take on led me to opportunities to speak and write for a variety of audiences. Those experiences directly led to my opportunity to write my book, something I'm very proud of.
Aaron LaFromboise, Class of 2014
Director of library services at Medicine Spring Library, Blackfeet Community College in Browning, Montana
What did you learn during your time as an EL? First, I was able to meet people "at the top": then–ALA President Barbara Stripling and other ALA staff. I would never have had the courage to walk up to any of these people and introduce myself before becoming an Emerging Leader. It was important to learn how to network! I also learned how to collaborate with librarians not in my region. The experience has really helped in other collaboration efforts over the past six years and helped me prepare for the work-at-home situation we are currently in.
How has your EL experience influenced your career? I became an EL before I entered library school, and at times it was intimidating. I learned how to advocate for myself, and I'm sure the scholarships I received were a result of the confidence I gained from being an EL. In my career, I have made many connections outside my community, making me an active member in the larger tribal, state, and national library communities. I am currently vice president/president-elect of the American Indian Library Association (AILA), and in my time on the board, I've had the ability to extend the experience of EL and AILA leadership to other tribal librarians.
Raemona Little Taylor, Class of 2016
Senior librarian and education initiatives coordinator at Marin County (Calif.) Free Library
What did you learn during your time as an EL? I learned about the importance of investing in mentorship and support for early-career librarians, particularly with a focus on BIPOC librarians. I am eternally grateful to ALA and the Black Caucus of the American Library Association for believing in me and sponsoring my participation. I learned so much about how ALA functions as a professional organization, the difference between leadership and management, and how to lead from wherever you are regardless of your job classification or title.
You've been working with incarcerated teens for the last few years. How did your EL experience help guide you to this point? The project I worked on was the 2016 Resource Guide for Underserved Student Populations. This toolkit emerged out of a concern from the American Association of School Librarians (AASL) Affiliate Assembly that highlighted the need for additional resources to support school librarians who work with underserved and historically marginalized students, such as those with incarcerated parents. This project lit a fire deep in my soul, which inspired my passion to expand the focus of my partnerships and outreach efforts to engage and support incarcerated teens.
Candice Wing-Yee Mack, Class of 2012
Managing librarian of teen services at Los Angeles Public Library
How has your EL experience influenced your career? It really helped me frame project management, particularly for volunteers, students, and interns. As a former coordinator of volunteer services at my library, I incorporated my experience into my system's volunteer handbook. It has also helped when mentoring a diversity and inclusion apprentice and in my current position as president of the Asian/Pacific American Librarians Association (APALA).
What have you been up to since graduating with your EL class? I can't believe it's been eight years since I participated in the program! Since then, I've managed system-wide volunteer services and currently manage system-wide teen services; applied for and managed several grant-funded initiatives totaling several million dollars; helped establish a yearly budget to recruit, retain, and recognize library volunteers; led the first public library launch of Career Online High School; served as president of the Young Adult Library Services Association; joined the inaugural ALA Policy Corps; and was a juror for the 2018 Will Eisner Comic Industry Award and the 2019 We Need Diverse Books' Walter Dean Myers Award for Outstanding Children's Literature.
A. J. Muhammad, Class of 2018
Librarian for the Jean Blackwell Hutson Research and Reference Division of New York Public Library's Schomburg Center for Research in Black Culture
What did you learn during your time as an EL? The project that my team worked on was about helping public library staff identify resources for learning how to work with data, such as collecting, analyzing, curating, and using it for storytelling purposes for advocacy. It was a great experience to learn about these resources and to collaborate with some talented and brilliant librarians around the country.
You're actively involved in New York City's theater scene. How has your experience as an EL influenced that work? When I did the EL program, it was in a pre-pandemic world. There were members of our group in Chicago, Colorado, Kansas, and New York, and our meetings were held via Google Meet. In a way, it helped prepare me for life during the pandemic, as all work-related meetings and meetings for my theater-related projects are remote. Of course, the program was another opportunity to develop collaborating skills, which are applicable to everything.
Annie Pho, Class of 2014
Instruction coordinator and assessment librarian at University of San Francisco
How has your EL experience influenced your career? After participating in the program, I felt more empowered to get involved with ALA and solidify my professional "homes" with the Association of College and Research Libraries and APALA. I decided to run for a position on the APALA executive board as a member-at-large and serve on the executive board again as secretary. My EL experience helped encourage me to pursue those opportunities.
Was there any aspect of training or career development you wish had been better addressed in your Emerging Leader cohort? One thing that I think should have been better covered was equity, diversity, and inclusion within libraries. I don't think it was addressed whatsoever, and leadership opportunities are not the same for BIPOC librarians. I hope that future ELs will have more training and discussion around equity, diversity, and inclusion and antiracism.
Since your time in the EL program, you've coedited Pushing the Margins: Women of Color and Intersectionality in LIS (Litwin Books/Library Juice Press, 2018)—a volume in the Critical Race Studies and Multiculturalism in Library and Information Studies book series, which you also coedit. Did your time as an EL help prepare you for projects like these? Yes, my experience doing survey design and learning about the research process with my EL team helped prepare me for a project on intersectionality at the reference desk, which in turn led to the Pushing the Margins book. When I participated in the EL program, I didn't have any experience with collecting data or research. The group project helped me get a better understanding of that process.
Kathleen Riopelle Roberts, Class of 2013
School librarian at Rivers Edge Elementary, Henrico County (Va.) Public Schools
How did your EL experience help lead you to your current position? It brought me in contact with the leadership and administration at AASL. I realized that I enjoyed being involved at the professional organization's national level, which fueled me to pursue further opportunities.
What have you been up to since graduating with your EL class? I was selected as one of two building-level school librarians to serve on the National School Library Standards Guidelines Editorial Board. I also was selected for the 2018–2021 Fulbright Specialists Roster. I coauthored the book Leadership: Strategic Thinking, Decision Making, Communication, and Relationship Building (ALA Editions 2019), with Ann M. Martin. I was also voted James Region Librarian of the Year by the Virginia Association of School Librarians for the 2019–2020 school year.
Source of Article