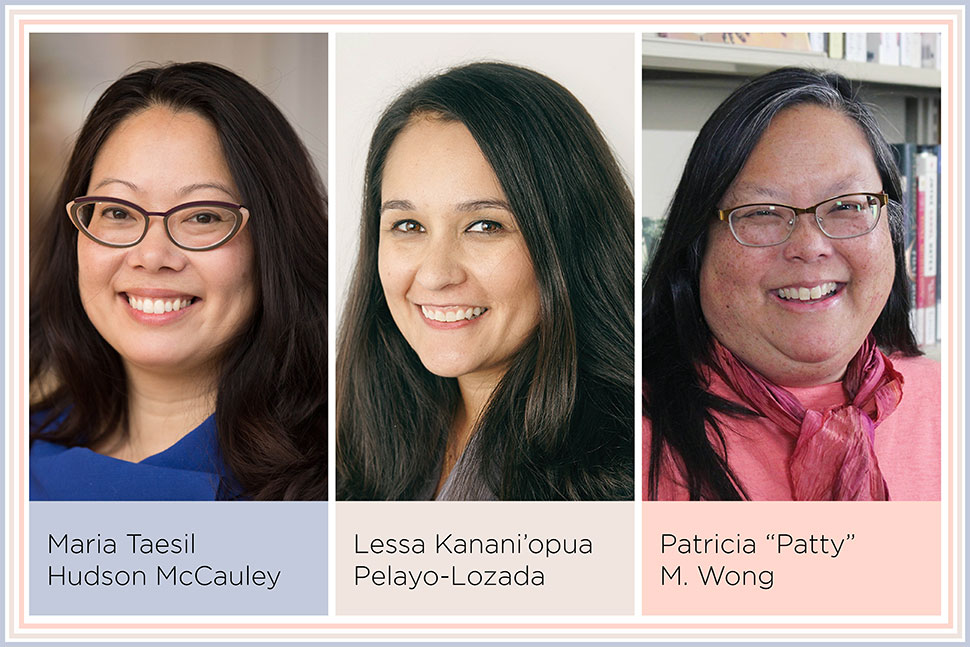 On May 20, President Biden signed into law the COVID-19 Hate Crimes Act, which addresses the increase in hate crimes and violence against Asian Americans during the pandemic. The measure comes as the nation celebrates Asian American and Pacific Islander (AAPI) Heritage Month.
Three ALA member leaders who have helped blaze the trail for Asian American, Native Hawaiian, and Pacific Islander library workers discussed with American Libraries their goals for the Association, their experiences with bigotry, and what libraries and library workers can do to counter hate.
The three leaders are:
Maria Taesil Hudson McCauley, director of libraries, Cambridge (Mass.) Public Library. She is also an ALA Executive Board member and president-elect of the Public Library Association (PLA).
Lessa Kanani'opua Pelayo-Lozada, adult services assistant manager, Palos Verdes Library District in Rolling Hills Estates, California. She is current councilor-at-large and ALA president-elect designate.
Patricia "Patty" M. Wong, director of library services, Santa Monica (Calif.) Public Library. She is president-elect of ALA and will begin her presidency at the conclusion of the 2021 ALA Annual Conference and Exhibition.
As a newly elected library leader, you will continue to be seen as a role model, especially among Black, Indigenous, and people of color (BIPOC) library workers. What does this platform mean to you?
Maria McCauley: It is an extraordinary moment to become the first Asian-American president-elect of PLA at the same time AANHPI (Asian American, Native Hawaiian, and Pacific Islander) colleagues Patty Wong and Lessa Kanani'opua Pelayo-Lozada are breaking ground with their new leadership roles. I am excited about leveraging the PLA platform to garner support for public libraries and to raise the visibility of the lifechanging, committed endeavors library workers do every day through the delivery of library services. I look forward to inspiring a diverse group of individuals to work in public libraries, to grow professionally, and to consider administrative and association leadership roles. I also look forward to advocating for municipal, county, and town leaders to recruit diverse library leaders. Finally, and most importantly, I will work to further PLA's equity, inclusion, and antiracism work and offer solidarity for my Asian, Black, Indigenous, and Latinx colleagues.
Lessa Pelayo-Lozada: It is both an honor and an opportunity to elevate and highlight the diverse voices of our Association and our profession. I am excited not only to help bring more awareness to the issues of our BIPOC library workers but also to share our stories of success and community-centeredness. As we move toward becoming an antiracist association and profession, it is so important to bring in the culture and values of library workers of all types and backgrounds across the nation, and I am honored and humbled to have been elected to do just that.
Patty Wong: As the first Asian-American president of ALA, I am honored to bring attention to the needs of all BIPOC library workers and the communities we represent, as well as all diverse people. This is both an opportunity and a responsibility to advocate for the support of libraries and communities in pursuit of racial and social equity for all. I hope to bring Asian and Asian-American communities, businesses, nonprofits, publishers, and leaders together with library workers to advocate for action and engagement to benefit all people of color.
As a young person I did not see many positive images of people who looked like me, who represented my cultural community. I have the unique agency to leverage conversations, to speak openly about the need for equity, and to encourage my colleagues—nationally and internationally—to do the same. Together we can enact legislation, call for action, strategize for equity in the library world through more diversity in LIS at all levels, mobilize our work together for equity in publishing, and support efforts toward equity in service of building community. When we lift one another, we lift all.
What has changed for AAPI library workers in the time you've been in the field?
McCauley: I entered the profession as an ALA Spectrum Scholar in 1999. From this national cohort experience, I continue to feel buoyed by other Spectrum Scholars. Early on, I discovered the Asian Pacific American Librarians Association (APALA) and have also enjoyed many friendships and shared work that has come out of that network. Thanks to the advocates who are working to diversify the field and to the founders of APALA, I feel fortunate that I have had support networks, especially since I've always worked in predominantly white spaces. With the nation's recent racial reckoning, the dominant culture has had more awareness about structural racism and about who has benefited, who has been oppressed, and who has been made invisible.
It is interesting to revisit Kenneth Yamashita's important article in Library Trends on the founding of APALA, and see that Patty Wong, who was APALA president in 1999–2000, will soon take the helm as ALA's first Asian-American president. At the same time there is more visible and vocal work being done to understand structural racism and how it affects all aspects of society and institutions, including libraries, library workers, and library users. There is so much more work to be done. The current and emerging AAPI library workers are very dedicated to addressing structural racism, bigotry, and hatred and to being strong allies to Black library workers and library workers of color.
Pelayo-Lozada: I've seen an increase in the visibility of AAPI library workers and leaders, including an increase in APALA's membership and in the invitations folks from our community receive to speaking engagements and presentations. This increase has been coupled with groups represented by the National Associations of Librarians of Color (NALCo), and it is a trend that I hope continues as it inspires others to join us in libraries and shares our voices and stories to work toward an antiracist profession.
Wong: APALA and the Chinese American Librarians Association (CALA) are stronger than ever with membership growth representing AAPI library workers and allies. More AAPI members are pursuing and achieving leadership roles within ALA and related library organizations. And APALA and CALA regularly work with NALCo to the benefit of all. However, the number of AAPI library leaders at middle and higher executive positions has diminished in the nearly four decades of my experience. Kenneth Yamashita noted this declining trend in his seminal history of APALA.
I believe there continues to be fewer AAPI workers in lead roles because of the undercurrent of bias and xenophobia we still experience in library work and because of the growing lack of our AAPI senior library leadership to coach and mentor in the field. I often find myself one of the oldest AAPI leaders and, sadly, often alone. I also believe more AAPI library workers are opting for the satisfaction of front-line work and engagement with our public, and perhaps in search of a stronger life/work balance and the benefits associated with different generations of employees.
I hope to inspire a newer generation of AAPI library members and leaders. We need you. We need organizations and the work of APALA, CALA, the Joint Council of Librarians of Color, and NALCo more than ever.
AAPI harassment and violence have increased during the pandemic, and while national stories have gotten attention, many hate crimes continue to go unreported. What experiences have you encountered, either personal or professional, that have highlighted for you the need to do more to counter this bigotry?
McCauley: The slayings of eight people in Atlanta, many who were Korean women like me, was really difficult to process. The killings of Breonna Taylor and George Floyd and the continued murders of Black individuals have made me more aware of white supremacy and systemic racism, and my continued learning and intentional antiracism leadership practice has made me a better ally to other BIPOC persons, helping me to be a more inclusive and authentic leader.
I experienced bigotry most recently related to the coronavirus. My family was playing at a park, and my kids were hanging on a tree. Another kid wanted to join in the fun, and the parent said, "Stay away from that tree; there is coronavirus all over it." I'm not sure if she intended to be as rude as she was, but it felt terrible. During the pandemic, while walking to work, I was yelled at to go back to my country (a tiresome phrase) for not stepping off the sidewalk for a white couple. And during the SARS virus scare in 2003, college students standing a foot away from me made audible reference to Asians spreading SARS.
Pelayo-Lozada: As executive director of APALA, I've heard the personal stories of members and their family and friends who have experienced anti-Asian bigotry and violence and the fear that often comes with reporting these heinous acts. For those who have experienced this violence in a professional setting, the need for supporting and protecting our library workers and patrons with tools and resources is essential.
Wong: I am sad that I have been refused service, spat on, and stared at, that I have been the recipient of hate speech as an individual where I lived and worked, both during pandemic and prior to COVID-19. And many of us experienced such violations and bigotry even as youth. When we encounter bigotry, we must call it out for what it is. We must use our voice to amplify attention to strengthen understanding and correct misconceptions.
For many years, AAPI communities have sometimes been seen as the "other" or have often been unfamiliar with, or even hesitant about, the reporting structure and process. We need to see and be seen advocating for ourselves, our communities. We also need to ask allies and our communities to join us. We need to push out information about pro-AAPI efforts and lift others who are active. Information is our middle name.
Host a listening session with your AAPI colleagues about their experience, as we have done in Santa Monica. Share that listening session with the greater community. Sponsor social justice forums where speakers can share the history of racial inequity, perhaps even in your own area, and call for change and reform of policy and practice. Train your staff in equity, diversity, and inclusion practices, develop an equity agenda, and assess policy and process. Consider book discussions on race and equity that includes AAPI and BIPOC-focused advocacy. Involve your local AAPI elected leadership at the local, state, and national levels. All their stories bring greater prominence and attention to the need for change. I hope to elevate some national attention to this very important topic.
What should a library's role be in responding to anti-AAPI bigotry and hate, and what can library workers do to help?
McCauley: Libraries should be committed to being antiracist. Library leadership can set the tone by leaning into learning, reviewing ways of doing work, supporting BIPOC staff, and being committed to hiring, recruiting, and promoting diverse staff. Libraries should be doing internal and external antiracism work, and equity, inclusion, and antiracism should forever be an organizational commitment.
Pelayo-Lozada: Libraries should be no-tolerance zones for any bigotry and hate and provide training for staff members to combat the violence that is becoming more and more common. From an administrative standpoint, there should be processes in place so that if staffers witness or experience this, they know who to contact for support. Bystander intervention training by groups like Hollaback! should be given so that staff members have the tools to combat situations on the spot if they are able to do so. Additionally, communication in these instances is key—sharing experiences and ideas and creating spaces for those who are directly affected by this violence. This will be essential to helping folks through this time.
There is also an obligation to provide historical and current contexts that have led to this bigotry and violence. Anti-Asian sentiment and anti-Asian laws have a long history in the US, one which is not often taught in schools.
While not directly related to combatting the current wave of anti-Asian bigotry and hate, the history of colonization and racism against Pacific Islanders demonstrates the need to understand the differences and similarities between Asian Americans and Pacific Islanders.
Asian American and Pacific Islander Heritage Month—and every month—while a time to celebrate our individual heritage, is also a time to learn about all the different cultures and ethnicities under the AAPI umbrella, our histories, how far we've come, and how far we still have to go.
Wong: I encourage libraries to remember their significant role in providing programming that emphasizes our commitment to equity in service. I have identified several ideas in the response above, but working with partners in the media, in the community, AAPI service organizations, immigrant-serving agencies, and long-term organizations like APALA, CALA, and those serving AAPI communities beyond libraries is critical.
But it takes one voice to call out bigotry for what it is. Library workers can be trained and self-trained to learn more about their immediate and regional AAPI community demographics and the culture of these communities and engage with local leaders in creating services that are welcoming and reflective of cultural norms. Self-assessment of individual staff values is often the first step in making system change. Why do we need to do this? So we can:
Recognize the inequities that we carry with us that have influenced process and systems.
Intentionally focus on the change we want to make to reverse some of those decisions. Library workers can build skills to have harder conversations within our teams and in the community. We also have the opportunity to facilitate community-wide discussions that can elevate the conversation and attention to group and individual advocacy. Be aware of organizations such as the Stop AAPI Hate reporting center for more information and ways to engage and activate.
What advice would you give to new AAPI library workers?
McCauley: Welcome to an amazing profession! Get a support network—join APALA, CALA, or another ALA ethnic affiliate and attend the Joint Council of Librarians of Color conference, tap into local and national mentors through formal and informal channels, raise your hand for committee work, balance work with wellness and fun, consider applying for ALA's Spectrum Scholarship or Emerging Leaders programs, and look for stretch assignments and leadership development opportunities. Be brave.
Pelayo-Lozada: We are here for you, and we are here to help create space for you. So many AAPI library workers I know often feel alone in their institutions as they face professional and personal obstacles. As we look toward a potential end to the pandemic and this traumatic experience for so many, I hope our AAPI workers are kind with themselves and know that they have a professional community they can reach out to and find folks with similar experiences to help lift them up and get through this trying time. Within ALA, I want to encourage these folks to engage with the Spectrum community, even if they are not a Spectrum Scholar. It has been a wonderful community that I've been proud to be a part of as a nonscholar, and I hope others take the same opportunity to engage in this supportive network. And of course, APALA is here for all those AAPI library workers and allies as well. It's APALA's mission to provide a support network and opportunities for growth and, ultimately, healing.
Wong: Here's what I would suggest.
First, find a coach or mentor and become a coach or mentor. Remember that mentors come in many forms. You may have mentors along the way who fulfill different roles.
Second, think about how you define yourself. Reflect on what's important and resonant to you, and understand that sometimes you may be driven by underlying cultural norms that may not reflect your personal or professional goals.
Third, bring someone along with you as you grow in your own development. Paying it forward is a way to grow yourself.
Finally, if you find that you can share your wisdom, energies, and skills with others, consider becoming involved and volunteering beyond your immediate library work—consider ALA, APALA, CALA, or another local or regional library organization, including your state library association. You will find out more about yourself and what's important to you and develop some great leadership experience while contributing to the field.
Source of Article