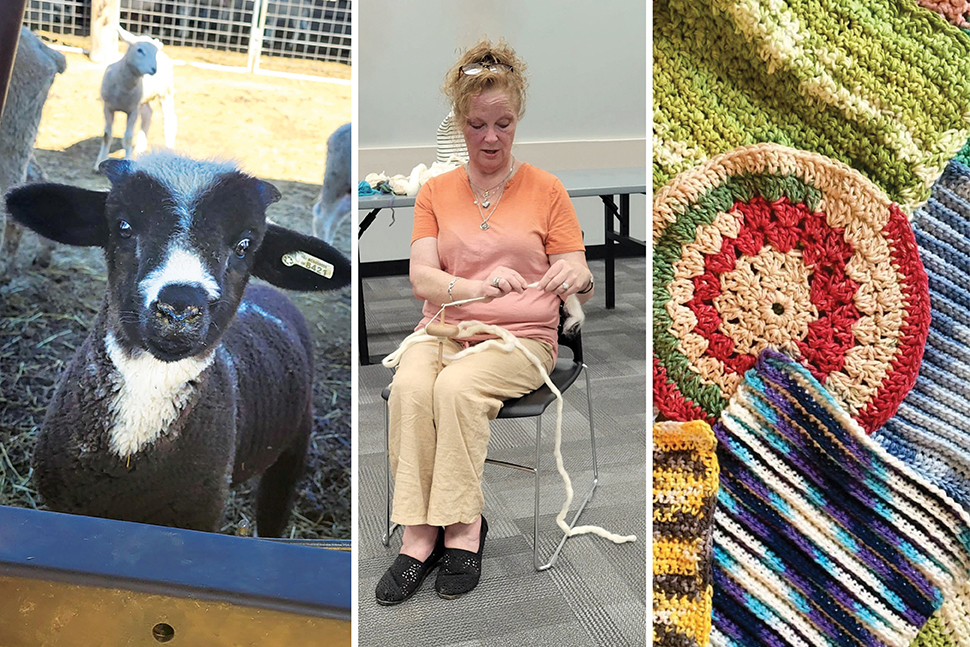 Hickory (N.C.) Public Library (HPL) Community Engagement Librarian Dacy Shute was looking to host a program that would celebrate the city's agricultural legacy as well as create connections among its maker community. In March, she launched the Sheep to Sweater program series—five sessions that showed patrons, step-by-step, where wool comes from, how it's made, and how it can be used in crafting. Naturally, the journey started on the farm.
Wool has been a staple in garment-making for centuries, from its origins in ancient Persia to the famous Aran sweaters that have been produced in Ireland's Galway Bay for generations to today's hobbyist industry. But any knitter will tell you: Making a sweater is no small feat. It can take 20 hours to several weeks—and that time doesn't include the labor required to raise and shear sheep as well as clean, process, spin, and dye their wool.
While advancements in technology have made wool production easier, these developments have significantly distanced consumers from the process. This realization gave me an idea for a program series at HPL. As community engagement librarian—and a hobby knitter who grew up going to fiber fairs with my grandmother—I was looking for a way to highlight local businesses, show people the work involved in producing an artisan material, and get patrons involved in a craft. What resulted was the Sheep to Sweater Series, a five-part program that invited the community to participate in the farm-to-product process while paying homage to our city's 200-year legacy of textile manufacturing.
The series was designed so that each session would represent a different stage in wool and clothing production: a trip to a sheep farm, a class on spinning wool, a class on dyeing yarn, and instructional classes on knitting and crocheting. To plan these sessions, I started with a visit to my local yarn store. The owner directed me to a sheep farm in the area that sells yarn at the downtown farmers market. The owner also introduced me to a crochet teacher and offered to teach the knitting class herself. I already had a partnership with a heritage life skills instructor who could teach the drop-spindle method (a process of hand-spinning wool), and I opted to teach the yarn-dyeing class. To maintain continuity, I scheduled each of the five sessions in March.
Participants in these sessions got a hands-on experience. At the farm, patrons could touch raw wool fleece that had been sheared from the backs of Montadale and Romeldale sheep. In the drop-spindle class, participants immediately understood how time-consuming and difficult it is to create yarn without a spinning wheel or industrial machinery. Historically, if a person outgrew a sweater made from hand-spun yarn, the sweater would be frogged (unwound, ripped, or unknit) and reused for a new sweater. This knowledge added a component of appreciation—and sustainability—to our lessons.
I was looking for a way to highlight local businesses, show people the work involved in producing an artisan material, and get patrons involved in a craft.
The most intensive session was the hand-dyeing class. In the program, we learned the chemistry and ratios for a stock solution, how to mix acid dyes, and how to prepare raw wool for dyeing. What we discussed only scratched the surface of a complex process that takes trial and error to master.
Participants were not required to attend every session, though many registered for multiple events. Through donations from local businesses and instructors, I was able to offset program costs.
Each session hit capacity and program feedback was positive. One mother who homeschools her children told me how important the farm visit was because her kids could see where our goods come from. The knitters and crocheters expressed how they enjoyed being able to ask in-depth questions about how wool becomes yarn. And many in the dyeing class took notes so they could set up the process at home.
While we don't currently have plans to repeat this series, I'd like to form a larger how-to series at the library—one that combines heritage life skills with modern life skills and literacies. Our community has a rich history of furniture-making, so I'd like to tackle caning and reupholstering next.
For those looking to host a farm-to-product series, I recommend reaching out to community members who might be willing to participate or help you build connections. Consider how you might adapt a multipart program for your audience. For example, what agricultural product is your area known for? What are the different stages in its production process? Perhaps you could build a series around a regional vegetable that culminates in cooking classes.
Overall, I learned: Don't be afraid to try new things. I had never brought a group of people to a farm for a library program, but it was a great opportunity to connect people to their roots. Plan your programs daringly and you might be pleasantly surprised with the results.
Source of Article