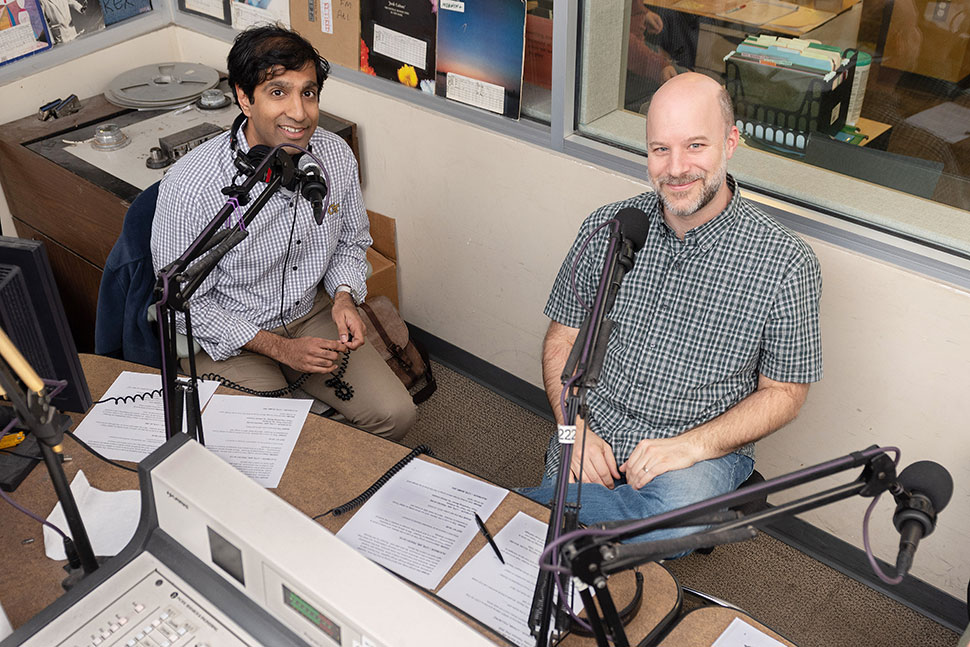 Listeners of WREK-FM 91.1 radio station in Atlanta can hear a variety of styles throughout any given week: old-school punk rock, modern hip-hop, Afropop, and conversations about library programming. Yes: library programming.
Lost in the Stacks: The Research Library Rock 'n Roll Radio Show, broadcast every Friday from Georgia Tech's (GT) campus station, blends music with discussions of library topics. The brainchild of Charlie Bennett, public engagement librarian and subject librarian for GT's School of Economics, and Ameet Doshi, director of innovation and program design and subject librarian at GT's School of Public Policy and Law, the show began 10 years ago with a simple idea: to spread the word about happenings at GT Library and discuss library trends, with music interspersed. Adding music was central to the show's appeal, Bennett says.
"We knew it might not be fun for students to listen to us talk about the library for an hour," he says. "We thought, 'How do we make it more interesting for them and for us?' We said, 'Let's do rock 'n roll. Let's treat it like Morning Edition on NPR, where the news is library talk and the features are sets of music thematically connected to the topic of the show.'"
One of Bennett's favorite episodes is on archival preservation and includes audio from a tour of the archives of punk label Dischord Records—a tour led by the label's founder, musician Ian MacKaye. Of course, the episode features examples of the label's music, too.
Finding topics for shows is easy, Doshi says. "The great thing about doing a show about libraries is because they're so multidisciplinary, we can literally do a show about anything," he says. "It's this wonderful blank canvas to paint our ideas on."
Source of Article