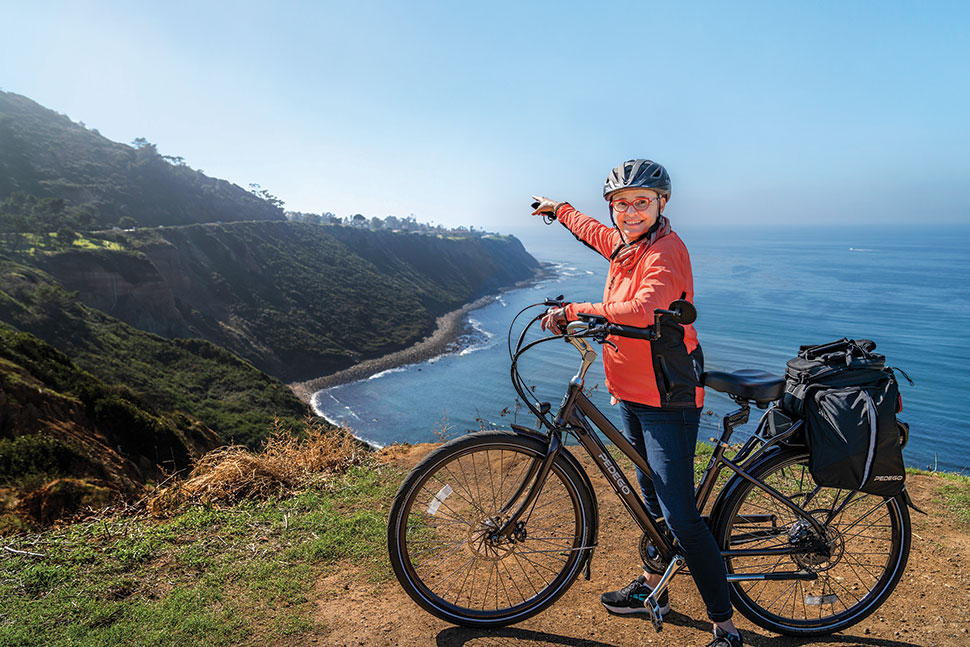 From housing former military installations to settling neighborhood squabbles over lighthouse design to becoming overpopulated with wild peacocks, Palos Verdes Peninsula, about 25 miles south of Los Angeles, is full of history.
Monique Sugimoto, an avid bicycle commuter—and archivist and librarian for Palos Verdes Library District's (PVLD) Local History Center—enjoys pairing her expertise in the region's past with her rides to work. "I'd give myself these little tours and thought it would be cool if we did an introduction to the peninsula."
Thus, Pedal PV—a series of four-minute videos—was born. "Sharing the peninsula's history is part of the library's mission," says Sugimoto. She creates bikeable tours of points of interest using archival photos and filmed footage. "When I get a topic in my head, I know what collections we have, so I'll go back and take a look through those," she says.
In the videos, Sugimoto guides locals with turn-by-turn directions and creates space for enriching detours, like a whaling station situated between lighthouses or a beautiful vista on a loop of the peninsula's main roads. Taking in the scenery is one of Sugimoto's favorite parts about riding her bicycle—which, she's quick to point out, is electric. When she finds an interesting shot, she and her husband—who uses his cellphone camera to serve as videographer for the series—will pull over. "It's kind of spur-of-the-moment," she says.
Recently, during curbside service, a patron asked Sugimoto if she was "the bike lady" and said they planned to do one of her tours. "It was really exciting to hear somebody say that," Sugimoto says. "It's tremendously rewarding because I'm also a resident in the area. It's been so much fun to be able to learn about my own community through my work."
Source of Article