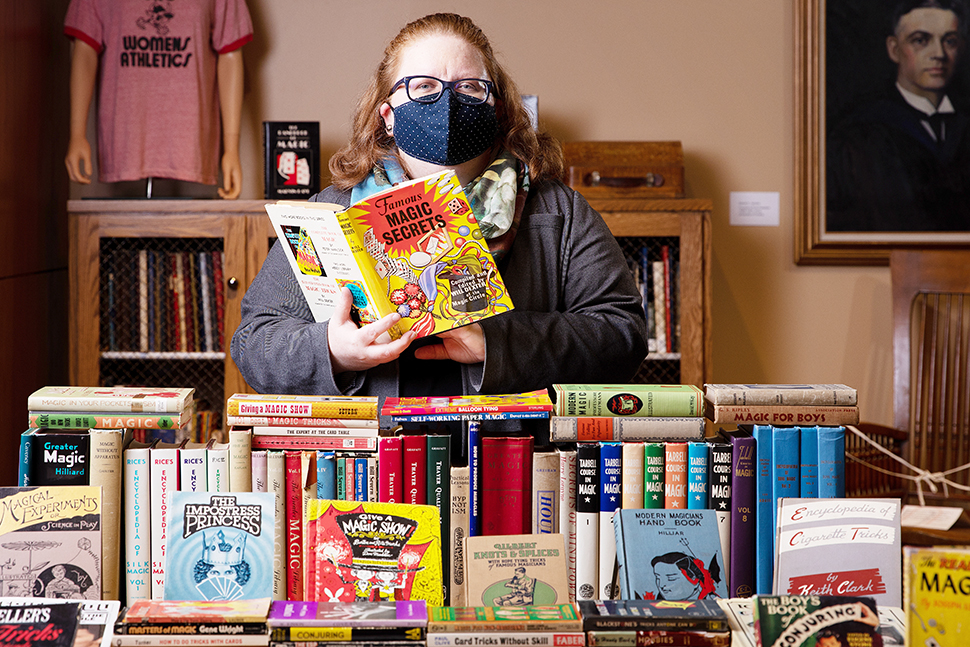 One day, the magic collection vanished—and then reappeared. That is, the Omaha (Neb.) Magical Society moved its 1,200 magic-related books and materials to the University of Nebraska at Omaha (UNO). A logical choice given that the 60-member society of magicians and magic enthusiasts holds its meetings there.
Before the big move in May, the society's materials floated from member home to member home. Having a permanent location will allow items to be used by students, scholars, and magicians, who can access them onsite or via interlibrary loan, says Amy Schindler, director of archives and special collections at UNO Libraries.
Included are magic-related materials dating from the late 19th century to the present: titles about card tricks, fortune telling, and hypnotism; biographies of famous magicians like Harry Houdini and Penn and Teller; and books on tangential topics like gambling and joke-telling. One of Schindler's favorite pieces is Dick Daring's Bag of Tricks, an early 20th-century magic book for boys. She says texts such as these are important not only for historians but for practitioners of other disciplines as well. Gender-studies students may find them particularly valuable, she says.
"I've not yet found any biographies of female magicians, but there are representations of women magicians in the collection," she says. "Usually when people think of a magic show, they think of a man on stage in a top hat, and the woman is the assistant being cut in half. There were and are women magicians, and this collection can help answer the question, 'What was the role of women in magic throughout history?'"
Source of Article