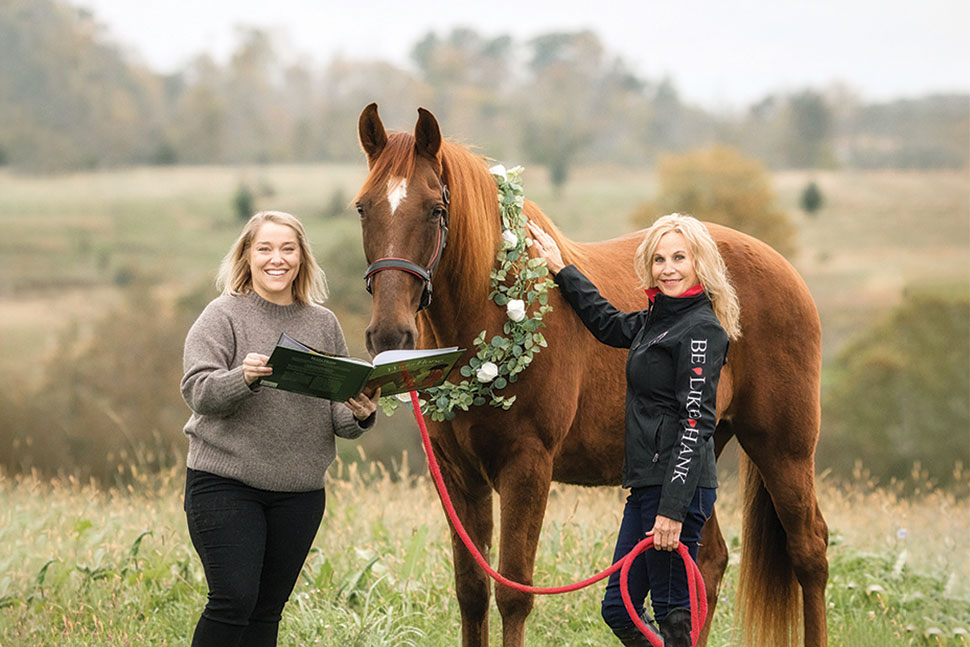 Cynthiana–Harrison County (Ky.) Public Library's (CHCPL) first in-person program since before the pandemic made a big impression—a headline-grabbing, 1,300-pound impression, to be exact.
Hank, a Tennessee Walker–breed rescue horse, moseyed on into his hometown library in September 2021 for an equine-themed storytime that included a scavenger hunt, coloring contest, and prizes. While there, Hank received his first library card, in observance of Library Card Sign-Up Month.
"This [event] really brought us a lot of faces that we don't normally see, which was exciting," says Molly Watson (left), CHCPL youth services librarian. "A lot of the local news stations picked it up, [which] got shared with national news stations. We were taken aback by the attention."
Watson says Hank is well-known in the community and dons a festive outfit to ring a Salvation Army bell during the holidays—a real neighborhood icon. His rise began 11 years ago, when the gelding was found abandoned and emaciated by Tammi Regan (right). Today he lives at Regan's Equinox Stables and is the face of her rescue organization, For Hank's Sake, and literacy program, Pages for a Purpose, which provides opportunities for kids to read aloud to animals on Regan's farm.
"I didn't grow up with horses, but I grew up with books," says Regan. "Reading gave me courage."
Hank has brought his message of promoting literacy to 10 libraries in Kentucky so far and, according to Watson, favors self-reflective titles. "He did check out one book off of our horse display: Dr. Seuss's Horse Museum," Watson says. "We would love to have Hank back, especially now that he's a patron."
Source of Article