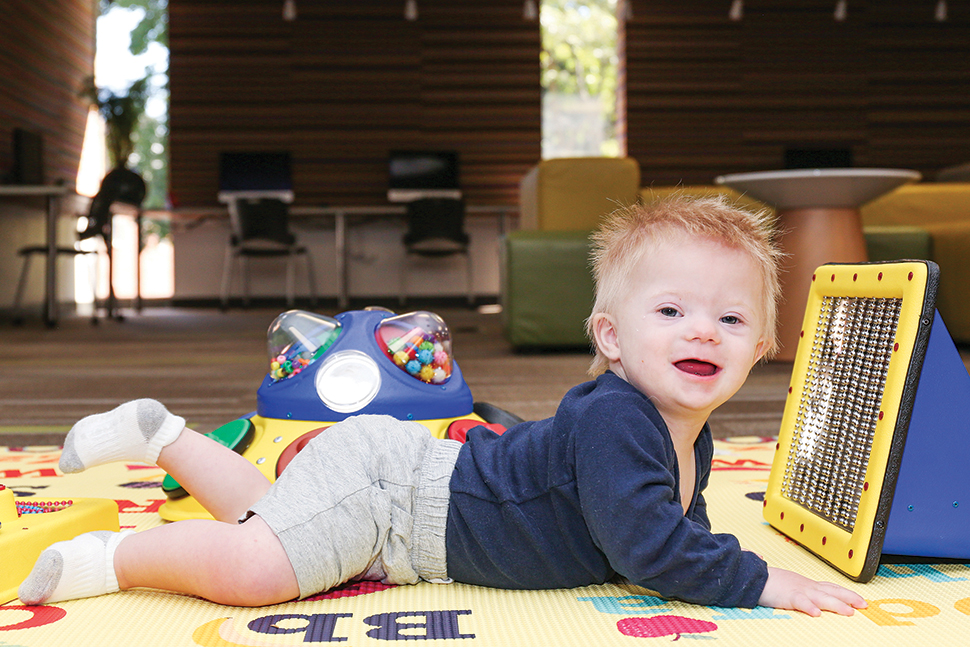 When her son brought home speech cards from elementary school to help him better learn and articulate words, Jen Taggart could barely see what the cards depicted. The cards had been duplicated and the images were blurry, says Taggart, head of youth services at Bloomfield Township (Mich.) Public Library (BTPL).
That experience more than 13 years ago inspired her to start BTPL's Youth Accessibility Support Collection, a set of items designed to meet the needs of children with various types of disabilities and learning needs. Since 2009, families have been borrowing from the collection, which includes adaptive toys, sensory storytime boxes, speech therapy cards, and skills development sets. It also includes books and other media, including fiction and interactive titles for youth and nonfiction works on accessibility and disability topics for caregivers.
Increasingly, libraries across the country are assembling accessibility support collections to better assist the developmental needs of their youngest patrons, including those who are neurodivergent and have sensory processing issues.
In 2019, Sunderland (Mass.) Public Library (SPL) used a $7,000 grant to start its Sensory Toy Collection, which comprises toys, games, learning tools, and comfort objects that provide sensory stimulation. While the toys are particularly helpful for people on the autism spectrum, Library Director Katherine Umstot says all children can use and benefit from the items.
"It's so important for people in the autism community to feel welcome in the library and to have resources that make them feel recognized," Umstot says.
Breaking down barriers
Before SPL started its collection, the library surveyed local schools, special education teachers, therapists, parents, community organizations, and others to learn what sorts of resources would best meet the needs of neurodivergent youth and their families in the district. Through this research, the library learned that 5% of children enrolled at the local elementary schools are on the autism spectrum.
SPL decided to create a lending collection specifically geared to children in this population. The 40 items the library purchased include weighted blankets and stuffed animals, fidget toys, and cards that show kids how to move their bodies to form letters of the alphabet.
A therapist or parent might want to try a tool but not want to sink their money in it only to find out it doesn't work. —Maria Papanastassiou, youth services assistant manager at Arlington Heights (Ill.) Memorial Library
In October 2021, Arlington Heights (Ill.) Memorial Library (AHML) started an Accessibility Support Collection of its own, after Youth Services Assistant Manager Maria Papanastassiou attended a presentation by Taggart about BTPL's collection. AHML's 350-item collection includes toys designed to support motor, social, cognitive, visual, and auditory skill development; therapeutic and adaptive technology tools; and interactive books for children in different developmental stages.
Papanastassiou says the library had already been serving children with special needs and their caregivers through a collaboration with C.I.T.Y. of Support, an organization that assists families navigating the needs of children in therapy. The partners had offered developmental play groups and opportunities for parents to meet for coffee, and Papanastassiou saw an accessibility collection as another way to advocate for these families. C.I.T.Y. of Support provided a $10,000 grant for the project.
In the month of the collection's debut, 50% of the equipment was checked out, Papanastassiou says. She notes teachers and therapists—as well as parents and children—are using the items, which can be expensive to purchase. For example, adaptive toys, or toys that have been modified to improve ease of use for kids with disabilities, can cost about $300 each.
"A therapist or parent might want to try a tool but not want to sink their money in it only to find out it doesn't work," says Papanastassiou. "Sometimes someone might need something for a short while but not forever."
Meghan O'Brien, a patron at AHML, has a daughter who is on the autism spectrum and has ADHD, and says she often uses items in the collection. One game her family has checked out—Let's Talk Cubes—has helped her daughter become more verbal.
The game involves rolling dice that have questions on each face. The dice are thrown, and everyone discusses a question that is revealed, such as "What is your favorite color?" O'Brien says her daughter tends to wander away from the dinner table, but when they play the game, she stays.
"I've noticed it helps her start and engage in a conversation," O'Brien says. She adds that she has also used books from the collection to help her other children better understand why their sister learns or handles situations differently than they would.
Collection as compassion
The librarians who have spearheaded these collections say a crucial step in creating one is to learn what your community's needs are.
"Meet with your schools, with special education staff, with families, and with the disability community," Taggart recommends.
Umstot says a collection doesn't have to be expensive or even very big at the beginning to be of value to patrons. "Start small," she suggests. "Just buy a couple things and see how kids interact with and use them."
For instance, Umstot was surprised that a weighted blanket in her library's collection got less use than some small brushes with different textures. "[I guess] people don't like sharing a blanket, even though we wash it between uses."
Items in each of the libraries' collections are disinfected after each use. (Though, early in the pandemic, some items at BTPL were not available for checkout, Taggart says, because the library didn't have the capacity to sanitize materials.)
The librarians agree that one of the most positive aspects of the accessibility collections is that they make children with special needs and their caregivers feel more welcome at their libraries.
In other settings, O'Brien says it is not uncommon for her and her daughter to feel judged, especially if her daughter expresses frustration or has outbursts. She has discovered that her library is a judgement-free zone, where she and her children are accepted.
"Just the fact that the library felt the need to have this collection is important and makes me feel more comfortable," O'Brien says. "They are compassionate and understanding that every family has different needs and kinds of lives."
Source of Article