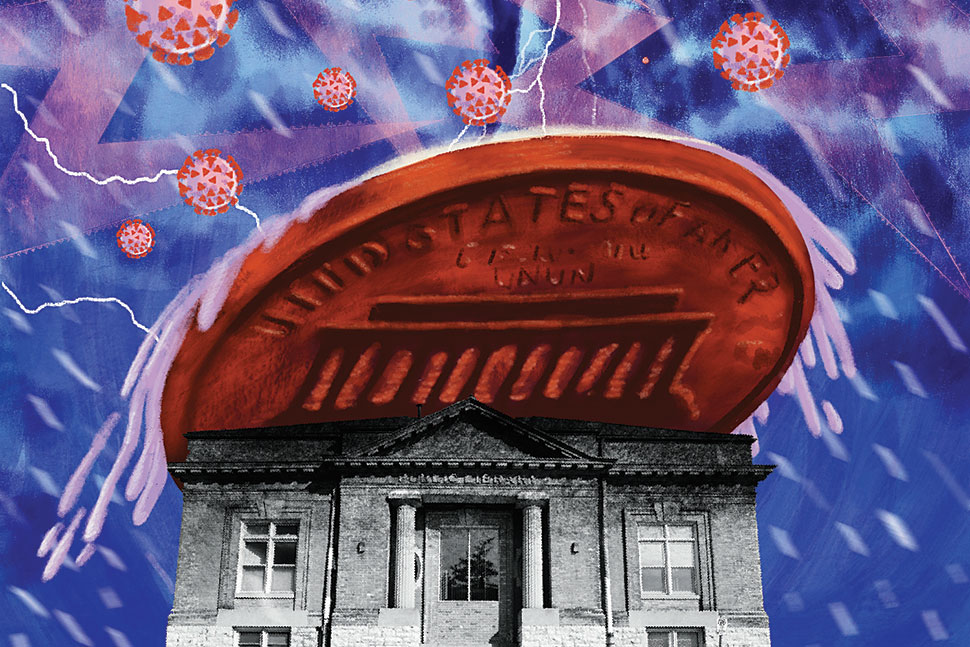 In September 2017, Hurricane Maria devastated the Puerto Rican coastal city of Humacao. Much of The Palmas Academy (TPA), a K–12 school serving kids from across the island, was left damaged or destroyed—including its library.
The library served as a hub for the school's approximately 400 students and faculty. It had separate spaces for elementary and high school students to study, check out books, and use computers. Maria and its aftermath claimed most of the library's collections. Of an estimated 4,000–5,000 books, 90% were no longer usable.
"Everything was full of water, and we had to get rid of almost everything," says Lilliam Morales, TPA's interim head of school.
TPA was able to reopen after Maria, first online and eventually back in person, but the library remained closed. In March 2020, COVID-19 sent students and staff back home until November 2021—further delaying the library's comeback. "It compounded all of our problems because we had to redirect our resources to other areas," Morales says. "So, the library was kind of left behind."
Libraries across the country, like TPA's, have utilized COVID-19 relief funding to support recovery not only from the pandemic but also from natural disasters that have wounded their communities.
In March 2022, TPA reopened its library and hired a part-time librarian with support from a $10,000 grant from the American Library Association's (ALA) American Rescue Plan: Humanities Grants for Libraries program. Later that year, a $20,000 grant from ALA's COVID- 19 Library Relief Fund was awarded to help the school rebuild its book collection and purchase an interactive display board. "It's a place people love," Morales says of the library. "It's welcoming to people. It's beginning to be what it was."
Upgrades and expansions
Louisiana's Lafourche Parish can relate to the devastation a hurricane can bring. In August 2021, staff members at Lafourche Parish Public Library (LPPL) were hopeful more patrons would start returning in person following months of pandemic-era services, recalls Lynette Fazzio, programming administrator.
Then, Hurricane Ida made landfall on August 29, destroying an estimated 14,000 homes as well as other structures, including two parish libraries.
Many residents are still rebuilding, Fazzio says. A native of the area, Fazzio recalls seeing family and friends lose homes in Ida's wake. "Gutting to the studs," she remembers. "There's no way to describe that if you're not there."
LPPL reopened its seven remaining libraries about two weeks after Ida and launched bookmobile services in the hardest-hit areas. But the pandemic and the hurricane shrank LPPL's budget by more than 40 percentage points compared with pre-COVID-19 levels, and its reserve funds were depleted from hurricane recovery. LPPL is also awaiting Federal Emergency Management Agency (FEMA) and insurance dollars to rebuild its damaged libraries, says Fazzio.
[The pandemic] compounded all of our problems because we had to redirect our resources to other areas. So, the library was kind of left behind.—Lilliam Morales, interim head of school at
The Palmas Academy in Humacao, Puerto Rico
Without grants, Fazzio says, LPPL would have had to delay important upgrades. The $20,000 it received from ALA's COVID Library Relief Fund in 2022 went toward 25 new desktop computers for its two largest, still-open locations. The old computers then replaced even older ones at the parish's five smaller branches.
"We don't want to have old, old, old hardware for the people to use," says Fazzio. Computers and Wi-Fi are a vital resource for the parish, she adds. Many patrons don't have computers at home and use LPPL's for education or other basic needs.
"Just to be able to apply for FEMA or get your public assistance, the library is the place they come to do that," Fazzio adds.
More than 2,000 miles away, Sonoma County (Calif.) Library (SCL) also used pandemic-era grants to grow its technology infrastructure. In 2019, SCL launched its SonomaFi program, offering hotspots for checkout, which has proved useful to a region ravaged in recent years by wildfires that have destroyed thousands of homes. In November 2021, the library expanded the program with a $40,000 American Rescue Plan grant, purchasing 15 portable network kits for staff to use across SCL's 12 branches.
The kits can power what Mike Dawe, SCL's acting co-deputy director and IT manager, describes as "pop-up internet cafés," connecting dozens to the internet at once. Staff also use them to offer Wi-Fi at countywide programs like emergency preparedness events, farmers' markets, and other library initiatives.
SCL leaders say these programs fill digital gaps for patrons who lack reliable internet service for various reasons—whether they are still displaced from disasters or their home is in a remote area with little or no service. It also could support residents in future emergencies, Dawe adds.
Meeting patrons where they're at, Dawe says, was a priority for the expansion.
"There's still a lot of posttraumatic stress, and then you throw the pandemic in there," says Dawe. "They're still shy about coming into the libraries. However, we can provide access through other means, where they're comfortable, and we can still make a positive impact."
Keeping momentum
Because most COVID-19 relief funding sources are one-time allocations, libraries will likely need to pursue diverse funding streams to build on their initiatives, including other grants or community partnerships.
TPA's leaders are hopeful that grants and local support will continue the library's restoration. Over the past year, the school has raised $30,000 through fundraisers, and enrollment has grown by 100 students—breaking even with its post–Hurricane Maria enrollment drop—which will help sustain its library, says Wendy Driscoll, a TPA parent and board of trustees member.
The goal is to eventually open the library to the greater community. Most public libraries that existed in the area haven't reopened since Maria.
"It's a way to get the community into the school and promote learning, interaction, and people getting to know each other … around a place that's sorely needed in this part of Puerto Rico," Driscoll says.
The "dark cloud" of tragedy still comes with silver linings, says LPPL's Fazzio. There is anticipation around the libraries that are set to be rebuilt, she says, and she sees a new resolve within patrons—a greater appreciation for convening and supporting one another. Attendance for summer 2022 programming, Fazzio says, exceeded pre-pandemic numbers.
"There's hope in the fact that we're all still here," Fazzio says. "Once the dust settles and you say, 'Okay, I survived, I'm still here, now let's move forward and do something good with it.' There's positive if you look for it. And being able to be a library worker and serve the community is a blessing."
Source of Article