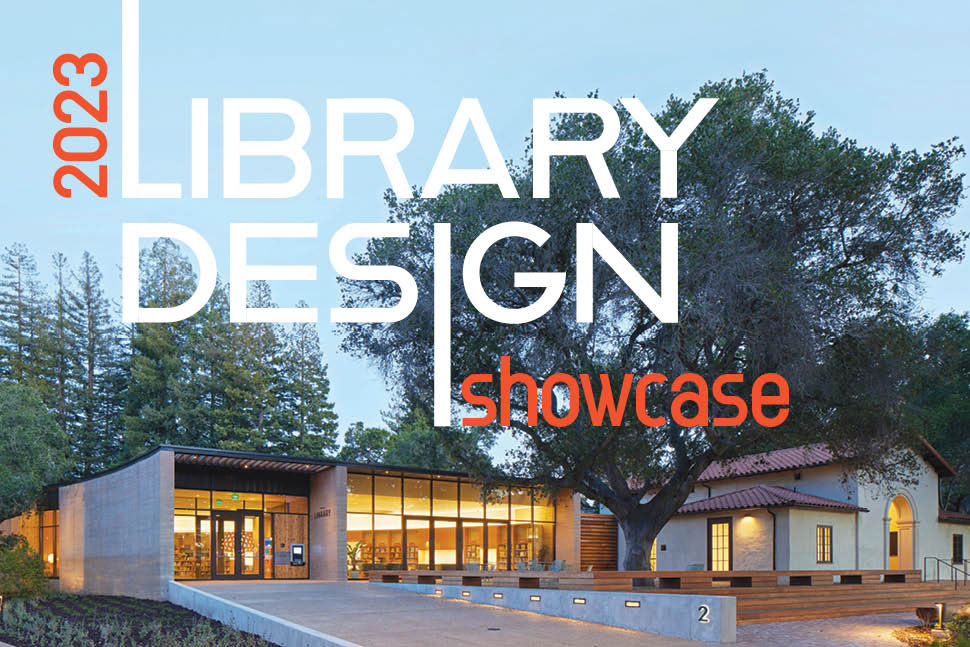 Welcome to the 2023 Library Design Showcase, American Libraries' annual celebration of new and renovated libraries that address patron needs in exciting and effective ways. This year's selections represent a return to prepandemic normalcy and demonstrate a firm step into the future, with physical spaces designed to draw in communities, celebrate local history, and acknowledge diverse natural environments. For these overhauls and expansions, form and functionality reign.
Living History
Cincinnati and Hamilton County (Ohio) Public Library, Walnut Hills branch
The oldest branch in its system and the first of several of Cincinnati's Carnegie libraries, Walnut Hills recently underwent its first significant improvements since its construction in 1906. The branch is now fully accessible. The architects preserved its French Renaissance–style details—red brick, a tile roof, and birch-stained mahogany interior paneling—while doubling its square footage, building more meeting and community spaces, and adding a parking lot. PROJECT TYPE: Renovation and expansion ARCHITECT: Fishbeck, Interior Project Management SIZE: 22,820 square feet COST: $12.3 million PHOTO: Kati Best Photography.
San Mateo County (Calif.) Libraries, Atherton branch
This light-filled library sits within this wooded northern California community's newly built civic center complex. The site features front and back porches for quiet reading and community connections, an indoor-outdoor makerspace, and a curved design that embraces the surrounding redwoods. The adjacent historic town hall, built in the 1920s, has been converted into the library's multi­purpose event space, and retains elements of its classic California mission style. PROJECT TYPE: Adaptive reuse ARCHITECT: WRNS Studio SIZE: 11,874 square feet COST: $20.1 million PHOTO: Bruce Damonte.
Kanawha County (W.Va.) Public Library, Main Library in Charleston
The federal building in downtown Charleston, built in 1911, was originally used as a post office and courthouse. The local library acquired the limestone structure in the 1960s and renovated the interior extensively while preserving its classical façade. Its latest renovation involved adding a west wing to serve as a new entrance; a south wing featuring a café, makerspace, and teen area; and a sky bridge connecting the library to a parking garage. PROJECT TYPE: Renovation and expansion ARCHITECT: Silling Architects SIZE: 80,000 square feet COST: $32 million PHOTO: Josh Beeman Photography.
School Days
Ramapo College of New Jersey, Peter P. Mercer Learning Commons in Mahwah
The renovation and expansion of the former George T. Potter Library, now part of the new Peter P. Mercer Learning Commons, turned the space into a collaborative study and technology center to meet students' evolving needs. The exterior aligns with the original design of neighboring buildings while the new slate-and-glass façade offers enhanced thermal performance, ample daylight, and mountain views. The library's sprawling physical collection has been centralized on the lowest level to make room for collaborative spaces and expanded technology infrastructure. PROJECT TYPE: Renovation and expansion ARCHITECT: Bohlin Cywinski Jackson SIZE: 80,000 square feet COST: $35 million PHOTO: Christian Phillips Photography.
Central Piedmont Community College, Hagemeyer Library in Charlotte, North Carolina
The Parr Center, the largest building constructed in Central Piedmont Community College's six-decade history, serves as its first-ever student union and gateway to central campus. The complex also includes a theater, an art gallery, a dining area, stunning views of downtown Charlotte, a redeveloped quad, and the new Hagemeyer Library. The library is now outfitted with a makerspace, podcasting and green-screen rooms, and plenty of indoor and outdoor study space. PROJECT TYPE: New construction ARCHITECTS: Morris-Berg Architects, Moody Nolan SIZE: 66,321 square feet COST: $29.8 million  PHOTO: Darnell Vennie.
University of Alabama, Angelo Bruno Business Library in Tuscaloosa
Though the exterior of this 1994 structure remains unchanged, the interior has been dramatically reimagined and reorganized to support students from the Culverhouse College of Business and the Manderson Graduate School of Business. The Jones Business Analytics Information Commons, a new addition, includes a large stock exchange ticker, and the Bloomberg Research Lab replicates real-time trading for students pursuing careers on Wall Street. PROJECT TYPE: Renovation ARCHITECT: B Group Architecture SIZE: 69,700 square feet COST: $9 million PHOTO:
Jonathan Norris Photography.
Scenic Route
Albuquerque Bernalillo County (N.Mex.) Library System, International District branch
The Caravan East nightclub on Route 66 was a country music destination for decades before closing its doors in 2016. The new library, built where Caravan East once stood, honors the nightclub's history with a wooden dance floor and a replica of its old sign. The branch also boasts a multigenerational activity room (the first such space in the system), an adult reading room that houses the library's world language collections, a central fireplace, and sweeping mountain views. PROJECT TYPE: New construction ARCHITECT: RMKM Architecture SIZE: 25,000 square feet COST: $15.7 million PHOTO: Patrick Coulie Photography.
Climate-Conscious
Bullitt County (Ky.) Public Library, Central Library in Shepherdsville
The new Central Library was envisioned as an eco-friendly oasis in the heart of the town's main shopping corridor. It features a geothermal HVAC system, rain gardens, and 610 rooftop solar collectors, which produce an estimated 50% of the building's electrical usage. The campus also boasts four courtyard gardens, each representing one of the four classical elements—earth, air, water, and fire—and the four seasons with native plants that flourish throughout the year. PROJECT TYPE: New construction ARCHITECT: Omni Architects SIZE: 45,000 square feet COST: $10.5 million PHOTO: Frank Döring Photography.
New Canaan (Conn.) Library
Known for its midcentury modern architecture, New Canaan is home to iconic structures like Philip Johnson's Glass House and Noyes House, as well as the serpentine River Building at Grace Farms. The new facility references these traditions: dramatic glass elements punctuate dry-laid stone walls, and decorative copper pipes symbolize New England's forests. Expansive flat roofs support solar panels, long overhangs provide shade and reduce energy use, and a new adjacent park offers green space. PROJECT TYPE: New construction ARCHITECT: Centerbrook Architects and Planners SIZE: 42,000 square feet COST: $40 million PHOTO: Jeff Goldberg/Esto.
Contra Costa County (Calif.) Library, Pleasant Hill branch
This new library is partially located on a 100-year­​ flood plain, so its blueprint included flood mitigation strategies, such as stormwater retention basins. Its energy-efficient design incorporates local maple and cedar materials, aims for net-zero carbon emissions, and provides radiant heating and cooling, natural ventilation, and a rooftop solar panel array. PROJECT TYPE: New construction ARCHITECT: Bohlin Cywinski Jackson SIZE: 23,788 square feet COST: $34.5 million PHOTO: Matthew Millman Photography.
Total Transformations
Middle Country Public Library in Centereach, New York
This Long Island library moved to its current location in 1972 and has continued to grow to suit shifting demographics and surging demand—including adding a branch in the nearby Selden community. The renovated space in Centereach features state-of-the-art makerspace equipment, an audio-video recording room, and acoustically separated meeting rooms. PROJECT TYPE: Renovation ARCHITECTS: Bermello Ajamil & Partners, JR Keller SIZE: 8,000 square feet COST: $3.4 million PHOTO: Jeffrey Totaro.
Frisco (Tex.) Public Library
This former factory and warehouse, with its soaring ceilings and tilt-wall design, once produced goods ranging from chicken nuggets to rocket parts. The conversion means that this Dallas suburb now has its first standalone library, with design elements reminiscent of the dogtrot-style homes of the Texas Blackland Prairie region in the 19th and early 20th centuries—particularly the interior breezeway connecting the two main points of entry. The site also houses a full-scale T. rex model and honors the area's ecological history with native plants and bioswale water collection. PROJECT TYPE: Renovation ARCHITECT: Gensler SIZE: 158,086 square feet COST: $62 million PHOTO: Connie Zhou Photography.
Source of Article